---
MUSIC BANDS - FEATURED

Darryl Anders ~ AgapeSoul is a "Modern Soul band" based in the San Francisco Bay Area." Led by bassist/producer Darryl Anders, the band delivers a musical experience that is all about Love, Soul …and undeniably funky grooves, destined to stand the test of time." Before becoming a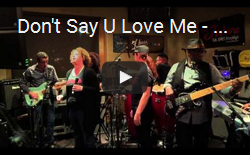 bandleader, Darryl earned his reputation by performing as a bass "sideman," and over the years, has performed with Tower of Power, Narada Michael Walden, Zigaboo Modeliste, Booker T. Jones, Joyce Cooling, Bonnie Hayes, Ledisi and many others. AgapeSoul is Darryl Anders (bass/vocals), Indra Jones (vocals), Zoe Ellis (vocals), Aaron Green (drums), Lynette Williams (keys), Cam Perridge (guitar), Vince Lars (sax), and special guest Martin Luther (vocals). 2012, "Believe in Love," is AgapeSoul's debut album, with seven original songs and two covers. 2012, released album "Conversations". 2018, single "Kite. 2019, single "The Way That We Love." In 2020, released single "Bulletproof," featuring Tommy Sims. In 2021, released single "Nobody But You," featuring Maysa Leak. Darryl Anders ~ AgapeSoul, can be seen and heard performing in venues in and around the San Francisco Bay area. Links: Website, Facebook, Facebook Bandpage, ReverbNation, Jazz Network, YouTube Channel and DC Bebop BANDS EAST -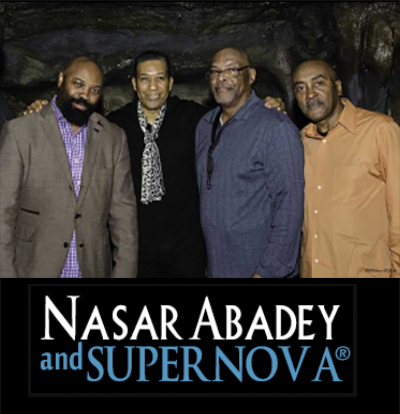 Nasar Abadey and Supernova

"Drummer and Composer Nasar Abadey is the founder, leader and driving force of SUPERNOVA®. They perform music from the threshold of Jazz to beyond space and time, while having an artistic license to express their compositions through traditional African rhythms, bebop, fusion, Afro-Cuban, Afro Brazilian, and free form. The quartet's musical inspirations include John Coltrane, Miles Davis, Wayne Shorter, and Duke Ellington among others." - Smalls Live - Greenwich Village. Nasar Abadey (drums) has been a bandleader for many years and has also built a solid reputation as a sideman with several groups from his home base in Washington, DC; and he has performed and/or recorded with many artists throughout his career. He is Professor of Jazz Percussion in the Jazz Studies department at the Peabody Institute of the Johns Hopkins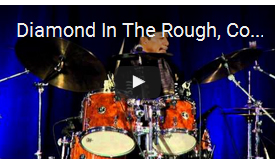 University. Joe Ford (saxophones) composer and arranger, is a passionate musician who began playing in 1958 while in elementary school in Buffalo, New York. His melodious, humorous, insightful style reflects the broad spectrum of the American experience, and ranges from spirituals and rural blues to contemporary music and avant-garde jazz. James King (bass) and composer, was born in Houston, Texas. James studied at Texas Southern University, Hampton University, and the University of the District of Colombia. He is a well-known bassist in the mid-Atlantic region, and performs in concerts and festival throughout the world. Allyn Johnson (piano) composer, and arranger, born in Washington, and is currently the Director of Jazz Studies and the UDC Jazz Band, for his alma mater, the University of the District of Columbia. He has worked with Andrew White, Frank Morgan, Sonny Fortune, David "Fat Head" Newman, Bennie Golson, and Stanley Turrentine among others. Links: Website, Reverbnation, Facebook, and YouTube
---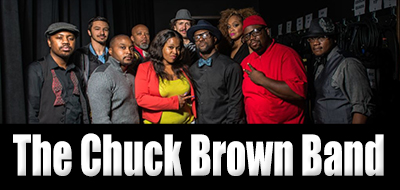 The Chuck Brown Band - Performing Go-go, Funk, R&B, jazz, blues and soul - Chuck Brown recorded with artists as diverse as Thievery Corporation, Brian Culbertson , Jeff Majors and Kindred the Family Soul. A street in Washington DC was renamed "Chuck Brown Way." In September 2010 Brown released an ambitious three disc set "We Got This" which includes the Grammy nominated song LOVE featuring Jill Scott with Marcus Miller.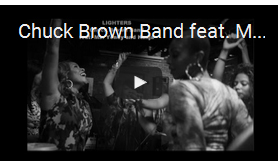 As part of the support for the new album some recent appearances include the Jimmy Fallon Show with The Roots, the Mo'Nique show, NPR's Tiny Desk Unit, and NPR's World Café. The National Symphony Orchestra paid tribute to Chuck Brown in September 2011 with 2 commissioned works of orchestral arrangements and a performance on the West Lawn of the US Capitol. Attended by an estimated 50,000 people the NSO and Chuck performed together, followed by his band in concert with guests Doug E Fresh and Sugar Bear. Chuck Brown passed away on May 16, 2012. Chuck Brown Memorial Park opened on August 22, 2014. The Chuck Brown Band, who toured the world with the Godfather carries the torch and keeps the beat and legacy alive. " Links: Website, Facebook and Wikipedia.
---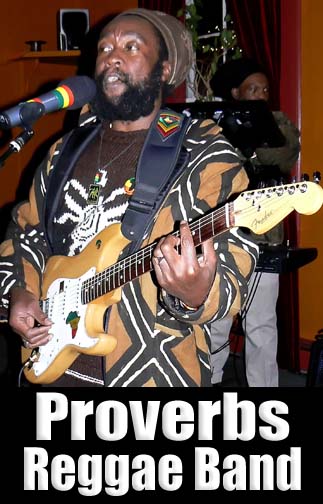 Proverbs Reggae Band A rootz reggae band known for performing music with "strong lyrical content and musical expressions to uplift Rasta livity." The band specializes in performing socially conscious roots music and the band "endeavors to promote Ancient Wisdom through the art of music, thereby spreading the spiritual message of JAH RASTAFARI through word power and sound." When the band performs, their "MUSICAL POETRY, ROOTZ RASTA STYLE", it compels the audience to get up and dance. The band is diverse musically.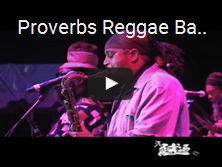 Collectively, the band's members bring their own unique musical gifts to transform Proverbs into an "eclectic, spiritually, and socially conscious reggae band with a profound cultural base and deep rooted sound." Proverbs performs an extensive range of genres, which include "SKA, ROOTZ REGGAE, GOSPEL, JAZZ, R&B, COMPAZ, ZOOK, SOUL, and a splash of CALYPSO." Proverbs has shared stages with a host of international artists over the years. They include Half Pint, Freddie McGregor, Chuck Brown, Collie Bud, Wyclef and Luciano, to name a few. Proverbs has performed in the D.C. area since 2000 and have won several Reggae awards. Links: Facebook, Reverbnation, YouTube, and DC Bebop page.
---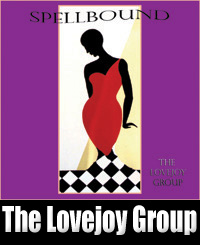 The Lovejoy Group is a versatile ensemble serving up energetic jazz, funky blues and smooth Latin rhythms. Karen Lovejoy, vocalist and bandleader, fronts the group. She migrated from the Midwest where she began singing contemporary ballads, rhythm and blues, and top 40 songs, but when she discovered jazz, "she found a home". The Lovejoygroup has won a number of awards including, the 2006 Jazz Jammie Award. Each member of the group brings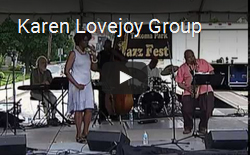 a wealth of experience to the ensemble. Jazz Historian Herb Smith with saxophone and woodwinds. Drummer, Lawrence "Bubbles" Dean, brings fire to the group's musical body and texture with his multi-genre style of play. "The Maestro", Jerry Allen, is pianist and musical director for The LovejoyGroup. Guitarist, Tony Harrod moves seamlessly from genre to genre, mastering nuances of sound without missing a beat. Bassist Bill Branch contributes his solid bass lines with a hard-hitting, foot stomping groove and traditional down home blues. Collectively, they are the Lovejoygroup. Link to Lovejoy Group Website, Reverbnation, Facebook and Bandcamp.
---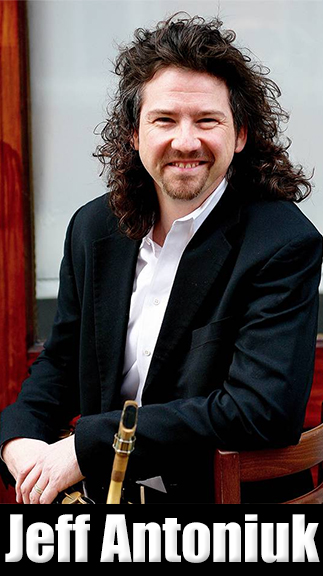 JEFF ANTONIUK,
THE JAZZ UPDATE &
JAZZ BAND MASTERCLASS
Jeff was "Born in Edmonton, Canada, Antoniuk studied at the prestigious University of North Texas, where he earned both a BM and a Masters Degree in Jazz Performance and Ethnomusicology. Living in Nigeria, Africa as a child, and traveling the world as a musician. Jeff has developed and served as Artistic Director on over 50 different workshops on specific jazz topics, and conducted over 2500 jazz masterclasses in the last 15 years. As a performer and composer, heralded for his "considerable chops" (Jazz Times Magazine) and "a creative spark that never lets up," (Rochester City Paper). His recordings with Jeff Antoniuk & The Jazz Update and The MARS 4-tet have all received critical praise, with appearances on the Jazz Top 40 charts. Jeff Antoniuk has played with or led bands with such luminaries as fellow saxophonists Ralph Bowen and Walt Weiskopf, guitarists Tim Miller and Steve Rochiniski, drummers Sherrie Maricle and Warren Wolf, bassists Jimmy Haslip and Marcus Miller, and trumpet players Tim Hagans and Ingrid Jensen. Links - Website, Wikipedia, All About Jazz and YouTube

Led by saxophonist Jeff Antoniuk, THE JAZZ UPDATE, with pianist Wade Beach, drummer Tony Martucci and bassist Tom Baldwin, is one of the top professional jazz groups in the DC/MD/VA area. The Jazz Update's combined bio reads like a who's-who of jazz and modern music, with performances and recordings with the likes of Sonny Stitt, John Aebercrombie, Marcus Miller, Mose Allison, Eric Alexander and many more. This is a seasoned band that knows how to get an audience engaged, enthralled, and on it's feet.

Formed in 2004, this heavy hitting quartet is comprised of some of the top-call players in the mid-Atlantic. These seasoned pros have played festivals and clubs across the US, with numerous shows at the top local venues - Blues Alley, the Kennedy Center, Strathmore Hall, the Smithsonian, many local universities, and The White House. Jazz Update Band

JAZZ BAND MASTERCLASS, Saxophonist Jeff Antoniuk, Bassist Leonardo Lucini and guitarist Steve Herberman. The jazz Band Masterclass groups are for musicians who have studied privately or have some improvising experience. Each group is assembled with the aptitude and experience of its members in mind, from beginner/intermediate up to semi-pro. A Core Value: "Communication and Interaction is at the heart and soul of jazz and improvisation. The classes bring together like minds, those who have something to give and share. We create a forum for adult musicians, and give them the tools to achieve real musical communication. The instructors love facilitating interaction, in music and in life." The Jazz Band Masterclass is regularly featured in local jazz venues in the DC area. Links - Jazz Band Masterclass, All About Jazz, Jazz Teacher Training and Jeff Antoniuk's DC Bebop page
---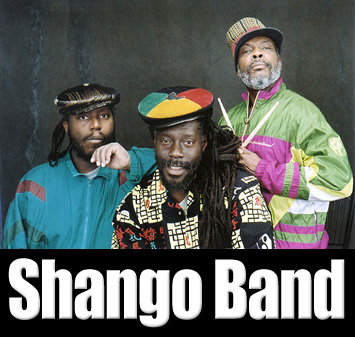 The Shango Band is a D.C. area reggae group that sings about real life and current world issues. The Band has been performing since the late 1980's. In 2001 they won the award for "Best Reggae Band" in the D.C. Annual Reggae Music Awards. Englishman, the band's bass-player, lead singer, songwriter and producer, has performed with reggae bands for more than 30 years. He has received many awards for his music over the years, and he has been a Master Artist in the D.C. Folks Arts Program for the Commission on the Arts and Humanities. Other award winning artist in the band are Eric (Spiduki) McDermott (drummer/singer) and Jackson (Professor) Briscoe, a graduate of Howard University and MIT. The Shango Band performs in venues all over the world. Links - Reverbnation, Facebook, Englishman Reggae and BandMix
---
BANDS WEST - Back to top
---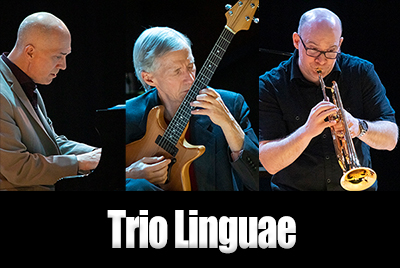 Trio Linguae is a "Freewheeling, playful and engaging, trumpeter Kevin Woods, guitarist John Stowell and pianist Miles Black weave their way through a collection of originals by Woods & Black, and others from Jobim, Wayne Shorter, Bill Evans and Harold Arlen on their debut recording. Though colleagues for many years in different configurations, the three found inspiration in collaborating as Trio Linguae (Lin-gwee) through their collective sense of conversational, contrapuntal improvising and reflexive listening - harkening the spirit of duo and trio albums by Bill Evans, Jim Hall or Kenny Wheeler. Integral to Vancouver's creative music scene, Miles Black has been a collaborator of the highest order since the '80s. John Stowell's unique musical voice and relationship to the guitar has gained him untold followers throughout the world since he began touring in the '70s, and Kevin Woods has found his place in Northwest jazz circles as an articulate improvisor and catalyst for artistic endeavors." ~
Trio Linguae Info, Facebook - Kevin Woods, Website - Kevin Woods, Facebook John Stowell, Website - John Stowell, Facebook Miles Black, Website - Miles Black, YouTube Channel and Trio Linguae - DC Bebop page.
---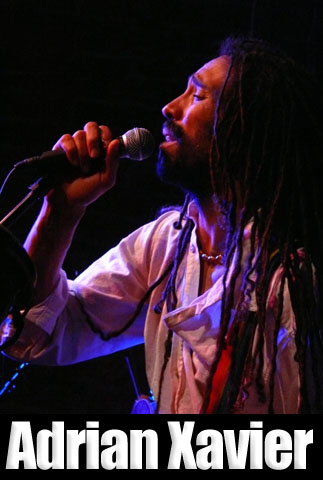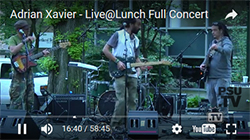 Adrian Xavier Band, with Adrian Xavier on Lead Vocals, Guitar & Percussion. Born in Seattle, he grew up surrounded by the music played by his father, a radio DJ, in the 80's. Adrian's musical background gave rise to an environment which allowed him to create songs that appeal to a broad cultural range of people. Adrian has been a performing artist for more than 20 years and has shared the stage with many well known musicians. While a member of the "Pure Water Band", they opened for "The Wailers (of Bob Marley fame) and also for the famous Jamaican ska and reggae musician Jimmy Cliff. Adrian formed the "Adrian Xavier Band" in 2000, and has been performing in and around Seattle, various cities in the state of Washington and touring the world. He has three CD's: "R-Nature" (2004), "Adrian Xavier Band Live" (2006) and "Miracle" (2008). Links: Reverbnation, Facebook, Website, and DC Bebop Page.
---

Darryl Anders ~ AgapeSoul is a "Modern Soul band" based in the San Francisco Bay Area." Led by bassist/producer Darryl Anders, the band delivers a musical experience that is all about Love, Soul …and undeniably funky grooves, destined to stand the test of time." Before becoming a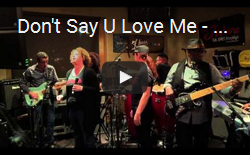 bandleader, Darryl earned his reputation by performing as a bass "sideman," and over the years, has performed with Tower of Power, Narada Michael Walden, Zigaboo Modeliste, Booker T. Jones, Joyce Cooling, Bonnie Hayes, Ledisi and many others. AgapeSoul is Darryl Anders (bass/vocals), Indra Jones (vocals), Zoe Ellis (vocals), Aaron Green (drums), Lynette Williams (keys), Cam Perridge (guitar), Vince Lars (sax), and special guest Martin Luther (vocals). 2012, "Believe in Love," is AgapeSoul's debut album, with seven original songs and two covers. 2012, released album "Conversations". 2018, single "Kite. 2019, single "The Way That We Love." In 2020, released single "Bulletproof," featuring Tommy Sims. In 2021, released single "Nobody But You," featuring Maysa Leak. Darryl Anders ~ AgapeSoul, can be seen and heard performing in venues in and around the San Francisco Bay area. Links: Website, Facebook, Facebook Bandpage, ReverbNation, Jazz Network, YouTube Channel and DC Bebop
---

Ancient Future is a large musical family of world fusion music ensembles led by scalloped fretboard guitarist Matthew Montfort. The group is dedicated to music termed by Matthew Montfort as "world fusion music". To date, Ancient Future is the world's first and longest running band dedicated to the creation of world fusion music, which blends musical ideas from many different cultures. The music is described as being "contemporary sounds of jazz and rock with the irresistible rhythms of African, Balinese, Indian, Middle Eastern and South American percussion, the rich harmonies of Europe, and the beautiful melodies of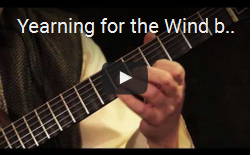 Asia". Their music is "an exhilarating fusion of exciting rhythms and exotic soundsfrom around the globe". It is worth noting that all of the members of Ancient Future have studied with or performed professionally with "master musicians of many world music traditions, from Balinese gamelan director Made Gerindem to North Indian sarod master Ali Akbar Khan". Ancient Future is credited with having created "a musical world without borders". Link: Website, Facebook, Reverbnation and DC Bebop page.
---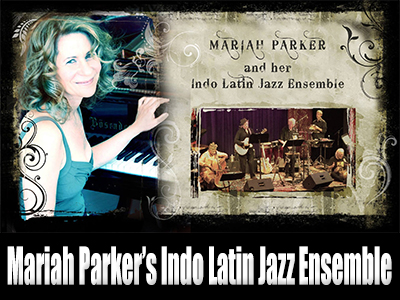 Mariah Parker's Indo Latin Jazz Ensemble

"Parker and friends blend the rhythmic syncopations of Latin jazz music with the entrancing, asymmetrical meters of East Indian rhythms resulting in first-class world music. Intriguing melodies that draw musical inspiration from the tempos of Brazil, Cuba, India and Spain make for an uplifting serene yet passionate musical journey into an ideal world." - LATIN BEAT MAGAZINE"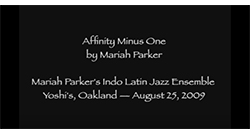 A gifted composer and a visionary band leader, Mariah has gathered together a remarkable ensemble including Paul McCandless (Grammy award-winning woodwind virtuoso with the group Oregon), Matthew Montfort (pioneering guitarist with Ancient Future), Ian Dogole (global percussion), Brian Rice (Latin percussion), and Kash Killion (bass, cello). Mariah will be releasing a new recording January, 2017, "Indo Latin Jazz: Live in Concert," a recording project taken from concerts at Yoshi's, Freight & Salvage, the Throckmorton Theatre, and TRI Studios over a seven year period. Of this upcoming release, Paul Liberatore of the Marin Independent Journal says "Like all the best jazz bands, this group is as disciplined as it is innovative, stopping on a dime when the composition calls for it and soaring into gorgeous landscapes of free association the next moment that are as pleasing as they are adventurous. This is sophisticated stuff, an album of global fusion performed by a group with character, charisma and the confidence that comes across when world-class musicians at the top of their games come together and create magic in the here and now of a live performance." - Links: Website, Reverbnation Facebook and Mariah Parker - DC Bebop page.
---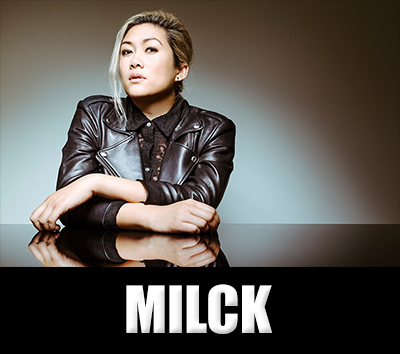 MILCK

"MILCK is a singer, songwriter, producer, and advocate who is known for cowriting and performing "Quiet," the viral sensation that became known as the unofficial anthem of the Women's March, Billboard's No.1 Protest Song, and a featured selection on NPR's American Anthem Series. In 2020, her single with Atlantic Records, "If I Ruled the World," was named song of the week by Time Magazine. Her 2021 song "I Belong" was featured in the CBS special "See Us", a nationwide special to bring more tolerance and safety for the AAPI community. As MILCK plans for her album release, she is also finding tremendous joy in writing and producing songs for other artists, like John Legend and Phillipa Soo (Hamilton). The Planned Parenthood Champion of Choice Award Recipient has funneled her advocacy work into the Somebody's Beloved Fund, which she established with her team in 2020 to use her songs to generate resources for ten grassroots beneficiaries that build power around racial justice and healing. MILCK has pledged for every song on her upcoming 2022 album to benefit The Somebody's Beloved Fund." Website About. Links: Website, Facebook, MILCK (DC bebop) page.
---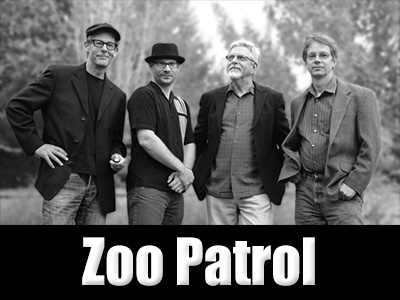 Zoo Patrol

Drummer Joel Litwin, bassist Steve Jones, guitarist Brian Cunningham and trumpeter Kevin Woods are Zoo Patrol, "a 'chamber groove quartet,' plays an infectious amalgam of instrumental blues, jazz, funk, soul,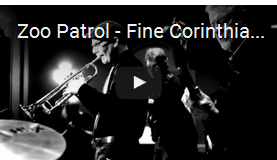 New Orleans and other styles, incorporating a menagerie of space, interplay and improvisation. Zoo Patrol deconstructs and reconstructs, interacts and reacts, whispers and flourishes, with the beat as its guiding principle." Kevin Woods - Trumpet, "emerging as one of the most melodic and emotive voices in improvised music in the Northwest. His passion for both performance and education have made him in demand as a leader and a sideman as well as a composer, arranger and clinician." Brian Cunningham - Guitar, "draws on a variety of influences ranging from jazz and folk to latin performed solo, and/or in a duo or group setting. His original compositions prominently feature the acoustic steel string guitar throughout,as well as various electric guitars. " Steve Jones - Bass, performs with Zoo Patrol, Bilongo Quintet, Arete Quartet and Sabrina y los Reyes, he is an all around musician who is comfortable as bassist or percussionist over a wide range of musical genres, covering jazz, Latin, funk and world music. Joel Litwin - Drums, Known for his creative and innovative style, Joel Litwin is a favorite drummer/percussionist among acoustic artists and regional bands in and around Seattle WA and the West Coast.. Links: Website, Reverbnation, Facebook, and YouTube
---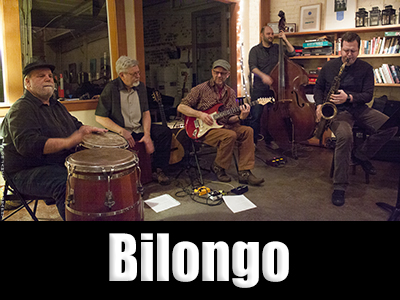 Bilongo - ethnic jazz ensemble.



Performing original music and arrangements inspired by Latin America, France, and Africa. Bilongo Quintet is John Meloy (saxophone, clarinet), Adrian Clark (guitar), Steve Jones (percussion, tres), John Butorac (percussion), Roger Yamashita (bass) Links: Website and Facebook
---
BANDS INTL - Back to top
---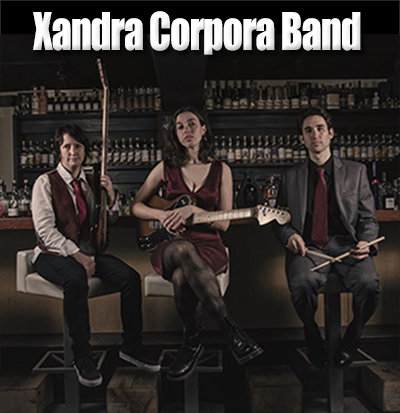 Xandra Corpora Band Xandra was born and raised in California, grewing up in the Owens Valley. Xandra's memory of music involve riding with her father "into town with "BB King's Greatest Hits" playing on the tape deck. Or Ella Fitzgerald. Or John Lee Hooker. Or Mozart." Her mother "fancied Simon & Garfunkel and Madonna." Her early music experiences influenced the development of her musical tastes, which she says are "all over the map in terms of love and influence." A late bloomer,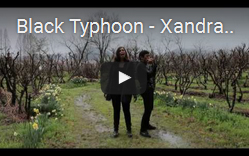 she began playing guitar around "21 or so," singing and touring with a few bands. Then she stopped and reassesed what she wanted to do and seeking change and the adventure of a different existence, Xandra moved to Japan. Based in Nagoya-shi, Aichi, Japan, the band members are Xandra Corpora - vocals & guitar, Lesley Bartlett - bass, and Adam Demby - drums. The Xandra Corpora Band "has beome one of Nagoya's most loved acts. Songwriter and guitarist Xandra corpora, having established herself firmly in the music scene of San Francisco, moved to Japan to 'experience life outide of America.' It was here that she found herself back into music..." excerpt from NAGMAG (2016). In June of 2016, XCB won the Hard Rock Cafe's "Hard Rock Rising" competition in Osaka. The bands latest CD, Soul Fires (2016) is available on iTunes. Links: Website, Reverbnation, Facebook, Calendar and DC Bebop page.
---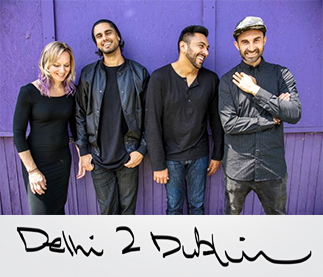 delhi2dublin Tarun Nayar: tabla, electronics, backing vox; Sara Fitzpatrick: fiddle, vox; Sanjay Seran: lead vox, dhol; Ravi Binning: dhol, tabla; Andrew Kim: sitar, guitar are delhi2dublin. They performed for the first time at a concert at the Vancouver Celtic Festival in 2006. They opened the Canada Day celebrations on Parliament Hill in Ottawa on July 1, 2007. Since 2008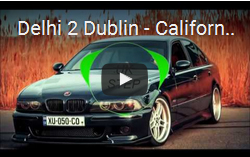 delhi 2 dublin has kept a busy schedule, touring large cities such as Vancouver, Toronto, Ottawa, Montreal, and also very-small communities that host music festivals, such as Lumby BC, Nakusp BC, Salmo BC, and Quincy CA. In August of 2009 they began touring venues around the world. The group has released eleven albums, their first, self-titled, in 2007, In 2008 they released their second album, Delhi 2 Dublin Remixed, which consisted of remixes of songs from their first delhi 2 dublin album. In 2010, they released "Planet Electric," "Planet Electrified" in 2011 and most recently, "Turn Up The Stereo" 2012. "Their music video "Apples" was also screened at Deejay Ra's music video night in Toronto at the FILMI festival, North America's longest running South Asian film festival." Look for Delhi 2 Dublin performing at a venue near you. Links: , Website, Reverbnation, YouTube Channel and DC Bebop page.
---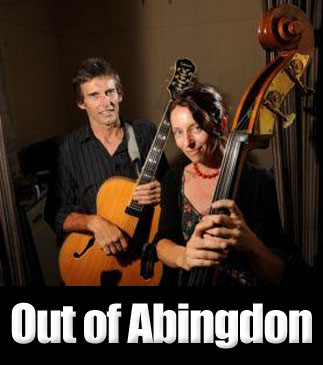 Out of Abingdon"Warwick Hargreaves - Guitar / Vocals.. &.. Tina Fullerton - Double Bass / Vocals.... are a Duo with a passion for Jazz, Blues, beautiful Ballads and all things that Groove! Their captivating style includes interpreting & blending old favourites with new & original material, the resulting sound is refreshing, their musical rapport, passion & feel is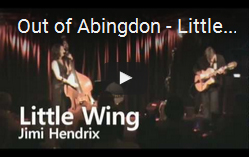 infectious. Out of Abingdon independently released their long awaited debut CD 'Journeys' in July 2011 after building a solid following playing hundreds of live shows over 3 years. A tour to the UK followed, performances in London and the Edinburgh Fringe Festival were highly acclaimed and invitations to return were extended by all venues and audiences for whom they played. 'Journeys' has been receiving great reviews and radio airplay Australia wide through community radio stations and worldwide through an increasingly international audience. Out of Abingdon's reputation continues to grow as a captivating live music experience and unique voice in Australian music." In 2014, Warwick and Tina released their latest album, "Small Steps" on iTunes. Out of Abingdon can be heard performing regularly in and around Brisbane at clubs, restaurants, cafes, public events, festivals, private and corporate functions. "Be sure to catch on to the bewitching sound, when Out of Abingdon drift your way. Links: Reverbnation, Website, YouTube, Facebook and DC Bebop page.
---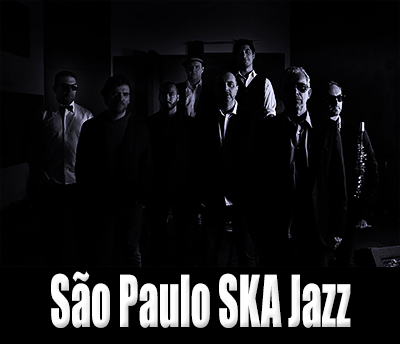 São Paulo Ska Jazz Founded by musician and composer Marcelo Calderazzo. The band is Marcelo Calderazzo (acoustic and electric bass), Renato Guizelini (guitar, mandolin and guitar), Ramon Montagner (drums), Sidney Ferraz (piano and keyboards), Manu Falleiros (baritone sax, tenor and high), Marcelo Pereira (baritone sax, tenor and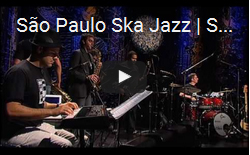 flute), Gabriel Stampfli (trumpet) and André "Porão" Gomes (trombone). "South America's ska scene started developing in the mid-1980s. South American ska bands typically play traditional ska rhythms blended with strong influences from Latin music and rock en Español. São Paulo Ska Jazz ebmraced the musical style to entertain the people and to pay respect to Jamaican rhythm. To these rhythms, the band adds the sophistication of jazz to create their own unique sound. Links: Reverbnation, Website (BR), YouTube, Facebook and DC Bebop page.