MUSIC: FEATURED MUSICIAN & PLAYLIST*
Kytami - Bob Baldwin - Anna Fisher -
Zoo Patrol - Elijah Jamal Balbed -
CDs - Kenny Neal - Steve Turre
---
MUSIC INTERNATIONAL
Kytami - Violinistextremist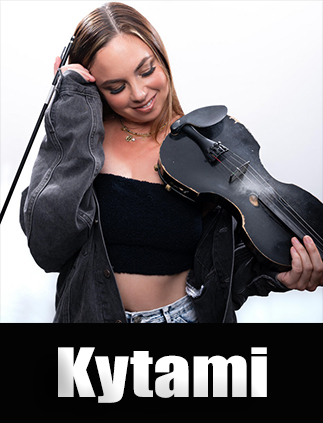 "Kytami is arguably, Canada's most diverse and engaging fiddle player, she is an unbelievably energetic performer." Kytami's range and styles span from classical, punk, metal, hip-hop, Reggae, Celtic and any "fiddle styles" in between. Her skill and energy have moved audiences to stand up and embrace her music. From Canada to Europe, to the Near to the Far East, crowds groove to her sometimes melodious, sometimes strident, always energizing and engaging musical styles. She has recorded with established artists in diverse musical genres. From reggae, hip hop, drum and bass, to punk and metal. She has performed with Third Eye Tribe, Blackie LeBlanc, the Kytami Revolution, the indie pirate-rock group, Lownote and delhi2dublin. Kytami is featured on a number of Delhi2Dublin CDs. More recently, can be seen and heard on tour with PHONIK OPS in Canada and the U.S. Links: Website, Reverbnation, YouTube, SoundCloud, Kytami on Facebook and DC Bebop page.
---
MUSIC US East
Bob Baldwin - contemporary jazz pianist, music composer, author, and producer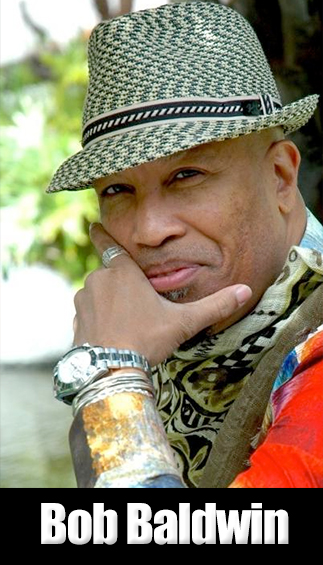 Bob is a multi-facetted person. He is a Jazz Artist, Radio Host, Music Presenter, Arts Advocate, Educator, and Author. He has "a vision to take his gift of music to bless those less fortunate, and raise funds for organizations in need of help." Bob is originally from Mount Vernon, N.Y. He began playing piano when he was four years old, and was taught by his father, Robert Baldwin, Sr., who was an accomplished jazz pianist and upright bassist. In his youth, Bob would accompany his father to jam sessions near home, and had the opportunity to listen to and study the music of "the masters of the Westchester region." Later, Bob was influenced musically by a number of artists, "strongly by Herbie Hancock, Stevie Wonder, Patrice Rushen, Chick Corea, EWF, Joe Sample, Ramsey Lewis, Miles Davis, and George Duke." His style is "a by-product of these artists." During the 80's, Bob performed with a who's who of talent, including Roy Ayers, Gerald Albright Dean James, Chieli Minucci, Jocelyn Brown, Kim Waters, Will Downing, Marion Meadows, Najee, the late Grover Washington, Jr., and Noel Pointer and many others. In 2010, Bob released "Never Can Say Goodbye: A Tribute to Michael Jackson," and "Betcha By Golly Wow: The Songs Of Thom Bell" in 2012. "The Brazilian-American Soundtrack&quot in (2016). Links: Website, Facebook, Discography, Reverbnationand DC Bebop page.
---
MUSIC US West
Anna Fisher - Oboe and English horn, singer, composer, arranger, teacher and producer.
Originally from Concord, MA., it has been written that Anna began learning music from birth. Her father was a child prodigy pianist and MIT Physicist. Her gravitation to music was a natural transition, as was her career as an educator - her mother was a teacher. Anna has "always had a love for the classics" and has studied with legendary classical musicians - Leonard Bernstein, Isaac Stern and Seiji Ozawa during her musical career. She has studied music her entire life in her quest to be the best at what she does. Anna's musical repertoire is extensive. In addition to the classics, she plays Jazz, Reggae, R&B, Pop, Latin and Hip Hop. Anna has released her third CD titled "Focus". Leroy Downs "The Jazz Cat" of KKJZ pens Anna's liner notes for the CD and says her music "visits the familiar as well as new and exciting ways to make that familiarity shape and mold into sounds that soothe from different perspectives". She also has two earlier CDs available on CD Baby, "Renaissance In Formation" and "Yin Yang". Links: Reverbnation, website, and DC Bebop page.
---
MUSIC BANDS
Zoo Patrol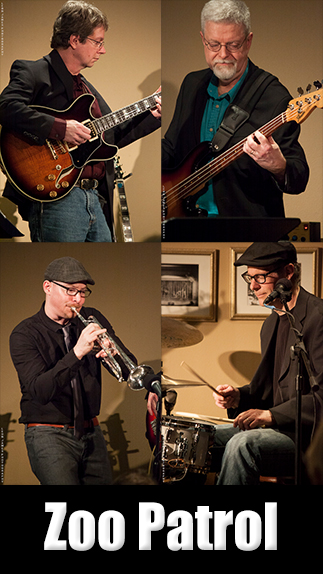 Drummer Joel Litwin, bassist Steve Jones, guitarist Brian Cunningham and trumpeter Kevin Woods are Zoo Patrol, "a 'chamber groove quartet,' plays an infectious amalgam of instrumental blues, jazz, funk, soul, New Orleans and other styles, incorporating a menagerie of space, interplay and improvisation. Zoo Patrol deconstructs and reconstructs, interacts and reacts, whispers and flourishes, with the beat as its guiding principle." Kevin Woods - Trumpet, "emerging as one of the most melodic and emotive voices in improvised music in the Northwest. His passion for both performance and education have made him in demand as a leader and a sideman as well as a composer, arranger and clinician." Brian Cunningham - Guitar, "draws on a variety of influences ranging from jazz and folk to latin performed solo, and/or in a duo or group setting. His original compositions prominently feature the acoustic steel string guitar throughout,as well as various electric guitars. " Steve Jones - Bass, performs with Zoo Patrol, Bilongo Quintet, Arete Quartet and Sabrina y los Reyes, he is an all around musician who is comfortable as bassist or percussionist over a wide range of musical genres, covering jazz, Latin, funk and world music. Joel Litwin - Drums, Known for his creative and innovative style, Joel Litwin is a favorite drummer/percussionist among acoustic artists and regional bands in and around Seattle WA and the West Coast.. Links: Website, Reverbnation, Facebook, and YouTube
---
MUSIC DC Scene
Elijah Jamal Balbed - Saxophonist, Composer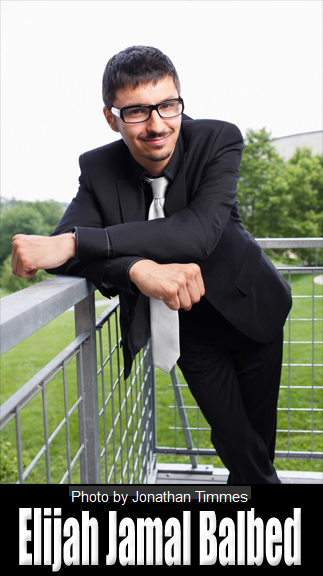 Elijah is a native of Washington, D.C. In a Local Magazine article, he said he first wanted to become a martial artist, but in high school his enthusiasm and interest was captured by his desire to play music. He immersed himself in the pursuit of music as a career and the fruit of his efforts were realized. "In 2007, Elijah earned a Maryland Distinguished Scholar award, an Overall Best Soloist award in the Maryland Band Director's Association Big Band Festival, and a Best Soloist award in the Maryland Band Director's Association Big Band Festival, and a Best Soloist award at the 2008 Festival Disney Jazz competition." Elijah was recognized for his abilities by the Washingtonian Magaine in 2009, and twice by the Washington City Paper, which in 2010 named Elijah "Best New Jazz Musician" and then in 2013 the paper named him "Best Tenor Saxophonist." In an interview on JazzCast, he says he began taking private lessons from Saxophonist Paul Carr while attending Albert Einstein High School, and with the encouragement of his private tutor and school teacher, Joan Rackey, he began taking his music more seriously and decided to actively pursue a musical career as a life goal. Links: Website, Reverbnation, Facebook Bandcamp, SoundCloud, and DC Bebop page
---
MUSIC CD ARCHIVE: ONECD

Kenny Neal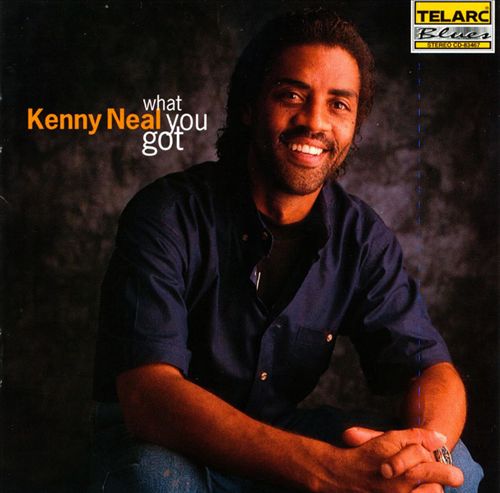 Kenny Neal - What You Got (2000) "This is Neal's third album for Telarc and it's definitely one of his best releases to date. He's long been known for his Louisiana blues groove, but this CD will force critics and fans to reassess their take on Neal's sound. Tracks like "Two Wrongs Don't Make a Right," "Little Brother (Make a Way)," "I'm The Man Your Mama Told You About," "Loving on Borrowed Time," and "Deja Vu" are robust numbers that variously evince Chicago and Memphis influences, while the title track is a gorgeous bit of soul music that showcases Neal's mature voice." ~ Website, Facebook, YouTube and Wikipedia
---
MUSIC CD ARCHIVE: DOUBLECD

Steve Turre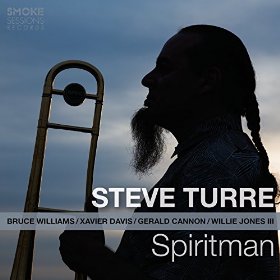 Steve Turre - Spiritman (2015) "While Steve Turre's more recent works have focused on the unabashedly experimental sounds he's evoked from the spirited depths of the conch shell -- including those that splash across the strings of a wide open piano soundboard -- this new record from Smoke Sessions focuses on Turre's foundation instrument: the trombone. It was the trombone that Turre was playing during the 1970s when the legendary bandleader Woody Shaw introduced him to another legendary bandleader, drummer Art Blakey. When he summoned the courage to step onto the Blakey bandstand, he won himself a gig, a trip to New York City and a beginning to his long and successful career." ~ Michael Verity - jazz.about.com, Website, Facebook, Yamaha and Wikipedia.
---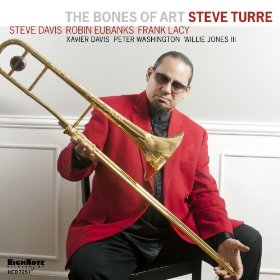 Steve Turre - The Bones of Art (2008) "For over 30 years Art Blakey was as influential a band leader as there was in jazz. From 1947 until his death in 1991, his group the Jazz Messengers was a university of jazz for young and talented musicians. Many of these young lions would later become some of the period's most influential players of the genre. Steve Turre was one of the few musicians who played trombone with Blakey and can be heard on Blakey's 1973 album Anthenaga along with then members Cedar Walton and Woody Shaw. His experience with Blakey left a lasting impression on the young trombonist and his latest album, The Bones of Art, is as much a dedication to the late band leader as it is a celebration of the diversity of expression available on his instrument, the trombone. Steve used the Blakey connection to realize his dream of fronting a band with three trombone voices leading the way. He assembled fellow Blakey trombone alumni Steve Davis, Frank Lacy and Robin Eubanks to contribute their individual signature sounds along with pianist Xavier Davis, bassist Peter Washington and drummer Willie Jones III." ~ Ralph A. Miriello - huffingtonpost.com
---
MUSIC CD ARCHIVES:
DOUBLECD - SINGLES - ONECD