MUSIC: Featured Musician & Playlist*
Mads Tolling - Paul Carr - Ginetta M -
Ragan Whiteside - CDs - Jazmin Ghent - Gregg Karukas
---
Mads Tolling, Violinist, Violist and Composer
Mads was born and raised in Copenhagen, Denmark. At the age of 20 he came to the United States to "pursue jazz studies". He attended the Berklee College of Music in Boston, Massachusetts where he graduated summa cum laude from the Berklee College of Music in 2003. While at Berklee, Mads was recommended to join Stanley Clarke's band by renowned jazz violinist Jean-Luc Ponty. "Since then, he has performed more than 100 concerts with Clarke worldwide, including the Newport Jazz Festival and the Hollywood Bowl." Mads is a member of the Grammy Award-Winning "Turtle Island Quartet". Mads "has received Denmark's Sankt Annae's Award for Musical Excellence as well as grants from Queen Margaret, the Sonning Foundation and the Berklee Elvin Jones Award. He has performed with Paquito d'Rivera, Kenny Barron, Joe Lovano, Stefon Harris, The Assad Brothers and Leo Kottke." He is an accomplished composer with three recordings of original material, one features the well-known pianist JoAnne Brackeen. Another with vibraphonist Dave Samuels and the third on RMB singer Teena Marie's recording "La Dona". He has contributed numerous arrangements and compositions to the Turtle Island Quartet's repertoire. Mads is viewed as "a thriving force in the educational aspects of jazz and improvisation. He has been active as a Yamaha clinician and has been involved in workshops, coachings and master classes throughout Canada and the U.S." Links: website, Facebook, Wikipedia, MySpace Music, Discography and DC Bebop page.
---
---
Paul Carr - Saxophonist, Educator, Bandleader, Composer, Producer
Paul Carr - Saxophonist, Educator, Bandleader, Composer, Producer
Paul, a Houston native and 1985 Howard University graduate, has dedicated his professional career to mastering the saxophone and the art of Jazz. He carries on the Texas tenor tradition espoused by great heroes such as the late Houstonians Arnett Cobb and Don Wilkerson who served as his early idols and mentors. He grew up in inner-city Houston, Texas and was a member of the Kashmere High School Stage Band, whose director, the late Conrad Johnson, is the subject of a documentary, Thunder Soul, produced by actor, Jamie Foxx. Though never having had private music lessons, Paul has received several outstanding musician awards at high school and college jazz festivals. Paul is passionately committed to the education of children and particularly as it relates to the preservation of jazz. In 2002, he founded The Jazz Academy of Music Inc, which hosts summer camps and jazz ensembles for kids throughout the year. Several of his students have been admitted and even received full scholarships to some of the top music schools and conservatories in the country. Paul has recorded 5 CD's, which have been well received by critics and jazz fans alike. His new CD "DC-NYC Organ Sessions" was just release in September, 2014 and as of this writing is #9 on the Jazz Week radio play charts. His CD released in 2013, "Standard Domain," reached #3 on the Jazz Week radio play chart and stayed on the chart for 16 weeks. Paul has toured Russia, Europe, the Middle East, the Caribbean and Central and South America and has shared the stage with many of the greatest names in jazz. In 2010, Paul re-established the East Coast Jazz Festival as the Mid-Atlantic Jazz Festival, and serves as its Executive and Artistic Director. The festival enjoys over 2,000 attendees that travel from states across the U.S. and beyond. Held every Presidents Day weekend in Rockville, MD, the festival incorporates a strong educational component, with a high school band competition and free master classes for students as well as an entertainment component with performances by NEA Jazz Masters, such as Benny Golson, Jimmy Heath, and Roy Haynes, just to name of few. Links: Website, Reverbnation, DC Bebop - MAJF and Paul's DC Bebop page
---
---
Ginetta M (Ginetta's Vendetta) - Trumpeter, vocalist, composer and bandleader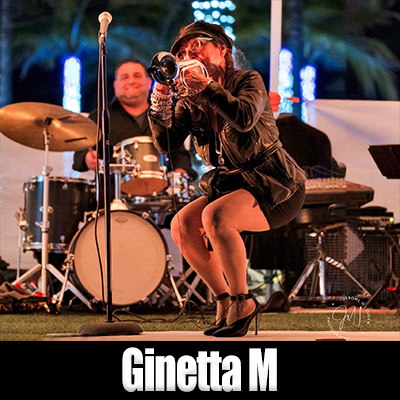 Ginetta says she is an "Italian Gypsy, born there", but came to the U.S. when she was a baby. She began playing trumpet in the third grade at age eight and says "I knew right then that I loved music and the stage!!!" Looking back, she also says "now mind you, I'm only 5 feet tall now... back then I was a little tiny thing. When the music teacher asked what I wanted to play, I said 'Trombone', and he said 'your arms are too short'. Short arms and providence led Ginetta to the trumpet. "Ginetta is an alumnus of North Texas State University where she studied and played most styles of music ranging from classical, jazz, blues and pop to Cumbia, Salsa, Merengue and Funk. She has studied music and been taught to play by trumpet masters Marky Markowitz, Spanky Davis, Ted Curson, Howard McGhee and Allan Colin, to name a few. Over the years Ginetta and her horn have performed with many well known entertainers. She has shared the stage with the Neville Brothers, Charles Neville, Jimmy Buffet, "Tone, Tony, Toni", "two tons of fun", Albert Collins, The Holmes Brothers. "The Boo Radleys", The Phantom Band (Haitian Compa band), Blue Boy (Trinidad Calypso star) and numerous Salsa legends. Ginetta has 3 Billboard world songwriting awards for 3 of her original songs. She received the Ascaplus Award for songwriting, which is awarded yearly and the soul-patrol future Legend of Black Music Award. She also received the Music Liberty Initiative for NYC Musicians, after 9/11. Links: Website, Reverbnation, Facebook, YouTube and DC Bebop page.
---
MUSIC US East -
---
Ragan Whiteside - flutist, vocalist and songwriter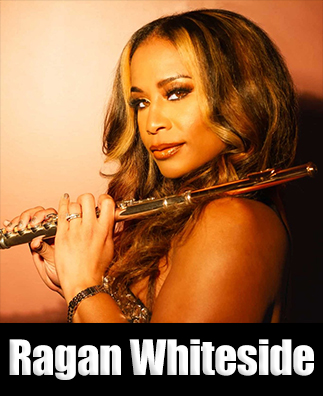 Ragan is originally from Mount Vernon, New York. She began her study of musical at the age of 5. She took piano lessons, played drums, and eventually gravitated to the study of the violin, but in the final analysis, she chose playing the flute and studying classical music. She also discovered a love of songwriting and arranging. Ragan studied at the Cleveland Institute of Music and the Harid Conservatory, where she earned her Bachelor of Music - Performance degree. After graduating, she returned to New York to advance her musical dream, and while there she took a major turn from her chosen path of Classical music to follow her interests for Jazz, Funk, and R&B. In 2006, she won the Capital Jazz Challenge at the Capital Jazz Festival. She returned to the festival in 2007 with a new "critically acclaimed" album, Class Axe. She penned half the songs on the album. It was produced by Pianist/Arranger Bob Baldwin and Engineer/Arranger Dennis Johnson. During her career, Ragan has performed with Earl Klugh, Gerald Veasley, Kirk Whalum, Rick Braun, Eric Darius, Kim Waters, Marion Meadows, and Grammy Award winning opera singer Esther Hinds, and Bob Baldwin. Link: Reverbnation, Website, Jazz Review Interview and DCBebop page.
---
MUSIC CD ARCHIVE: ONECD
---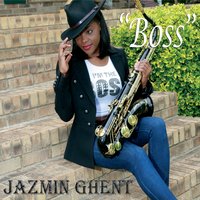 Jazmin Ghent - Boss (2014) "When I first experienced this young lady's considerable prowess on tenor sax, I was aboard The Smooth Jazz Cruise 2014 (which I covered here on the Jazmine Ghentsite, leaving the review posted for about a year). I predicted then that we'd hear more from this saxtress who won the SJC 2014 amateur artist contest. I believe she then went by the pseudonym Jazmin J, offering a most convincing and stirring arrangement of the classic "Summertime." After just a little over a year later, she has reemerged, this time as Jazmin Ghent, with her debut release Boss. The album is a tasteful, well-produced one where she has penned all but two tracks and easily convinces listeners that her freshness and clean, solid style are just what we jazzers are looking for in the effort to regularly breath happy, new life into this genre we so love." ~ TheSmoothJazzRide.com, Facebook, YouTube, Discography and Website
---
MUSIC DOUBLE CD ARCHIVE: DOUBLECD
---
Gregg Karukas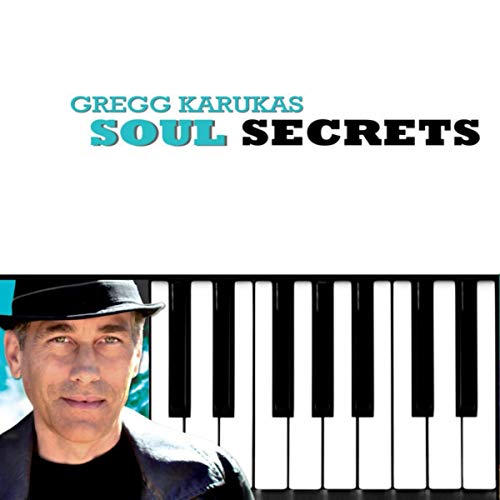 Gregg Karukas - Soul Secrets (2014) " The "Secret" is out! 2013 Grammy winner Gregg Karukas is back with a new collection featuring his signature piano touch, pristine production, and melodies that are both soulful and sophisticated. Organic, funky, and melodic is how the original Rippingtons keyboardist describes his latest, long awaited 12th solo project, "Soul Secrets". Gregg's elegant grand piano melodies and infectious grooves are everywhere; this time around he digs into his roots, featuring the classic Fender Rhodes, Wurlie, Minimoog and B3 keyboards quite a bit." ~ Website "Soul Secrets" page, Website, Discography, Facebook and YouTube.
---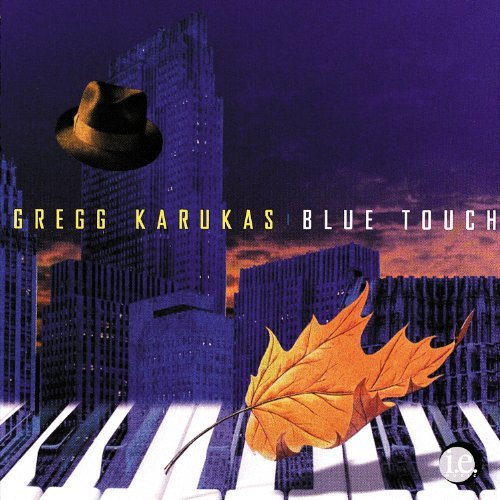 Gregg Karukas - Blue Touch (1998) "Sure that Gregg Karukas had reached the point where his lighthearted approach to smooth jazz was instantly recognizable, the keyboardist titled his last Positive Music release, You'll Know It's Me. Though he adds dashes of hip blues textures and Crusaders-flavored twists with the Fender Rhodes (hence the title, Blue Touch), Karukas' debut is another typically high-spirited effort, a reminder as to why his albums are always perched for months in the upper reaches of the radio charts. For him, it's always about lilting, instantly memorable melodies and gentle funk." ~ Jonathan Widran - AllMusic.com