MUSIC: Featured Musician & Playlist*
Russ Hewitt - Janine Gilbert-Carter - Andrea Celeste -
Nate Birkey - CDs - Lira - The Cookers
---
Russ Hewitt - Guitarist, songwriter
Russ has been playing guitar since he was eleven. He said he used to do whatever his older brother would do, so when his brother began playing guitar, he picked it up as well. When he was 14, his brother gave up playing and sold him his equipment, and it was at that point he seriously pursued his love of music. Russ said he spent his "formative years learning rock and heavy metal through guitar tabs, videos" and anything he could "get his hands on." A lot of his favorite rock players from that time were also into classical guitar, which introduced him to the style. This eventually lead him to pursue and receive a degree in Classical Performance from the University of North Texas. Russ explains his style of play is "not true flamenco, jazz, Latin jazz, Cuban or Brazilian, but a fusion of styles, sometimes combined together simultaneously. Russ has released two of his own CD's Bajo el Sol (2008) and Alma Vieja (2011). Russ is working on a few projects, which will be released in the near future. Links: Reverbnation, MySpace, Facebook, Website and DC Bebop page.
---
---
Janine Gilbert-Carter - Vocalist
Music, in all its forms, has been a part of Janine's life from the beginning. She was introduced to gospel, Jazz and blues at a very early age by her parents and grandmother. Her "musical journey" began in the church as a member of the choir in Aliquippa, PA. From her singing there, opportunities to sing expanded with "solo performances as a member of the Bach Choir of PA, which performed for some of Braodway's most exciting musicals," and she continued to pursue music as a life goal. Janine moved to the Washington DC area in 1988. In the summer of 1996, She launched her career with a performance at the New Genesis Baptist Church. Since then she has performed as a soloist or with groups in the DC area. She has shared the stage with notable artists such as Tramaine Hawkins, Oleta Adams, Regina Bell, Ann Nesby and Donnie McClurkin and Sweet Honey in the Rock for WPAS's Annual Gospel concert held at the Kennedy Center in Washington, DC." She has performed at many DC jazz venues over the years. During her jazz performances, "she has shared the stage with area-wide jazz musicians like pianist Aaron Grave, Vince Smith, Eric Byrd, Chris Grasso and Ron Elliston; bassist Wes Biles, James King, Saxophonist Paul Carr and percussionist Nasar Abady, Jeff Neal and the late Ricky Loza and Mike Smith." Janine's style has earned her recognition through the awards received at numerous competitions. Her discography on CD Baby: "Good Spoke To Me" (2003), "In the Moment" (2003), "A Song For You" (2006), In A Silent Tear (2009), and "At Last" (2013). Janine can be seen at Laporta's Restaurant in Old Town Alexandria, VA every Thursday night, and at venues in the wider DC area, and abroad when she is touring. Links: Website, Reverbnation, Facebook Sonicbids, YouTube, and Discography, DC Bebop page.
---
---
Andrea Celeste - Singer, songwriter, lyracist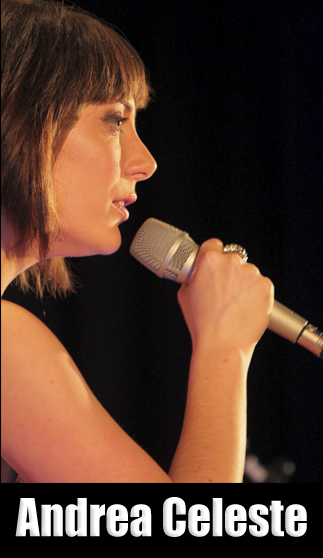 Andrea was born in Pontedera, Italy. She began studying classical singing and piano at an early age, and performed publicly for the first time when she was 11 years old. She received invitations to perform with "national and international Gospel projects and singers. In 2002 Andrea won a scholarship for the International Gospel Seminar in Castelbrando where she shared the stage with Mario Biondi and Cheryl Porter." In July 2007, Andrea started work on her fist solo album, "My Reflection", which was released in 2008. Upon its release, "My Reflection" achieved critical acclaim around the world. Her work "has been compared to such artists as Anita Baker, Diana Krall and Eva Cassidy." The entire CD was re-released for distribution in Taiwan, China, Hong Kong and Macao, and in June 2009 "My Reflection" was also published in Korea by the Label Enbluu (WorkSpace). In 2009 Andrea released "Enter Eyes" with the internationally acclaimed jazz pianist Andrea Pozza. In May of 2012, she released "Something Amazing," with the following coments, "we blended the amazing World percussions of Marco Fadda with the Jazz-Gospel touch of the greatest Dado Moroni and the groovy yet smooth bass lines of Lucas Bellotti ... The result is simply a sound that's unique and I'm crazy about it! My new original songs are the synthesis of the last three years spent touring, singing, recording and always searching for something… My emotions and feelings are free and I am ready to release them…" Andrea released "Something Amazing" (album) and "Born to Be Alive" (single) in 2012 and "Se Stasera Sono Qui" in 2013. Links: SoundCloud, Website, Facebook, Reverbnation and DC Bebop.
---
MUSIC US East -
---
Nate Birkey - Composer, trumpeter and vocalist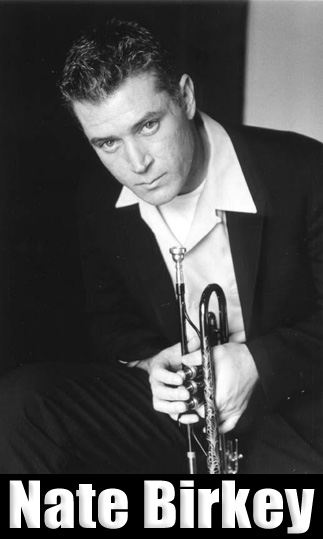 Nate Birkey - Composer, trumpeter and vocalist . Nate studied music at Berklee in Boston, Seattle Pacific University and the University of California Santa Barbara. For a number of years Nate was a "jazz presence" in Southern California and was referred to as a quintessential "west coast jazz musician". He performed with a number of groups before forming his own Quintet and moving to New York City. Over the years, he has contributed to and released a number of CDs. His Quintet released "Indelibly You" in 1998, "Mennonite" in 2001, "Ballads" also in 2001 and "Shortest Day" in 2004. All of Nate's efforts have received glowing reviews for his songwriting, composition, style of play and his singing. In 2008 Nate released "Almost Home" and "christmas" - "his first recordings made with his New York City quintet of saxophonist Sal Giorgianni, pianist Jim Ridl, bassist Tony Marino and drummer Marko Marcinko." Bob Agnew of the L.A. Jazz Scene writes, "Nate's subtle vocal and trumpet approach has often been compared to that of Chet Baker and Miles Davis respectively. A sound poised and assured, powerfully stark and spare, it creates an atmosphere at once solitary and electric." Nate released "Just A Closer Walk" in 2014, which is "a c ollection of hymns and spirituals live at St. Michael's Church in Isla Vista, California." Link: Website, Facebook, Sound Cloud, Reverbnation and YouTube page.
---
MUSIC CD ARCHIVE: ONECD
---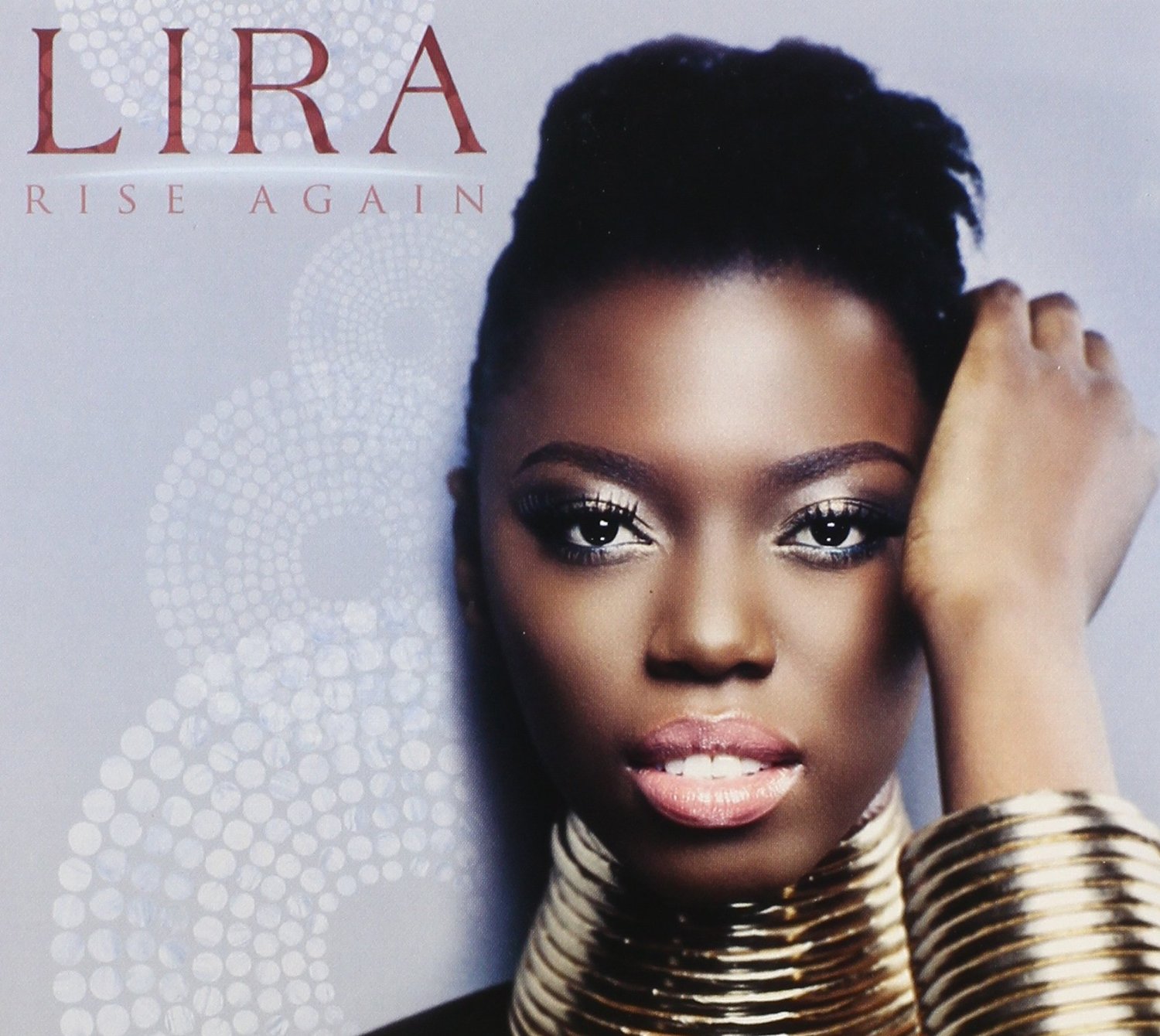 Lira - Rise Again (2014) &qout;Now it is our turn. America gets to witness the vocal charms of yet another African songstress who has chosen to impart her aural wares upon us. Her name is Lira and, in the styles of similar Lira CDvocal seductresses Sade and Douyé, her silky voice calls to us in a way that is irresistible. Already having wowed European and South African audiences, she now releases her debut release Rise Again (scheduled to hit the streets on April 29) to the American masses for their take on her. No doubt, she will not be disappointed. The same can be said of you. Blending R&B, jazz, reggae, African, and a touch of Latin influence, the album was almost entirely written by the songstress except for "Something Inside So Strong," written by Labi Siffre. Lira sang this one for the late great Nelson Madela at his 90th birthday celebration." TheSmoothJazzRide.com, Discography and Wikipedia
---
MUSIC DOUBLE CD ARCHIVE: DOUBLECD
---
The Cookers
The Cookers: Time and Time Again (2014) "Celebrating seven years together, Time and Time Again is the fourth release by The Cookers since the group's recording debut, Warriors (Jazz Legacy Productions, 2010). The band's all-star lineup, who first rose to prominence in the late '60s and early '70s, was initially formed by trumpet player David Weiss, who also serves as musical director. In addition to Weiss, the septet features the muscular frontline of trumpeter Eddie Henderson, tenor saxophonist Billy Harper and alto saxophonist Donald Harrison (replacing Craig Handy), with pianist George Cables, bassist Cecil McBee and drummer Billy Hart manning the blue chip rhythm section. Drawing upon their varied experiences, the ensemble members split writing duties, effectively summarizing the entire spectrum of the jazz continuum in the process. " - ~ TROY COLLINS - allaboutjazz.com, Discography, Facebook page and Jazz Legacy Productions.
---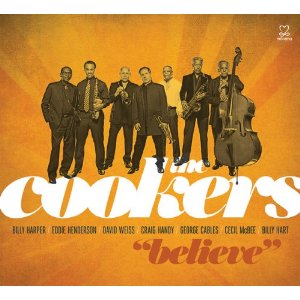 The Cookers - Believe (2012) "The Cookers' 2010 album Warriors ranked as one of that year's top ten jazz albums here: how does their new one, Believe, just out from Motema, stack up alongside it? It's different, and it's even better. It's one of those rare albums that come along a handful of times a year, that will blow you away the first time you give it a close listen. Who would have thought that all but two of the members of this perennially vital, intense veteran septet – saxophonists Billy Harper and Craig Handy, trumpeters Eddie Henderson and David Weiss, pianist George Cables, bassist Cecil McBee and drummer Billy Hart – are in their sixties or seventies? And who would have imagined that they'd come out with an album that's mostly midtempo, with a couple of brooding ballads? This one has gravitas, rich melodic beauty and all sorts of deep playing and interplay. Interestingly, much as this band is all about power and fiery chops, it's the compositions here that absolutely slay. The overall concept seems be something along the lines of "look, this isn't just a superstar session, we're a more-or-less fulltime band," and they reaffirm that many times over." - ~ Lucid Culture