MUSIC: Featured Musician & Playlist*
Ray Obiedo - Chris Grasso - Out of Abingdon -
Melvin Taylor - CDs - Thomas Marriott - Carol Duboc
---
Ray Obiedo, Guitarist, Bandleader, Producer and Engineer
Ray is orginally from the San Francisco area, and grew up in East Bay. While music was a persistent influence in his early years, he "didn't begin seriously studying guitar until his last year in high school." Ray became "focused on mastering his instrument and learning the craft of songwriting throughout the 70's and 80's". He began "performing with many of the jazz community's most celebrated stars including legendary jazz organist Johnny "Hammond" Smith, trombonist Julian Priester, Azteca featuring Pete & Sheila Escovedo, Fourplays' Harvey Mason. He toured the world in 1978-79 Herbie Hancock. As a bandleader, he "lead such popular local bands as the fusion ensemble 'Kick' and the funk-rock group 'Rhythmus 21' which showcased many of the Bay Area's leading singers." "As a session player, Ray has worked with artists as diverse as Lou Rawls, George Duke, Brenda Russell, Herbie Hancock, Sheila E & the E Train, Freda Payne, The Whispers, The Delfonics as well as solo albums by jazz trumpeter Eddie Henderson, former Yellowjackets' saxophonist Marc Russo, Meters drummer Zigaboo Modeliste and is highlighted on Grover Washington Jr's last hit cover of the classic single 'Soulful Strut'. "Ray has contributed source music to major motion pictures "Internal Affairs" starring Richard Gere and "A Shock to the System" starring Michael Caine." As a music producer/engineer, he has produced his own album projects and has produced and or engineered a variety of major and independently released CD's. Ray launched his solo recording career on the Windham Hill Jazz label, recording and releasing five contemporary jazz albums; "Perfect Crime" (1990), "Iguana" (1991), "Sticks & Stones" (1993), "Zulaya" (1995) and "Sweet Summer Days" (1997). "Sticks & Stones" "peaked at No. 7 on Billboard's contemporary jazz chart and remained in the top 25 for more than 10 weeks." In 2015, Ray released "There Goes That" with an all-star group of Jazz musicians backing him up, "including Miles Davis alumni Kenny Garrett, percussionist Sheila E, steel pan master Andy Narell and current Santana members percussionist Karl Perazzo and keyboardist David K Mathews." Links: Website, Last FM, Facebook, Youtube, Wikipedia and DC Bebop page
---
---
Chris Grasso, Jazz Pianist
Chris is a Washington, D.C.-based jazz pianist who specializes in working with vocalists. He is the Music Director for Sharon Clark, one of DC's most in-demand jazz vocalists. They can be seen and heard performing in numerous venues, and have appeared together on many stages, from the National Mall, as part of the Duke Ellington Jazz Festival, to the Cape May Jazz Festival. Chris has performed with Denise Thimes, Matt Wilson, Avery Sharpe and Albert Rivera, closing the show after Dave Brubeck's performance at the 2010 Litchfield Jazz Festival. He has performed live on WPFW, Washington, D.C.'s jazz station, with jazz greats Keter Betts and Buck Hill. He has appeared with the Ken Peplowski/Chuck Redd Quartet, and with New Orleans' historic jazz family, the Jordans. Chris has made multiple appearances at what was formerly the the East Coast Jazz Festival, and continues the tradition through what is now the Mid-Atlantic Jazz Festival. He has performed at a number of closed historical venues like the One Step Down and the Smithsonian Jazz Cafe in DC. He continues to perform at major venues in the Washington, D.C. area, including Blues Alley, Twins Jazz, Bohemian Caverns, the Kennedy Center, and the Music Center at Strathmore. Chris serves as Music Director at several local venues in the Washington D.C. area, and performs regularly with a number of local vocalists such as Sharon Clark, Lena Seikaly, Kristine Key, Sara Jones and others. Links: Website, Facebook, Sam Hill Bands, YouTube and DCBebop page.
---
---
Out of Abingdon

A Duo with a passion for Jazz, Blues, beautiful Ballads and all things that Groove! Out of Abingdon is Warwick Hargreaves on Guitar and Vocals & Tina Fullerton on Double Bass and Vocals. "Their captivating style includes interpreting & blending old favourites with new & original material, the resulting sound is refreshing, their musical rapport, passion & feel is infectious. Out of Abingdon independently released their long awaited debut CD 'Journeys' in July 2011 after building a solid following playing hundreds of live shows over 3 years. A tour to the UK followed, performances in London and the Edinburgh Fringe Festival were highly acclaimed and invitations to return were extended by all venues and audiences for whom they played. 'Journeys' has been receiving great reviews and radio airplay Australia wide through community radio stations and worldwide through an increasingly international audience. Out of Abingdon's reputation continues to grow as a captivating live music experience and unique voice in Australian music." In 2014, Warwick and Tina released their latest album, "Small Steps" on iTunes. Out of Abingdon can be heard performing regularly in and around Brisbane at clubs, restaurants, cafes, public events, festivals, private and corporate functions. "Be sure to catch on to the bewitching sound, when Out of Abingdon drift your way. Links: Reverbnation, Website, YouTube, Facebook and DC Bebop page.
---
MUSIC US East -
---
Melvin Taylor - solo and lead guitarist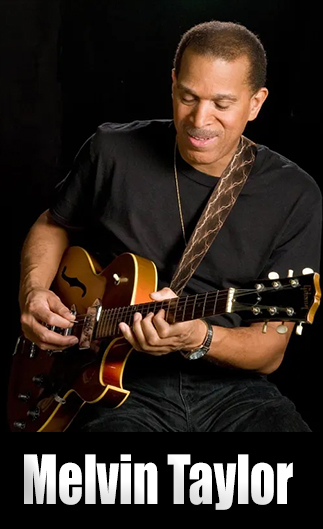 Melvin is a world renowned Jazz and Blues guitarist who has been at the top of the charts in Europe for years. His first two CD's, "I'll Play The Blues For You", and "Blues On The Run", were recorded in France in the early 1980's. Melvin returned to the US in 1990 where he recorded 4 additional CD's for Evidence Music - "Dirty Pool", remains Evidence label's best selling release ever. Taylor was born in Mississippi but raised in Chicago. Entirely self taught, this virtuoso began playing the famous, Maxwell Street when he was 10 years old. Melvin has developed a unique style and sound, mixing jazz chords with hints of blues and rock - ranging from hard, fast, explosive tones reminiscent of Hendrix, to the refined, smooth, elegant manner of Wes Montgomery. Melvin has recorded and performed throughout the world for the past 20 years. He has performed at historic and world class theaters attended by dignitaries. The Melvin Taylor Band has performed and been record live at the opening weekend of Sundance Film Festival in Park City, Utah - on three occasions. During his career, Melvin has released nine albums and several singles. In 2012, he released "Sweet Taste of Guitar", through Melvin Taylor LLC. and "Taylor Made," in 2013. His music is available on iTunes. Links: Website, Reverbnation, Wikipedia, NY Times article: "A Blues Guitarist Takes Off" and DC Bebop page.
---
MUSIC CD ARCHIVE: ONECD
---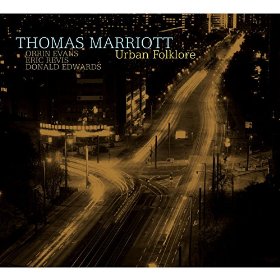 Thomas Marriott - Urban Folklore (2014) "Nothing has hit quite as hard as recent music from the trio of pianist Orrin Evans, bassist Eric Revis and Drummer Donald Edwards. The three musicians seek out (or probably re sought by) collaborators of equal weight and energy. It is not surprising that this recording of nine compositions, led by trumpeter and Seattle native Thomas Marriott, is a knockout from the opening number. Urban Folklore is Marriott's ninth as leader, and follows Dialogue (Origin Records, 2012) a live date in which Evans was a guest artist." ~ MARK CORROTO - AllAboutJazz.com, Website, Facebook, YouTube
---
MUSIC DOUBLE CD ARCHIVE: DOUBLECD
---
Carol Duboc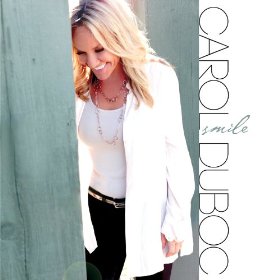 Carol Duboc - Smile (2013) "Is there a listening market for adult contemporary music. For lack of a better categorization, that is what Carol Duboc provides on her seventh release, the all-original Smile which she co-produces with Keyboardist Jeff Lober—and produce they do. Smile is sonically, a perfectly quaffed and lushly presented collection of ten hook-filled, expertly sculpted songs that take as much from late Stevie Wonder, Anita Baker and Sade as it does Miles Davis and fellow Kansas City-ians Charlie Parker and Count Basie. This is music for grown-ups, like that of Louise Van Aarsen-Koopman , dealing less with "You go to my head and you linger like a haunting refrain..." and more, "The story's been told / this love's mythological."" ~ C. MICHAEL BAILEY - allaboutjazz.com, CD Discography, Website, and Facebook.
---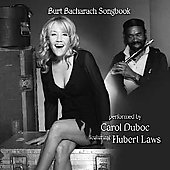 Carol Duboc - Burt Bacharach Songbook (2009) "Selections on the CD range from a playful take on "I'll Never Fall in Love Again" to a paired down, heartfelt version of "Anyone Who Had a Heart." Duboc's trademark sensuality comes through in her simmering interpretation of "Walk on By" and her refreshing perspective as a songwriter is highlighted on the disc's only original track "My Melody." The album also features intricate and effortless contributions by world-renowned flautist, Hubert Laws as well as musicians Danny Embrey on guitar, Joe Cartwright on piano, Bob Bowman on bass, Tim Cambron on drums and Luis Conte on percussion." ~ PM - Jazz Chill Blogspot