MUSIC: Featured Musician & Playlist*
Anna Fisher - Zoo Patrol - Elijah Jamal Balbed - Andrea Celeste -
Mark Rapp - CDs - Brian Charette - Russ Hewitt
MUSIC US West
Anna Fisher - Oboe and English horn, singer, composer, arranger, teacher and producer.
Originally from Concord, MA., it has been written that Anna began learning music from birth. Her father was a child prodigy pianist and MIT Physicist. Her gravitation to music was a natural transition, as was her career as an educator - her mother was a teacher. Anna has "always had a love for the classics" and has studied with legendary classical musicians - Leonard Bernstein, Isaac Stern and Seiji Ozawa during her musical career. She has studied music her entire life in her quest to be the best at what she does. Anna's musical repertoire is extensive. In addition to the classics, she plays Jazz, Reggae, R&B, Pop, Latin and Hip Hop. Anna has released her third CD titled "Focus". Leroy Downs "The Jazz Cat" of KKJZ pens Anna's liner notes for the CD and says her music "visits the familiar as well as new and exciting ways to make that familiarity shape and mold into sounds that soothe from different perspectives". She also has two earlier CDs available on CD Baby, "Renaissance In Formation" and "Yin Yang". Links: Reverbnation, website, and DC Bebop page.
---
MUSIC BANDS
Zoo Patrol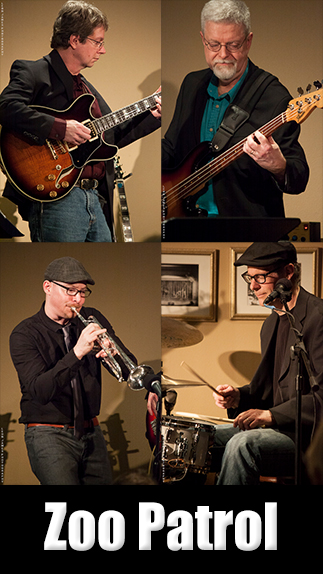 Drummer Joel Litwin, bassist Steve Jones, guitarist Brian Cunningham and trumpeter Kevin Woods are Zoo Patrol, "a 'chamber groove quartet,' plays an infectious amalgam of instrumental blues, jazz, funk, soul, New Orleans and other styles, incorporating a menagerie of space, interplay and improvisation. Zoo Patrol deconstructs and reconstructs, interacts and reacts, whispers and flourishes, with the beat as its guiding principle." Kevin Woods - Trumpet, "emerging as one of the most melodic and emotive voices in improvised music in the Northwest. His passion for both performance and education have made him in demand as a leader and a sideman as well as a composer, arranger and clinician." Brian Cunningham - Guitar, "draws on a variety of influences ranging from jazz and folk to latin performed solo, and/or in a duo or group setting. His original compositions prominently feature the acoustic steel string guitar throughout,as well as various electric guitars. " Steve Jones - Bass, performs with Zoo Patrol, Bilongo Quintet, Arete Quartet and Sabrina y los Reyes, he is an all around musician who is comfortable as bassist or percussionist over a wide range of musical genres, covering jazz, Latin, funk and world music. Joel Litwin - Drums, Known for his creative and innovative style, Joel Litwin is a favorite drummer/percussionist among acoustic artists and regional bands in and around Seattle WA and the West Coast.. Links: Website, Reverbnation, Facebook, and YouTube
---
MUSIC DC Scene
Elijah Jamal Balbed - Saxophonist, Composer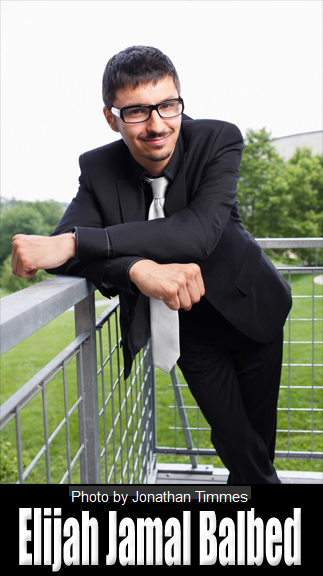 Elijah is a native of Washington, D.C. In a Washingtonian Magazine article, he said he first wanted to become a martial artist, but in high school his enthusiasm and interest was captured by his desire to play music. He immersed himself in the pursuit of music as a career and the fruit of his efforts were realized. "In 2007, Elijah earned a Maryland Distinguished Scholar award, an Overall Best Soloist award in the Maryland Band Director's Association Big Band Festival, and a Best Soloist award in the Maryland Band Director's Association Big Band Festival, and a Best Soloist award at the 2008 Festival Disney Jazz competition." Elijah was recognized for his abilities by the Washingtonian Magaine in 2009, and twice by the Washington City Paper, which in 2010 named Elijah "Best New Jazz Musician" and then in 2013 the paper named him "Best Tenor Saxophonist." In an interview on JazzCast, he says he began taking private lessons from Saxophonist Paul Carr while attending Albert Einstein High School, and with the encouragement of his private tutor and school teacher, Joan Rackey, he began taking his music more seriously and decided to actively pursue a musical career as a life goal. Links: Website, Reverbnation, Facebook Bandcamp, SoundCloud, and DC Bebop page
---
MUSIC INTERNATIONAL
Andrea Celeste - Singer, songwriter, lyricist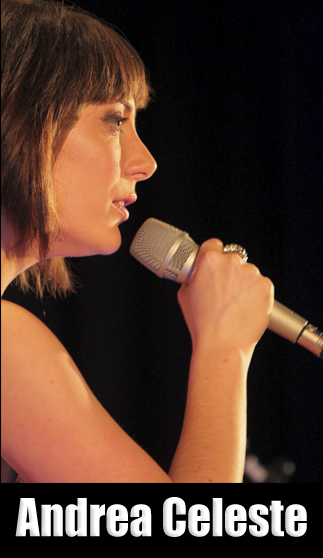 Andrea was born in Pontedera, Italy. She began studying classical singing and piano at an early age, and performed publicly for the first time when she was 11 years old. She received invitations to perform with "national and international Gospel projects and singers. In 2002 Andrea won a scholarship for the International Gospel Seminar in Castelbrando where she shared the stage with Mario Biondi and Cheryl Porter." In July 2007, Andrea started work on her fist solo album, "My Reflection", which was released in 2008. Upon its release, "My Reflection" achieved critical acclaim around the world. Her work "has been compared to such artists as Anita Baker, Diana Krall and Eva Cassidy." The entire CD was re-released for distribution in Taiwan, China, Hong Kong and Macao, and in June 2009 "My Reflection" was also published in Korea by the Label Enbluu (WorkSpace). In 2009 Andrea released "Enter Eyes" with the internationally acclaimed jazz pianist Andrea Pozza. In May of 2012, she released "Something Amazing," with the following coments, "we blended the amazing World percussions of Marco Fadda with the Jazz-Gospel touch of the greatest Dado Moroni and the groovy yet smooth bass lines of Lucas Bellotti ... The result is simply a sound that's unique and I'm crazy about it! My new original songs are the synthesis of the last three years spent touring, singing, recording and always searching for something… My emotions and feelings are free and I am ready to release them…" Andrea released "Something Amazing" (album) and "Born to Be Alive" (single) in 2012 and "Se Stasera Sono Qui" in 2013. Links: SoundCloud, Website, Facebook, Reverbnation and DC Bebop.
---
MUSIC US East
Mark Rapp - Trumpeter, composer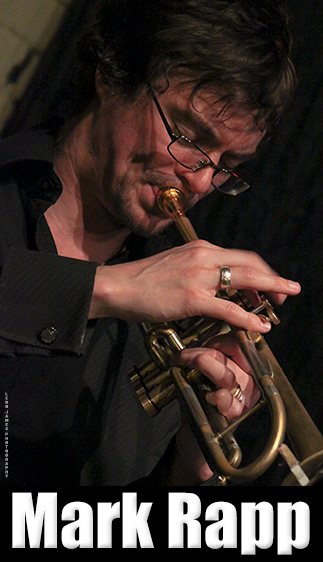 Mark is originally from South Carolina, he began playing trumpet in the sixth grade. He is a graduate of Winthrop University in South Carolina. He received his Masters in Jazz from the University of New Orleans. Mark moved to New York to cast his fate to the musical winds there. It was difficult times in the beginning, but his music carried him through. He has performed with many top artists over the years including "Rockers like Darius Rucker, Hootie & The Blowfish, Edwin McCain and Sister Hazel." From the jazz side, He has worked with Walter Blanding Jr., Don Braden, Gerald Clayton, Wess Anderson, Wycliffe Gordon, Seamus Blake, John Ellis, Wynton Marsalis, Branford Marsalis and Rodney Green, to name a few. Mark is seen as being a "new breed of young trumpeters... The resultant music they create melds and brings together the radio music of their youth with the history of their horn to find fresh ways to approach and fashion a style of playing." Mark is seen to be "one of the best examples of the direction being taken by this new breed". Mark and Don Braden (Braden-Rapp) have released their new CD: The Music of Billy Strayhorn titled "The Strayhorn Project" recorded with Gerald Clayton and Sachal Vasandani. In 2011, Mark released "Good Eats" to good reviews: "In crafting a tribute to Donaldson, trumpeter Mark Rapp honors this diversity and organic amalgam of music by touching on various styles, as he works his way through Donaldson's catalog." Mark Rapp and Derek Lee Bronston are the two halves of TSP (The Song Project) performing "unique arrangements of popular songs by bands as diverse as Radiohead, AC/DC and Tears for Fears, as well as original compositions. Links: MySpace, The Song Project, website, Braden-Rapp, Mark Rapp store, DC Bebop.
---
MUSIC CD ARCHIVE: ONECD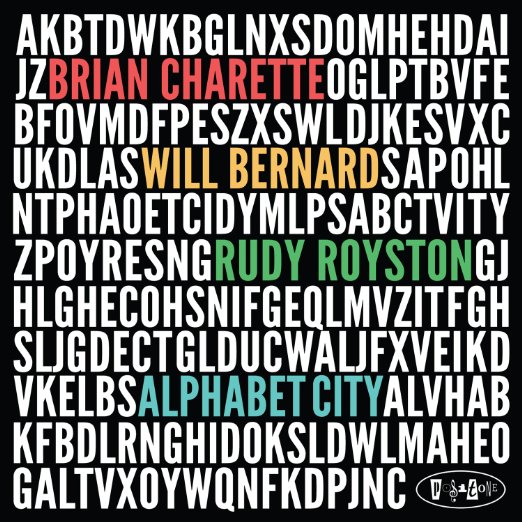 Brian Charette - Alphabet City (2015) "Organist Brian Charette brings his A-game to Alphabet City. But who would expect anything else from this consummate artist? After delivering a covers-heavy program with two different trio lineups on Good Tipper (Posi-Tone, 2014), Charette returns here with an all-originals outing that finds him in the company of guitarist Will Bernard and drummer Rudy Royston. Alphabet City, in some respects, is an ode to Charette's New York city home, haunts and habits. But that minimizes the scope and influences connected to this project. In truth, this album, like nearly everything else in Charette's discography, is about Charette's entire world, not a single section of a city. His early musical passions, vast experience(s), and general love of music—be it bop-based, bright, burbling, bizarre, or built with Eastern European influences—are all wrapped together in his work. " ~ DAN BILAWSKY - AllAboutJazz.com, Facebook, YouTube and Website
---
MUSIC CD ARCHIVE: DOUBLECD

Russ Hewitt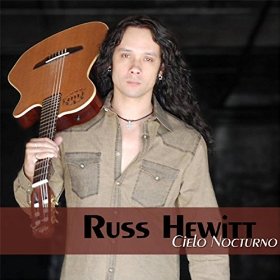 Russ Hewitt - Cielo Nocturno (2016) "Local Texan rumba flamenco guitarist Russ Hewitt impressed us with his recording debut Bajo El Sol eight years ago and has been patience and particular with his steps since. Waiting three years to record his equally strong follow up Alma Vieja Hewitt avoided the sophomore slump and now it has been over 5 years for him to finally release his latest recording Cielo Nocturno. Keeping a creative streak is a difficult task for even the best of musicians and streaks are made to be broken. Clearly this is the case with Cielo Nocturno which is not of equal strength of his prior recordings but frankly exceeds all expectations from this artist that grows in his compositional capabilities." ~ Michael Debbage - MainlyPiano.com, Website, Facebook, Reverbnation and SoundCloud.
---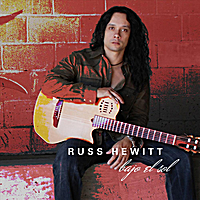 Russ Hewitt - Bajo El Sol (Saulito) (2008) "The time honored traditions of Flamenco guitar music received a huge injection of fresh interest in the '90s and pretty soon genres such as Nuevo Flamenco and Rhumba Flamenco started making their way in the American musical dialect in a big way. Just this past decade, established guitar names like Armik and the group Incendio made enormous inroads in the world of modern flamenco guitar sounds. One rising guitarist / composer set to make his own mark on the guitar world in the coming decade is Texas-based Russ Hewitt. " ~ CD/DVD Reviews - mwe3.com