MUSIC: FEATURED MUSICIAN & PLAYLIST*
Kytami - Joe Washington III - Destani Wolf -
Adrian Xavier Band - Earl Carter -
CDs - Terell Stafford - John Pizzarelli
---
MUSIC INTERNATIONAL
Kytami is a violinistextremist.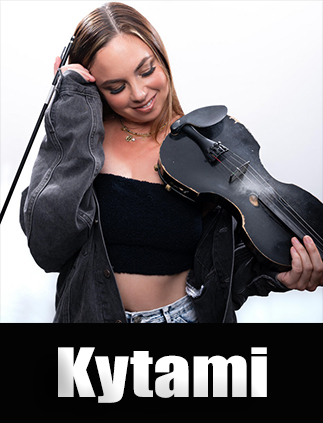 "Kytami is arguably, Canada's most diverse and engaging fiddle player, she is an unbelievably energetic performer." Kytami's range and styles span from classical, punk, metal, hip-hop, Reggae, Celtic and any "fiddle styles" in between. Her skill and energy have moved audiences to stand up and embrace her music. From Canada to Europe, to the Near to the Far East, crowds groove to her sometimes melodious, sometimes strident, always energizing and engaging musical styles. She has recorded with established artists in diverse musical genres. From reggae, hip hop, drum and bass, to punk and metal. She has performed with Third Eye Tribe, Blackie LeBlanc, the Kytami Revolution, the indie pirate-rock group, Lownote and delhi2dublin. Kytami is featured on a number of Delhi2Dublin CDs. More recently, can be seen and heard on tour with PHONIK OPS in Canada and the U.S. Links: Website, Reverbnation, YouTube, SoundCloud, Facebook and DC Bebop page.
---
MUSIC US East
Guitarist, Joe Washington III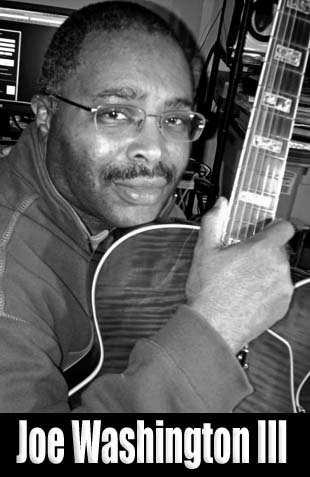 Joe was born and raised in Chicago, Illinois. He was a Chicago Police officer for 11yrs. Started playing guitar under the direction of a local teacher by the name of Jack Cecchini, who he believes is still teaching on the north side of Chicago. He studied with a classical with a classical guitarist by the name of Paul Herman at the Chicago Music Conservatory, and the Chicago Musical College. Says he has done some minor studio work, notably "with a great jazz guy by the name of Bobby Irving". Joe sat in on an album by a singer named Susan Osborn (produced by Bobby Irving), and he has played with a number of small groups and bands over the years locally. Joe says "the one thing that has drawn me to jazz and the guitar would most assuredly be my dad, who unfortunately passed away last year, however he's the one who purchased my first guitar and my first jazz guitar album, "Movin' Wes" by the late great Wes Montgomery, and that album and albums by George Benson, Kenny Burrell, Pat Martino, Pat Metheny, Ronny Jordan, Earl Klugh and many, many more has made me crazy for jazz. At this stage of my life, I guess more than anything I want to play, but I want to play with guys (and gal's) who want to play, and truly appreciate the only true American music heritage, Jazz and all that goes along with that statement". Links: MySpace Music, Fandalism, YouTube and DC Bebop page.
---
MUSIC US West
Destani Wolf - singer. songwriter
Destani has been singing since the age of two, when she sang along to songs her parents played on their stereo. Her love of music and performing shaped her journey through life and has taking her to many countries to share her talents. She is an awarding winning singer / songwriter. Some of her songs have been featured in several films. Destani's solo and group performance career continues to grow. "Destani Wolf offers impeccable vocal prowess as a conduit for spiritual awakening on her latest EP 'PEEK AWAY'. Drawing on nuances of Blues explored as part of her musical foundation, this collection of six (6) brand new songs finds the Berkeley raised songstress arriving at an evolved take on her signature soul-step. Take one listen to her emotionally powerful and melodic vocals, through songs laden with orchestral-strings such as on "Nothing but the Best" or "Peek Away", there's no mistaking the SOUL in her DNA. On 'PEEK AWAY', soaring soundscapes underlay the interwoven retro-futurism of nu soul and 70s funk on "Why Should I Stay" and "Uprising (Do-it!)", making her 6-pack solid. Including a true dedication of love "Your Love for me" which won The 2015 Independent Music (Pop Vox) Award in the love category. 'PEEK AWAY' EP gives the listener a chance at hope, an outlet to cope and a positive window into beginning to be healed." Links: Website, Reverbnation, Facebook, Sonicbids, YouTube, SoundCloud, Bandcamp, LastFM, Jango and DC Bebop page.
---
MUSIC BANDS
Adrian Xavier Band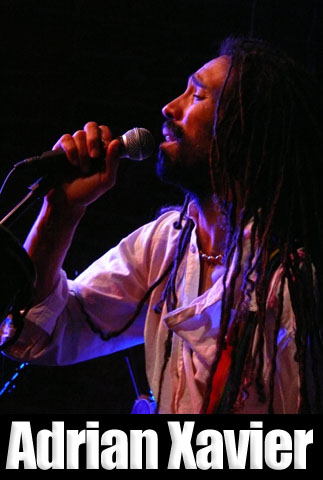 With Adrian Xavier on Lead Vocals, Guitar & Percussion. Born in Seattle, he grew up surrounded by the music played by his father, a radio DJ, in the 80's. Adrian's musical background gave rise to an environment which allowed him to create songs that appeal to a broad cultural range of people. Adrian has been a performing artist for more than 20 years and has shared the stage with many well known musicians. While a member of the "Pure Water Band", they opened for "The Wailers (of Bob Marley fame) and also for the famous Jamaican ska and reggae musician Jimmy Cliff. Adrian formed the "Adrian Xavier Band" in 2000, and has been performing in and around Seattle, various cities in the state of Washington and touring the world. He has three CD's on CD Baby: "R-Nature" (2004), "Adrian Xavier Band Live" (2006) and "Miracle" (2008). Links: Reverbnation, Facebook, Website, and DC Bebop Page.
---
MUSIC DC Scene
Earl Carter - Guitarist, songwriter, arranger and producer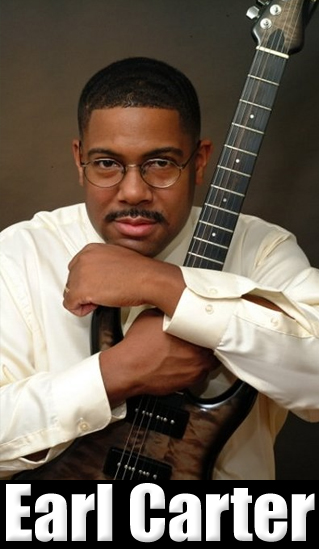 When Earl was 11 years old he bought a couple of books and began teaching himself to play the guitar. At 15 years old he began learning to play saxophone and performing in the school band, marching band and jazz ensemble. His bio says he practiced both "diligently" but eventually chose the guitar to be his main focus. He was a member of the "14 Karat" band and later played with "EU", recording music on the soundtrack of Spike Lee's "Do The Right Thing" movie soundtrack. In "1999 he laid several guitar tracks for many artists at Diddy's New York City recording facility, 'Daddy's House'." Earl has performed with many groups and played many styles of music from dance/go-go to jazz. He has been a studio musician, co-produced dialogue recordings for motivational speakers and sports stars, and he has performed with a host of local and world-renowned artists. To name a few, he has performed with Bobby Lyle, Marcus Johnson, Jaared, Alyson Williams, Nick Colionne, Bob Baldwin, Michael Lington, Angela Bofill, Regina belle, Gerald Veasley and opened for Pieces of a Dream, Spyro Gyra, Bona Fide and many others. He released "My Paradise"(2007), "X Project" 2009. Two EP's in 2011 "Yeah Mon" and "Summertime", and his "Welcome Back Carter" album in 2013, all of which can be purchased on CD Baby. Links: Website, Private Music Lessons, Reverbnation, CD Baby.com and DC Bebop page.
---
MUSIC CD ARCHIVE: ONECD

Terell Stafford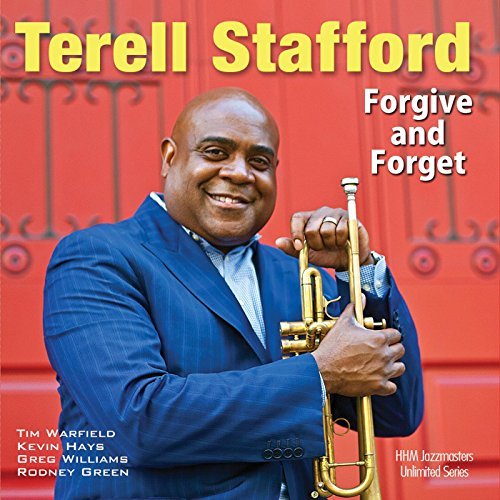 Terell Stafford - Forgive and Forget (2016) "Veteran trumpeter Terell Stafford delivers the second installment of saxophonist Herb Harris's dynamic "Jazz Masters Unlimited" series production, with the unveiling of Forgive and Forget, providing a forum for Stafford's talents and improvisational skills. Showcasing a repertoire penned and arranged by Harris, the trumpeter surrounds himself with a formidable quintet that makes his performance here much easier to appreciate." ~ EDWARD BLANCO - AllAboutJazz.com, Facebook, Wikipedia and Website
---
MUSIC CD ARCHIVE: DOUBLECD

John Pizzarelli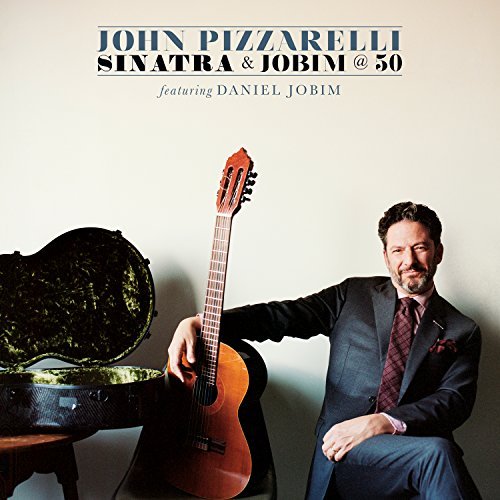 John Pizzarelli - Sinatra & Jobim @ 50 (2017) "Pizzarelli's recording Sinatra & Jobim @ 50 is a quiet, breezy affair of lilting Brazilian rhythms and melodies played by a crack team of musicians. While Pizzarelli faithfully recreates much of the original recording, he wisely avoids "The Girl from Ipamema" and adds "Antonio's Song" and "Canto Casual." His singing and guitar playing are of the level we have come to expect of Pizzarelli, who has matured fully into this role of keeper of the flame for this flavor of jazz music. Of note are pianist Helio Alves ("The Frank Sinatra of the tenor saxophone"). These two men provide the quiet heat and humidity that lay below Pizzarelli's superb Portuguese. The combination of "Meditation" with "Quiet Night of Quiet Stars" is inspired and perfectly functional as is the pairing of "If You Never Come to Me" and "Changing Partners." Yes, 1967 was a very good year. " ~ C. MICHAEL BAILEY - AllAboutJazz.com , Wikipedia, Facebook, YouTube and Website.
---
John Pizzarelli: Sinatra & Jobim @ 50 (Album trailer)
---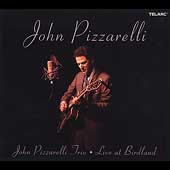 John Pizzarelli Trio - Live At Birdland (2003) "This is a wonderful, warm-hearted, and effortlessly virtuosic live recording by one of the finest living exponents of pre-bop small-ensemble jazz. With pianist Ray Kennedy and bassist Martin Pizzarelli (and on two songs joined by vocalist Grover Kemble), singer and guitarist John Pizzarelli runs through a generally lightweight but thoroughly charming set of standards, homages, funny stories, and the occasional original tune; the fast tunes are light and frothy, the ballads smooth and gentle, and even the moments that are less than utterly inspired work together with the album's highlights to create a very satisfying whole. " ~ Rick Anderson - allmusic.com
---
MUSIC CD ARCHIVES:
DOUBLECD - SINGLES - ONECD