MUSIC: Featured Musician & Playlist*
Elijah Jamal Balbed - Andrea Celeste - Mark Rapp -
Terrence Brewer - CDs - Nicholas Payton - Jane Monheit
MUSIC DC Scene
Elijah Jamal Balbed - Saxophonist, Composer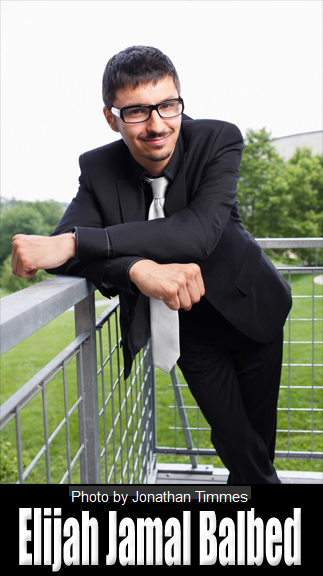 Elijah is a native of Washington, D.C. In a Washingtonian Magazine article, he said he first wanted to become a martial artist, but in high school his enthusiasm and interest was captured by his desire to play music. He immersed himself in the pursuit of music as a career and the fruit of his efforts were realized. "In 2007, Elijah earned a Maryland Distinguished Scholar award, an Overall Best Soloist award in the Maryland Band Director's Association Big Band Festival, and a Best Soloist award in the Maryland Band Director's Association Big Band Festival, and a Best Soloist award at the 2008 Festival Disney Jazz competition." Elijah was recognized for his abilities by the Washingtonian Magaine in 2009, and twice by the Washington City Paper, which in 2010 named Elijah "Best New Jazz Musician" and then in 2013 the paper named him "Best Tenor Saxophonist." In an interview on JazzCast, he says he began taking private lessons from Saxophonist Paul Carr while attending Albert Einstein High School, and with the encouragement of his private tutor and school teacher, Joan Rackey, he began taking his music more seriously and decided to actively pursue a musical career as a life goal. Links: Website, Reverbnation, Facebook Bandcamp, SoundCloud, and DC Bebop page
---
MUSIC INTERNATIONAL
Andrea Celeste - Singer, songwriter, lyricist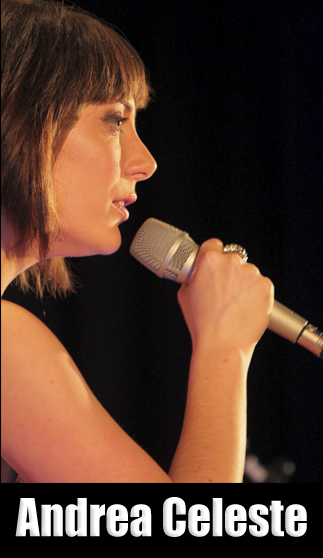 Andrea was born in Pontedera, Italy. She began studying classical singing and piano at an early age, and performed publicly for the first time when she was 11 years old. She received invitations to perform with "national and international Gospel projects and singers. In 2002 Andrea won a scholarship for the International Gospel Seminar in Castelbrando where she shared the stage with Mario Biondi and Cheryl Porter." In July 2007, Andrea started work on her fist solo album, "My Reflection", which was released in 2008. Upon its release, "My Reflection" achieved critical acclaim around the world. Her work "has been compared to such artists as Anita Baker, Diana Krall and Eva Cassidy." The entire CD was re-released for distribution in Taiwan, China, Hong Kong and Macao, and in June 2009 "My Reflection" was also published in Korea by the Label Enbluu (WorkSpace). In 2009 Andrea released "Enter Eyes" with the internationally acclaimed jazz pianist Andrea Pozza. In May of 2012, she released "Something Amazing," with the following coments, "we blended the amazing World percussions of Marco Fadda with the Jazz-Gospel touch of the greatest Dado Moroni and the groovy yet smooth bass lines of Lucas Bellotti ... The result is simply a sound that's unique and I'm crazy about it! My new original songs are the synthesis of the last three years spent touring, singing, recording and always searching for something… My emotions and feelings are free and I am ready to release them…" Andrea released "Something Amazing" (album) and "Born to Be Alive" (single) in 2012 and "Se Stasera Sono Qui" in 2013. Links: SoundCloud, Website, Facebook, Reverbnation and DC Bebop.
---
MUSIC US East
Mark Rapp - Trumpeter, composer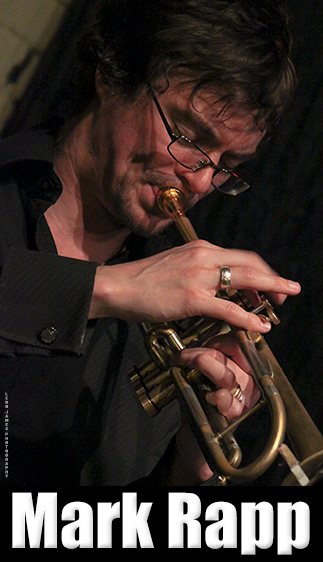 Mark is originally from South Carolina, he began playing trumpet in the sixth grade. He is a graduate of Winthrop University in South Carolina. He received his Masters in Jazz from the University of New Orleans. Mark moved to New York to cast his fate to the musical winds there. It was difficult times in the beginning, but his music carried him through. He has performed with many top artists over the years including "Rockers like Darius Rucker, Hootie & The Blowfish, Edwin McCain and Sister Hazel." From the jazz side, He has worked with Walter Blanding Jr., Don Braden, Gerald Clayton, Wess Anderson, Wycliffe Gordon, Seamus Blake, John Ellis, Wynton Marsalis, Branford Marsalis and Rodney Green, to name a few. Mark is seen as being a "new breed of young trumpeters... The resultant music they create melds and brings together the radio music of their youth with the history of their horn to find fresh ways to approach and fashion a style of playing." Mark is seen to be "one of the best examples of the direction being taken by this new breed". Mark and Don Braden (Braden-Rapp) have released their new CD: The Music of Billy Strayhorn titled "The Strayhorn Project" recorded with Gerald Clayton and Sachal Vasandani. In 2011, Mark released "Good Eats" to good reviews: "In crafting a tribute to Donaldson, trumpeter Mark Rapp honors this diversity and organic amalgam of music by touching on various styles, as he works his way through Donaldson's catalog." Mark Rapp and Derek Lee Bronston are the two halves of TSP (The Song Project) performing "unique arrangements of popular songs by bands as diverse as Radiohead, AC/DC and Tears for Fears, as well as original compositions. Links: MySpace, The Song Project, website, Braden-Rapp, Mark Rapp store, DC Bebop.
---
MUSIC US West
Terrence Brewer - jazz guitarist, composer, arranger and musical director
Originally from Oklahoma, Terrence grew up in Pittsburg, California where his love of music started with the saxophone and clarinet and later evolved to the guitar. In college he heard and fell in love with the sounds of Jazz on the guitar. Terrence lives in Alameda, California and is a mainstay of the Bay Area Jazz scene where he performs regularly at a number of restaurants and jazz venues. Terrence guitar style has been compared to Grant Green, but it is noted that he has evolved his own unique sound. Over the years, Terrence has performed with legendary artists such as Michael McDonald (the Doobie Brothers), Mary Wilson (of The Supremes), Pete Escovedo, Babatunde Lea, Kim Nalley, Dave Ellis, Calvin Keyes, Bruce Forman, Scott Amendola, Tuck and Patti, Khalil Shaheed, Ed Kelly, Max Perkoff, Ranzel Merritt, Herb Gibson, Rhonda Benin, and many others. He has studied with musical greats such as Charlie Hunter, Duck Baker, and Mark Levine. Terrence has released three CDs, the latest being "QuintEssential: The Calling" Volume Three on his "Strong Brew Music" label. Notably, "QuintEssential" has spent 10 weeks on the Top 50 national jazz radio chart, peaking at #17. In 2011, Terrence released "Setting The Standard, Volume One", "the first collection of standards with "new arrangements and fresh interpretations of standards from the past." In 2014, Terrence released "Mi Historia" and "MOSAIC." In 2015, he released "Setting the Standard: Friends of Mine" and in 2016, "Setting the Standard, Vol. 4." All released on his "Strong Brew Music" label. Links: Website, Facebook, YouTube, Sonicbids and DC Bebop page.
---
MUSIC CD ARCHIVE: ONECD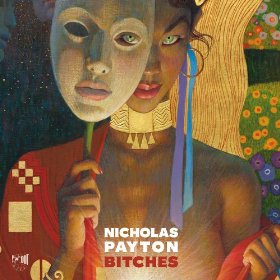 Nicholas Payton - Bitches (2011) "Here's one out of left field. Despite his occasional flirtations with fusion, Nicholas Payton has hitherto been known as somewhat of a traditionalist, one of New Orleans' best young straight-ahead trumpet players of the last 20 years or so. But now he's produced the uncompromising Bitches, essentially a one-man-band concept album with special guest vocalists including Cassandra Wilson and Esperanza Spalding. The rather un-PC title may or may not allude to Miles Davis's Bitches Brew, but the two albums definitely share a willingness to explore the outer limits of jazz, taking in contemporary soul and R'n'B influences. " ~ Matt P. - SoundsofSurprise.com, Facebook, YouTube and Website
---
MUSIC CD ARCHIVE: DOUBLECD

Jane Monheit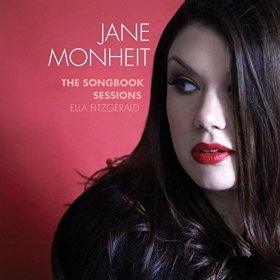 Jane Monheit - The Songbook Sessions: Ella Fitzgerald (2016) "Among vocal-jazz projects, surely the most ambitious and sublime is Ella Fitzgerald's near-decade-long series of eight releases saluting giants of the Great American Songbook. Initiated by Norman Granz in 1956 to ignite his fledgling Verve label, the landmark project continued through 1964, spanning more than 250 compositions from Cole Porter, Rodgers and Hart, Duke Ellington, Irving Berlin, the Gershwin brothers, Harold Arlen, Jerome Kern and Johnny Mercer. Now, 60 years since that project's inception, Jane Monheit pays tribute with a 12-song program that touches on most of the masters, with Kern curiously omitted." ~ Christopher Loudon - JazzTimes.com, Website, Discography, Facebook and YouTube.
---

Jane Monheit - Surrender (2007) "The time has come to remove the qualifier of "promising new vocalist" from describing Monheit. Surrender is ample evidence that any discussion of premier singers delivering quality work in jazz and ballads has to include Monheit right along with Norah Jones and Diana Krall." Jeff Wimbush - All About Jazz