MUSIC - MILCK - Connie Lim: Singer, songwriter, producer
---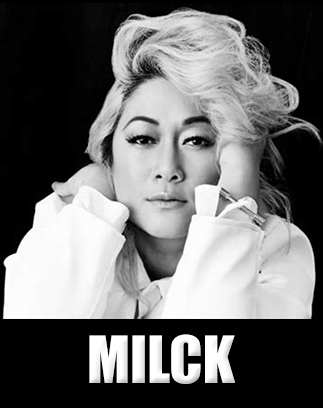 "MILCK is a singer, songwriter, producer, and advocate who is known for cowriting and performing "Quiet," the viral sensation that became known as the unofficial anthem of the Women's March, Billboard's No.1 Protest Song, and a featured selection on NPR's American Anthem Series. In 2020, her single with Atlantic Records, "If I Ruled the World," was named song of the week by Time Magazine. Her 2021 song "I Belong" was featured in the CBS special "See Us", a nationwide special to bring more tolerance and safety for the AAPI community.

As MILCK plans for her album release, she is also finding tremendous joy in writing and producing songs for other artists, like John Legend and Phillipa Soo (Hamilton). The Planned Parenthood Champion of Choice Award Recipient has funneled her advocacy work into the Somebody's Beloved Fund, which she established with her team in 2020 to use her songs to generate resources for ten grassroots beneficiaries that build power around racial justice and healing. MILCK has pledged for every song on her upcoming 2022 album to benefit The Somebody's Beloved Fund." ~ Website About
---
BIO:
Connie discovered her gift for music early in life when she lived in Palos Verdes, California. She began writing music when she was 8 years old, and the siren call of music pursued her over the years and into college, at which point she decided to pursue music as a career goal. She recorded her first EP, "Shifting," in 2007 to an existing and growing following among Bay Area music listeners. Eventually, her path led her to Los Angeles, where she performed in many venues and attracted more listeners to her style of music. She says she found inspiration from the music of other musicians like "Imogen Heap, Feist, and Natalie Merchant." After the release of "Shifting" Connie performed in L.A. area venues and honed her style of Pop, Blues and Electronica. In 2010, she completed here second EP "The Hunted" to good reviews. She launched a video "Sugar," which was a track from the EP and attracted the attention of several media publications. She received favorable reviews from Hits Magazine, NBC-LA, KSCI-TV, KPCRadio.com, MTV Iggy, and Entertainment Today Online for her music. Since arriving in the L.A. area, Connie has shared her music in many venues. She has performed at the Viper Room, The House of Blues in West Hollywood, The Hotel Cafe, The Roxy Theatre, The Los Angeles Orpheum Theatre, The Berkeley Greek Theatre, the Rockit Room, the Hotel Utah, Room 5, Harvelle's, The Mint, the Genghis Cohen, the Boogaloo Cafe, the Downtown Bistro, UCSD The Loft, Saint Rocke, The Norris Theatre and the Louis Armstrong Performing Arts Center. She has shared the stage with artists such as Goapele, David Choi, and Colby O'Donis.
---
ARTICLE:
Bringin' It Backwards Interview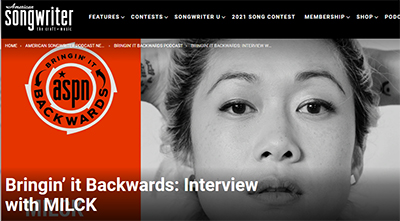 "MILCK's life took a 180 degree turn after a cell phone video of her performing her song "Quiet" with a choir of 25 strangers at the 2017 Women's March went viral. Soon it was being echoed and interpreted by groups around the world, from the US to Sweden to Ghana. "Quiet" was named Billboard's #1 protest song of the year and earned distinction as part of NPR's "American Anthem" series. And in 2018, it brought MILCK to the March's main stage in New York City, where she performed alongside the legendary Yoko Ono."
---
MILCK Is Combating Racial Injustice Through Music:
"Our Country Needs to Evolve and Heal"
"Like many of us, the pandemic has forced MILCK to recalibrate and be open to surrendering to things she can't control. "It's been an up-and-down roller coaster as a lot of people are dealing with mental health highs and lows," she told me. "I've really been turning into my creativity. I'm showing up every day to the studio, and I don't know what is going to happen. Sometimes I write a pretty cool song. Sometimes I don't, but I just show up to create some type of consistency in my life.""
---
Singer MILCK Is Ready To 'Turn Tears Into Gold' Again After Viral Women's March Anthem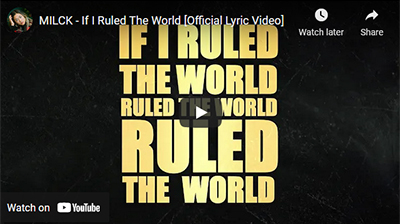 "In surveying her own musical catalog, MILCK says she's devoted to crafting "healing anthems for the human spirit."

The Los Angeles-based singer-songwriter's new single, "If I Ruled the World," is no exception. In it, she contemplates what it would be like to have a herculean ability to impact the planet. Amid percussion and rallying choruses, she vows to address social issues like racism and immigration; with tongue firmly in cheek, she'd also see about getting her rent lowered and a sequel to "Fight Club" made."
---
VIDEOS:
MILCK - Devil Devil
---
Connie Lim - LA City (Official Video)
---
Connie Lim: Morning
---
YouTube videos -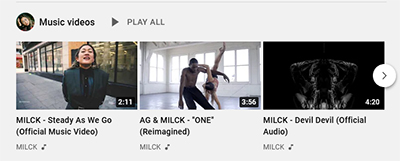 MILCK YouTube Channel - CLICK HERE
---
Back to the Top - Back to the Music page