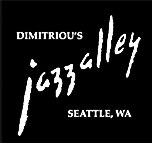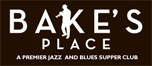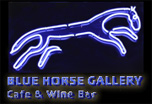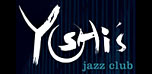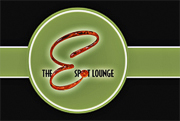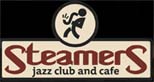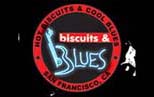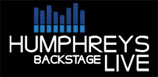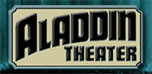 ---
Musician

---
Featured this week,


Lena Seikaly - Jazz vocalist - Lena is a native of Falls Church, Virginia. She is the regular singer for several traditional jazz, swing dance, straight-ahead, Latin jazz and fusion groups in the D.C. area, and has appeared at numerous national and international festivals and venues. Her sound is immediately reminiscent of the great jazz vocalists mixed with the interpretive ingenuity of bebop and modern jazz, while peppering influence from her Arabic heritage. She has had the pleasure of working and studying with some of the world's top names in jazz, as well as classical voice (she is a classically trained mezzo-soprano) and Arabic music. Lena released her first solo album, "Written in the Stars", a collection of standards and original compositions in 2009, "Lovely Changes" in 2011 and "Looking Back" in 2013. Lena can be found entertaining in numerous venues and music festivals in the DC area.


---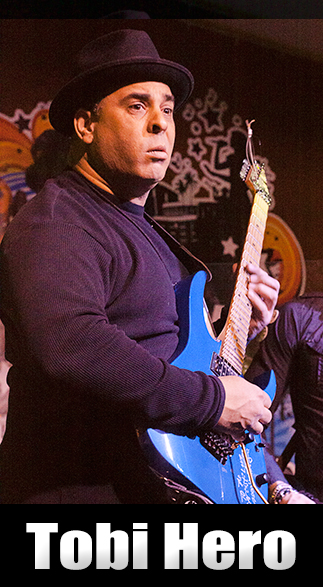 Tobi Hero, Guitarist, songwriter and bandleader - Tobi grew up surrounded by music. His grandmother, Bessie Munson, was a famed Restaurateur and chef who owned several restaurants in Texas. "Some of the biggest names in Jazz and Blues played at Bessie Munson restaurants including Charlie Parker, Dizzy Gillespie, Lionel Hampton, B.B. King, Muddy Waters, Ornette Coleman, Bernard "Pretty" Purdie and many more." "Being the grandson of Bessie Munson and third cousin of legendary bluesman King Curtis influenced and enhanced" his musical career. During the early 1990's, Tobi performed at various restaurants in the San Gabriel Valley while writing and performing with other well known musicians in the area. His skills "led to concert promoters tapping" hin "to open concerts and other large arena events." From his musical associations grew his famous band, the "Tobi Hero and The All Star Band," which also has earned the nickname "The Los Angeles Super Band" made up from "some of the biggest names in the entertainment industry." Tobi Hero and The All Star Band reads like a "Who's Who" of music. Among the talented musicians performing with the band, "It is not uncommon to see Dennis Chambers (Santana's drummer), Gary Grainger (George Duke's bass player), Delmar Brown (Sting's keyboardist) and Ornette Coleman (saxophonist - one of the major innovators of the free jazz movement) playing with Tobi. All of them have played with some of the biggest names in music history. Check out the Tobi Hero and the All Star Band performing at festivals, casinos, lounges and supper clubs near you. Links: AirPlay Direct, Facebook, ReverbNation, MySpace, YouTube and DC Bebop page.
---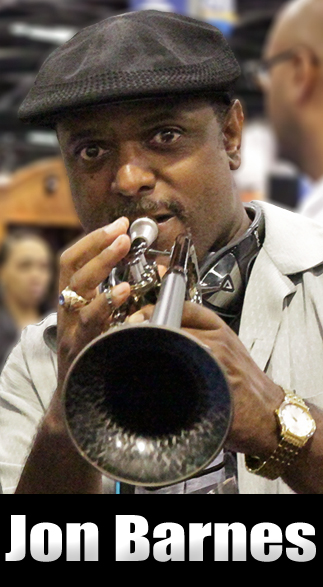 Jon Barnes, Trumpeter, pianist, multi-instrumentalist, writer, composer, producer and educator. - Jon, is originally from Baltimore, Maryland, is a multi-instrumentalist. His favored instruments are trumpet and piano, but "he plays all and teaches all instruments." He is multi-talented. Jon is a writer, composer, producer, educator and a businessman. Jon began studying trumpet in church and elementary school. His desire to teach was created by the music taught by of his mentors. Over the years, Jon has recorded, toured and produced many projects with well known performers, both past and present. Among them are, Gerald McCaulley, Billy Preston, Gerald Albright, The Temptations, The Four Tops, Smokey Robinson, Tom Scott, Chris Botti, Gary Bias, Brenda Russell, Little Anthony and the Imperials, to name a few. He has been featured on the West Coast Allstars CD and DVD, and he created his own music curriculum, "KidsMusicCorner.com," which allows children to learn about music while simulating the playground experience. "Jon, like Miles Davis enjoys sharing the stage with talented people who are inspiring, honest, and hard working. He enjoys spending time with his family in jam sessions and teaching music to his grandkids. Jon believes ' a family that plays together will stay together'." Links: Official Music Blog, Website, Facebook, ReverbNation, YouTube and DC Bebop page.
---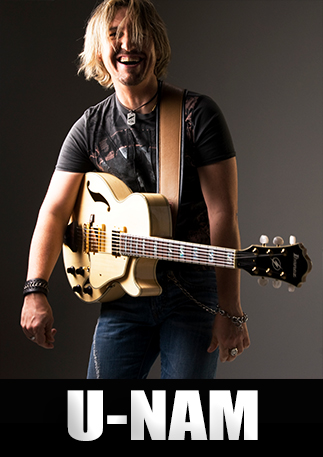 U-NAM, Jazz Guitarist and producer - U-NAM is originally from Paris, France. He began playing the guitar when he was 12. He studied at the CIM, in Paris, which is the first and the largest school of jazz in Europe. He has recorded six of his own CD's, and released several hit singles, while contributing to albums by major musicians over the years. During his career, he has produced, performed and/or recorded with "Barry White, Billy Paul, Kool & The Gang, Honeyz, Eric Benet, Dave Koz, Jonathan Butler, Najee, Rahsaan Patterson, Maysa Leak, George Duke, Marcus Miller, Patrice Rushen, Dennis Chambers, Stokley Williams, Jeff Lorber, Phil Perry, The Last Poets, Marva King, Myron, Ronnie Foster, Ricky Lawson, Michael White, Alex Al, Melvin Lee Davis, Paulinho DaCosta, Luis Fonsi, Organiz', MC Solaar, Diams, Donia, Houcine, Ophelie Winter," just to name a few. In 2012, U-NAM released the "Weekend in LA (Tribute to George Benson) album, which spawned hits like "Shiver", featuring Paul Jackson JR and Tim "TiO" Owens,and "Love X Love" from the same album. Both tracks ranked high on the music charts. In 2013, U-NAM and Rahsaan Patterson collaborate on the single "Eve," and expect new projects from U-NAM. Check his schedule for performances at festivals and venues near you. Links: Website, Facebook, ReverbNation, MySpace, YouTube and DC Bebop page.
---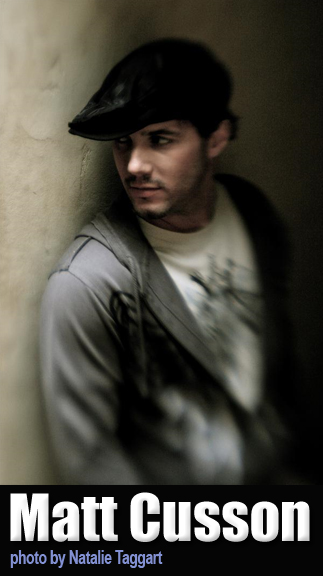 Matt Cusson, Singer, Songwriter - Matt is a singer, songwriter whose entire life has been influenced by music. His bio says he started singing at the age of 2 and was performing publicly at age 11. In 1999, he took part in the "Amateur Night at the Apollo" competition in New York City and won. He won that award three times. Matt attended the Berklee College of Music, where in 2000, he met Brian McKnight, after Brian heard him perform. Brian was so impressed with Matt, he flew him to Los Angeles to begin a music collaboration. Since meeting Brian, Matt has performed with a host of well known music headliners such as James Taylor, Norah Jones, Jessica Simpson, Babyface, Christina Aguilera and many more. In 2008, Matt released his debut CD, self-titled, "Matt Cusson". In November 2010, the Spectra Jazz label released the maxi single "One of Those Nights" by Matt. The song is an "autobiographical jazz ballad (unanimously voted as the winner of the 2008 "John Lennon Songwriting Contest") and 2009 "Maxell Song of the Year", has been re-mixed and re-mastered to include orchestral embellishments, provided by composer/arranger Bill Meyers." Links: Facebook, Reverbnation, Twitter, MySpace and DC Bebop page.
---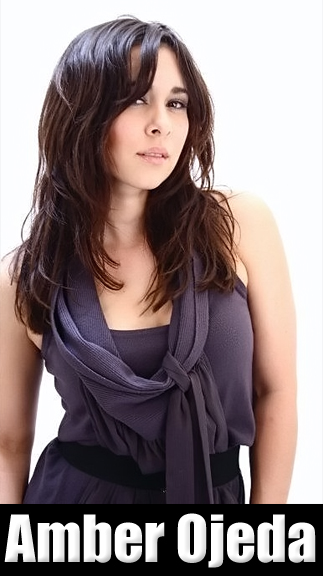 Amber Ojeda - singer- songwriter and actress. Amber says she was mainly influenced by the great old school jazz artists like: Ella Fitzgerald, Sarah Vaughn, Dinah Washington and Billy Holiday. She likes to combine "old style" jazz with an updated hip/hop beat giving it an "up-to-date" groove while incorporating her own style. Her music is played on over 100 radio stations and pod casts worldwide. Amber can also be heard on "Dress My Nest" on the Style Network, her song "All I Need" is the theme song for the feature film "All That I Need". She has a song on the soundtrack for the feature film "Prayer before Murder". Some of her acting credits have included a recurring role on "Veronica Mars", promo's for "Starz TV", a guest appearance on "Dress My Nest", the host for the "National School Program for MADD", host for "Jitter fingers". which is an online community for teen girls as well as many TV commercials and Feature Film roles. In 2010, An exclusive distribution agreement was reached between SWEET SOUL RECORDS and Amber Ojeda, represented by California-based A&R Management, which will pave the way for Japan-wide physical distribution of Amber's debut album, "Here I Am." Links: Website, Facebook, Reverbnation MySpace, YouTube Videos and DC Bebop page.
---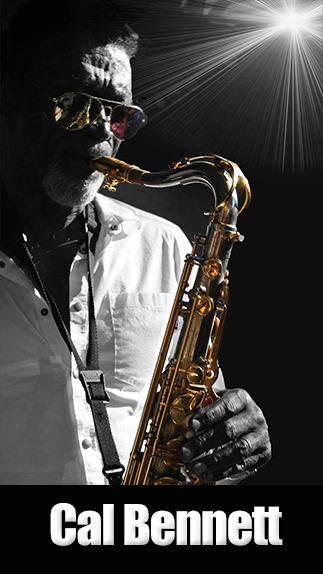 Cal Bennett, Saxophonist, writer, producer and artist representative. Saxophonist Cal Bennett was almost 20 when he soloed on Isaac Hayes' Academy Award-winning "Shaft" LP in 1971. He has recorded nine of his own albums and been featured on numerous others. Over the years he has performed and/or recorded with Isaac Hayes, Toni Braxton, Ice Cube, Stevie Wonder, Angie Stone, Bobby Lyle, Carl Anderson, The Agape International Choir, Ben Vereen, New Birth, Rob Mullins, Siedah Garrett, Niki Harris, Tito Jackson, Jay King from Club Nouveau, Greg Wright, Jack Ashford and the Funk Bros. and George Clinton, just to name a few." Cal released his first album in 1996, titled "A Stolen Moment", it topped at number 11 on the Billboard Jazz Contemporary Chart. He was musical director and performed with Toni Braxton, when she debuted on The Tonight Show with Jay Leno. He has performed at the Playboy Jazz Festival, on The Tonight Show as the featured soloist for music taken from the movie "Tsotsi." He was the featured jazz artist in the Starbucks' print campaign, "Hear Music," as well as performing in commercials for Time Warner, AT&T, H&M Clothes, Johns Hopkins Medicine and Panasonic Japan. During his career, Cal has written and produced music for the soundtrack of several films. He has served as an artist representative and performer on The Los Angeles County Arts Commission since 2001. Musically, he has two albums, "Life's Beach" (2011) and "Chill Grooves" (2012). Links: Website, Facebook, Reverbnation, MySpace, ReverbNation, YouTube Channel and DC Bebop
---

Darryl Anders ~ AgapèSoul is a "Modern Soul band" based in the San Francisco Bay Area." Led by bassist/producer Darryl Anders, the band delivers a musical experience that is all about Love, Soul …and undeniably funky grooves, destined to stand the test of time." Before becoming a bandleader, Darryl earned his reputation by performing as a bass "sideman," and over the years, has performed with Tower of Power, Narada Michael Walden, Zigaboo Modeliste, Booker T. Jones, Joyce Cooling, Bonnie Hayes, Ledisi and many others. AgapéSoul is Darryl Anders (bass/vocals), Indra Jones (vocals), Zoe Ellis (vocals), Aaron Green (drums), Lynette Williams (keys), Cam Perridge (guitar), Vince Lars (sax), and special guest Martin Luther (vocals). "Believe in Love," is AgapéSoul's debut album, with seven original songs and two covers. Darryl Anders ~ AgapèSoul, can be seen and heard performing in venues in and around the San Francisco Bay area. Links: Website, Facebook, Facebook Bandpage, MySpace, ReverbNation, Jazz Network, YouTube Channel and DC Bebop
---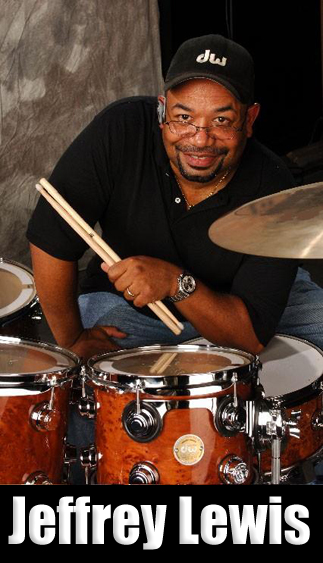 Drummer,vocalist, songwriter and producer Jeffrey Lewis is originally from Philadelphia, Pennsylvania (the Soul and R&B capital of the world), but now resides in California. Jeffrey's family was in the music business when he was growing up so the sounds of music have been a part of him during his entire life. He began playing violin at the age of 6 (not his choice). He later heard and saw drummer Gerry Brown performing with his brother (keyboardist Velbert Lewis) during a TV performance and Jeffrey found his musical calling, his love for the drums. Over the years, Jeffrey has perfected his skills and has performed with an extensive list of music industry greats - Dionne Warwick, Smokey Robinson, Sheena Easton, James Ingram, Peabo Bryson, Gloria Estefan, The Spinners, Deniece Williams, Stevie Wonder, Gladys Knight, Olivia Newton John, Joe Sample, Ronnie & Hubert Laws & Family and many others. Jeffrey has been touring with Dionne Warwick's Band for several years (amid rave reviews) while writing and producing music for a number of top smooth jazz artists. Links: Reverbnation and MySpace
---

GG Amos - Vocals / Lead Guitar (Gibson SG Custom). Born and raised in Sacramento, CA, GG is described as "A riveting blues, soul and funky jazz guitarist / vocalist with a distinctive, expressive style.." GG has performed with such legends as John Lee Hooker, Guitar Shorty, Jimmy McCracklin, Lowell Fulson, Johnnie Heartsman, Karen Lawrence, Duffy Bishop, the great KokoTaylor, Sista Monica, Elvin Bishop and Tower of Power vocalist Lenny Williams to name a few. GG is working towards releasing a new CD. In 2011, she released the single "West Coast" as an EP. GG can be heard performing with "The Delta Wires" band at venues and festivals in and outside the San Francisco area. Link: Reverbnation, MySpace Music, and DC Bebop page.
---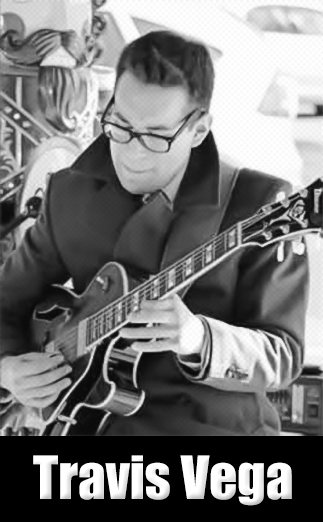 Guitarist, producer, songwriter and composer Travis Vega from Lodi, California. Travis began learning to play his grandfather's guitar "by ear" at age 11. While learning, he "would read and play the licks" in the guitar magazines. He and a friend would "comp a lot from CD's and radio". In his junior year in high school he joined the jazz band and was also taking lessons from a local guitarist, Mike Simone who, he said "taught him a lot" during his high school years. After graduating, Travis said he "headed to Hollywood to study formally at the Musicians Institute". He can be seen and heard performing at venues and festivals in California and Nevada. Travis has released, "Through the Valley" in 2004, "Just Let It Flow" in 2007, "Smooth Urban Night" in 2008. In 2010, he released 11 tracks on his all-instrumental CD titled "U" on which he plays a custom-made flamenco-sounding Gibson guitar. Links: SoundClick, MySpace, CD Baby, and DC Bebop page.
---

Ancient Future is a large musical family of world fusion music ensembles led by scalloped fretboard guitarist Matthew Montfort. The group is dedicated to music termed by Matthew Montfort as "world fusion music". To date, Ancient Future is the world's first and longest running band dedicated to the creation of world fusion music, which blends musical ideas from many different cultures. The music is described as being "contemporary sounds of jazz and rock with the irresistible rhythms of African, Balinese, Indian, Middle Eastern and South American percussion, the rich harmonies of Europe, and the beautiful melodies of Asia". Their music is "an exhilarating fusion of exciting rhythms and exotic sounds from around the globe". It is worth noting that all of the members of Ancient Future have studied with or performed professionally with "master musicians of many world music traditions, from Balinese gamelan director Madé Gerindem to North Indian sarod master Ali Akbar Khan". Ancient Future is credited with having created "a musical world without borders". Link: Website, Facebook, Reverbnation and DC Bebop page.
---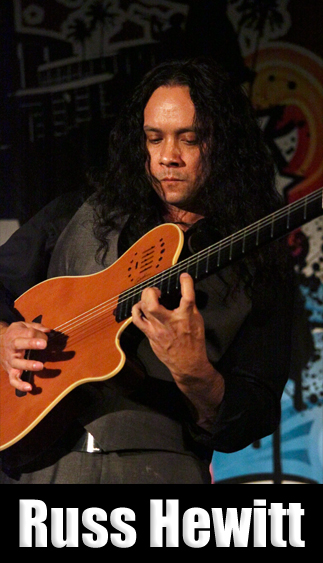 Russ Hewitt - Guitarist, songwriter -

Russ has been playing guitar since he was eleven. He said he used to do whatever his older brother would do, so when his brother began playing guitar, he picked it up as well. When he was 14, his brother gave up playing and sold him his equipment, and it was at that point he seriously pursued his love of music. Russ said he spent his "formative years learning rock and heavy metal through guitar tabs, videos" and anything he could "get his hands on." A lot of his favorite rock players from that time were also into classical guitar, which introduced him to the style. This eventually lead him to pursue and receive a degree in Classical Performance from the University of North Texas. Russ explains his style of play is "not true flamenco, jazz, Latin jazz, Cuban or Brazilian, but a fusion of styles, sometimes combined together simultaneously. Russ has released two of his own CD's Bajo el Sol (2008) and Alma Vieja (2011). During 2012, Russ said he is finishing a Christmas CD he began working on sometime ago, and is "in the middle of editing" a live concert from last year. Look for a two-disc package at the end of the year. Links: Reverbnation, MySpace, Facebook, Website and DC Bebop page.
---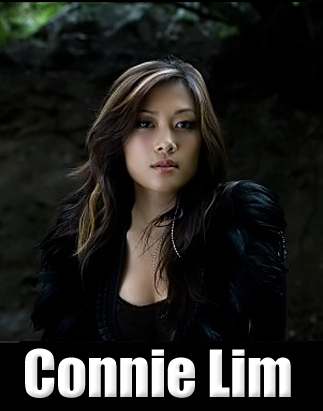 Connie Lim - Singer, songwriter -

Connie discovered her gift for music early in life when she lived in Palos Verdes, California. She began writing music when she was 8 years old, and the siren call of music pursued her over the years and into college, at which point she decided to pursue music as a career goal. She recorded her first EP, "Shifting," in 2007 to an existing and growing following among Bay Area music listeners. Eventually, her path led her to Los Angeles, where she performed in many venues and attracted more listeners to her style of music. She says she found inspiration from the music of other musicians like "Imogen Heap, Feist, and Natalie Merchant." After the release of "Shifting" Connie performed in L.A. area venues and honed her style of Pop, Blues and Electronica. In 2010, she completed here second EP "The Hunted" to good reviews. She launched a video "Sugar," which was a track from the EP and attracted the attention of several media publications. She received favorable reviews from Hits Magazine, NBC-LA, KSCI-TV, KPCRadio.com, MTV Iggy, and Entertainment Today Online for her music. Since arriving in the L.A. area, Connie has shared her music in many venues. She has shared the stage with artists such as Goapele, David Choi, and Colby O'Donis. Links: Reverbnation, MySpace, Facebook, Website and DC Bebop page.
---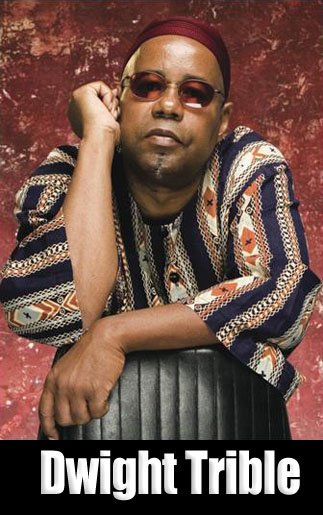 Dwight Trible - Singer -

Dwight has devoted his life to the pursuit of his musical dreams. He is described as "a singer who combines the best of vocal virtuosity with musicianship and improvisational skills." He performs with his own group, the Dwight Trible Ensemble, is the vocalist with the Pharaoh Sanders Quartet and the vocal director for the Horace Tapscott Pan Afrikan Peoples' Arkestra. "Dwight has worked with such notables as Oscar Brown jr., Charles Lloyd, Billy Childs, Kenny Burrell, Kenny Garrett, Steve Turre, Harold Land, Harry Belafonte, Della Reese and Norman Conners, John Beasley, Patrice Rushen, Babatunde Lea, Ernie Watts, Kahlil El Zabar, as well as contemporary soul artist like LA Reid and DJ Rogers. Dwight's collaborations with Horace Tapscott, Billy Higgins, Kamau Daaood" to name a few. Dwight has been called a jazz "Holy Man" and "a high priest of voice." He has been compared to famous jazz vocalists like Leon Thomas and Billy Eckstine, but he strives to "cultivate his own sound." Links: Reverbnation, MySpace, Facebook, Website and DC Bebop page.
---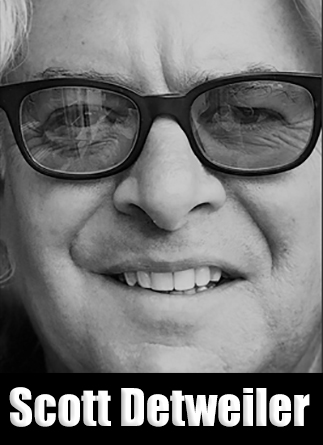 Scott Detweiler - Guitarist, Singer & Composer. Scott is an American composer and lyricist born and raised in New Orleans. He began studying guitar when he was 17. After high school, he attended Loyola University in New Orleans where he studied jazz guitar with Bill Huntington, and music composition at the University of New Orleans. While attending the universities Scott learned to read music, and he began to sing, as a member of opera choruses and master chorales. Scott has performed with many artists during his musical career, "including The Neville Brothers, The Preservation Hall Jazz Band and The Allman Brothers Band." He has performed in Europe and Asia. He has received numerous awards for his music contributions. "His symphonic premiere was with the New Orleans Symphony and his compositions have been honored by the Utah Composer's Guild, The Nashville Music City Song Festival and the Billboard Music Awards. He was also awarded a Congressional Certificate of Recognition by California Congressman Brad Sherman." In 2008 Scott released his "Made in New Orleans" CD, which is available on the Louisiana Music Factory website. He released "Blue Roasted Jazz" in June 2010, which is available on iTunes. Scott can be heard performing in and around the L.A. area. Check his calendar for dates and show times. Links: MySpace Music, Website, DC Bebop page and DC Bebop CD page.
---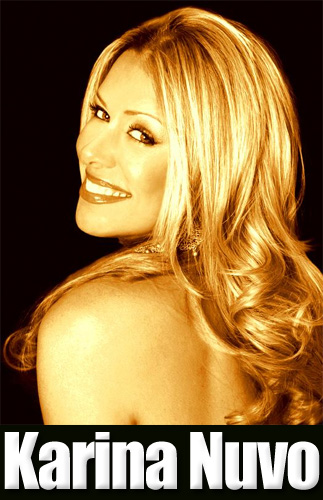 Karina Nuvo, singer, writer and producer,

is a first generation Cuban-American from Miami, Florida. When she was growing up she would "lip-sync shows" to her family. She also "lip-synced" songs while in high school, but says she did not really become "aware of her voice" until she was 19 years old. She never took voice lessons or sang live until that time. She considers herself to be a "late bloomer" with her musical career, but also says "better late than never". Karina says she feels "quite blessed" to have shared the stage with Celia Cruz, Tom Scott, Ray Parker Jr., Jeff Kashiwa, Johnny Britt of Impromp 2, Paul Shafer and Dan Siegal and feels "quite lucky" to have a fantastic band to perform with her on stage and on the NUVOSOUL CD (July 2008). Her music is described as being "a sultry combination of Soul-Jazz and Latin" Notably, she co-wrote, co-produced and sang the songs in both English and Spanish "to create a unique sound" she calls "NuvoSoul". Link: Reverbnation, MySpace, Facebook, DCB NUVOSOUL CD page and DC Bebop page.
---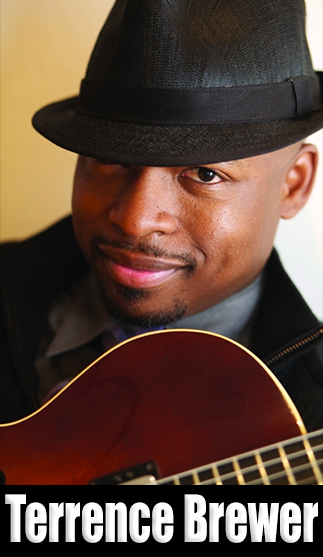 Jazz Guitarist, Composer, Arranger, and Musical Director, Terrence Brewer. Originally from Oklahoma, Terrence grew up in Pittsburg, California where his love of music started with the saxophone and clarinet and later evolved to the guitar. In college he heard and fell in love with the sounds of Jazz on the guitar. Terrence lives in Alameda, California and is a mainstay of the the Bay Area Jazz scene where he performs regularly at a number of restaurants and jazz venues. Terrence guitar style has been compared to Grant Green, but it is noted that he has evolved his own unique sound. Over the years, Terrence has performed with legendary artists such as Michael McDonald (the Doobie Brothers), Mary Wilson (of The Supremes), Pete Escovedo, Babatunde Lea, Kim Nalley, Dave Ellis, Calvin Keyes, Bruce Forman, Scott Amendola, Tuck and Patti, Khalil Shaheed, Ed Kelly, Max Perkoff, Ranzel Merritt, Herb Gibson, Rhonda Benin, and many others. He has studied with musical greats such as Charlie Hunter, Duck Baker, and Mark Levine. Terrence has released three CDs, the latest being "QuintEssential: The Calling" Volume Three on his "Strong Brew Music" label. Notably, "QuintEssential" has spent 10 weeks on the Top 50 national jazz radio chart, peaking at #17. In 2011, Terrence released "Setting The Standard, Volume One", "the first collection of standards with "new arrangements and fresh interpretations of standards from the past." Links: MySpace Music and DC Bebop page.
---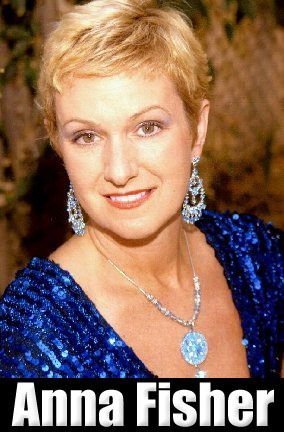 Anna Fisher - Oboe and English horn, singer, composer, arranger, teacher and producer. Originally from Concord, Massachusetts, it has been written that Anna began learning music from birth. Her father was a child prodigy pianist and MIT Physicist. Her gravitation to music was a natural transition, as was her career as an educator - her mother was a teacher. Anna has "always had a love for the classics" and has studied with legendary classical musicians - Leonard Bernstein, Isaac Stern and Seiji Ozawa during her musical career. She has studied music her entire life in her quest to be the best at what she does. Anna's musical repertoire is extensive. In addition to the classics, she plays Jazz, Reggae, R&B, Pop, Latin and Hip Hop. Anna has released her third CD titled "Focus". Leroy Downs "The Jazz Cat" of KKJZ pens Anna's liner notes for the CD and says her music "visits the familiar as well as new and exciting ways to make that familiarity shape and mold into sounds that soothe from different perspectives". She also has two earlier CDs available on CD Baby, "Renaissance In Formation" and "Yin Yang". Links: Reverbnation, MySpace, website, and DC Bebop page.
---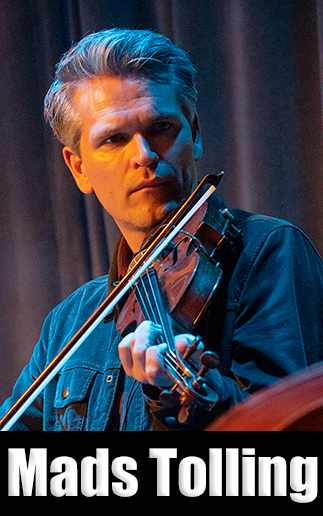 Mads Tolling, Violinist, Violist and Composer - Mads was born and raised in Copenhagen, Denmark. At the age of 20 he came to the United States to "pursue jazz studies". He attended the Berklee College of Music in Boston, Massachusetts where he graduated summa cum laude from the Berklee College of Music in 2003. While at Berklee, Mads was recommended to join Stanley Clarke's band by renowned jazz violinist Jean-Luc Ponty. "Since then, he has performed more than 100 concerts with Clarke worldwide, including the Newport Jazz Festival and the Hollywood Bowl." Mads is a member of the Grammy Award-Winning "Turtle Island Quartet". Mads "has received Denmark's Sankt Annae's Award for Musical Excellence as well as grants from Queen Margaret, the Sonning Foundation and the Berklee Elvin Jones Award. He has performed with Paquito d'Rivera, Kenny Barron, Joe Lovano, Stefon Harris, The Assad Brothers and Leo Kottke." He is an accomplished composer with three recordings of original material, one features the well-known pianist JoAnne Brackeen. Another with vibraphonist Dave Samuels and the third on RMB singer Teena Marie's recording "La Dona". He has contributed numerous arrangements and compositions to the Turtle Island Quartet's repertoire. Mads is viewed as "a thriving force in the educational aspects of jazz and improvisation. He has been active as a Yamaha clinician and has been involved in workshops, coachings and master classes throughout Canada and the U.S." Links: MySpace Music, website, his music and DC Bebop page.
---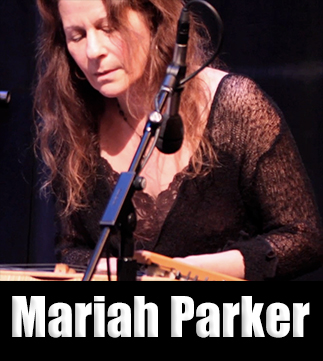 Mariah Parker, composer and multi-instrumentalist. From Southern California, a music graduate of UC Santa Cruz. Mariah's music is described as blending "the driving rhythmic syncopations of Latin jazz with the entrancing, asymmetrical meters of East India." With the release of her first CD "Sangria", Mariah touches on the musical sounds of many cultures, drawing special inspiration from Brazil, Cuba, Spain and India. Her first instrument was the piano, but she "fell in love with the sound of the Santur" when she "heard it drifting across the UCSC campus one day", and since has pursued the mastery of it. Mariah has performed with numerous world music groups at festivals around the globe. From these associations, she has called on musicians to accompany her on her debut 'Sangria" CD. Tracks from the Sangria CD are available on iTunes. Links: Reverbnation, Website, MySpace and DC Bebop page.
---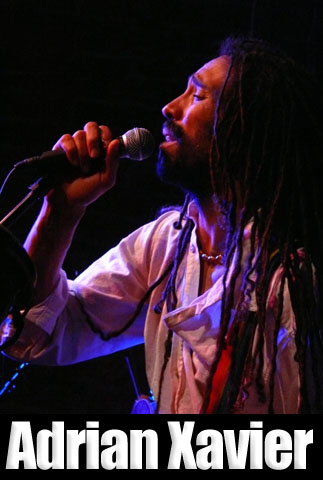 Adrian Xavier, Lead Vocals, Guitar & Percussion. Born in Seattle, he grew up surrounded by the music played by his father, a radio DJ, in the 80's. Adrian's musical background gave rise to an environment which allowed him to create songs that appeal to a broad cultural range of people. Adrian has been a performing artist for more than 20 years and has shared the stage with many well known musicians. While a member of the "Pure Water Band", they opened for "The Wailers (of Bob Marley fame) and also for the famous Jamaican ska and reggae musician Jimmy Cliff. Adrian formed the "Adrian Xavier Band" in 2000, and has been performing in and around Seattle, various cities in the state of Washington and touring the world. He has three CD's on CD Baby: "R-Nature" (2004), "Adrian Xavier Band Live" (2006) and "Miracle" (2008). Links: Reverbnation, Facebook, MySpace, website, and DC Bebop Page.
---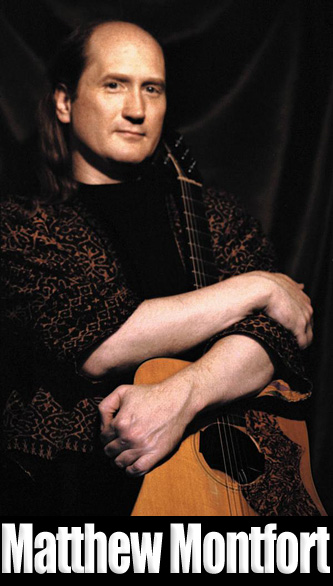 Matthew Montfort - Multi-instrumentalist: scalloped fretboard guitar, Godin Glissentar (11 string fretless guitar), electric guitar, flamenco guitar, sitar, charango, mandolin, gamelan and composer. Matthew holds a B.A. in World Music and Composition and an M.A. in Arts and Media Technology from Antioch University and has studied with the master musicians of many world music traditions. He is on the faculty of Blue Bear School of Music in San Francisco, where he teaches all styles of guitar as well as rhythm classes based on his book "Ancient Traditions--Future Possibilities: Rhythmic Training Through the Traditions of Africa, Bali and India." He is the leader of the world fusion music ensemble "Ancient Future" and a pioneer of the scalloped fretboard guitar (an instrument combining qualities of the South Indian vina and the steel string guitar). Looking towards the future Matthew says "I want to record new music live in concert for release on DVD and CD. There is a new program we are now unveiling: the Archive of Future Ancient Recordings. The concept of the Archive of Future Ancient Recordings is to involve fans of world fusion music in supporting the production of an archive of live and studio recordings that will be available to subscribers as they are created." Links: Reverbnation, MySpace, Website, Ancient Future "Planet Passion" CD, "Seven Serenades CD", DCB Ancient Future and DC Bebop page.
---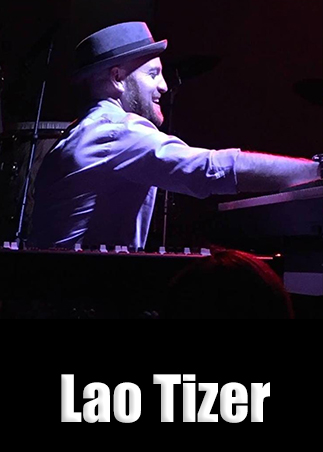 Lao Tizer, Keyboardist, Composer - Lao is a "Best New Jazz Artist" nominee; a Yamaha-endorsed pianist and keyboardist. "TIZER" has performed at premier venues all over the United States and events worldwide. Lao has performed along side artists like, "Isaac Hayes, Boney James, Zappa Plays Zappa, Wayne Shorter, George Benson, The Commodores, The Rippingtons, Bruce Hornsby, Jethro Tull, and Spyro Gyra", and the list goes on. Lao's attraction to music was realized in his early childhood. He was drawn to the piano his parents bought for his sister, when he heard heard her playing. From age five to age nine, Lao "tinkered" with the piano until his parents "gave in" and allowed him to begin formal training. Once he bagan lessons, his natural talent for improvisation and composition blossomed. Lao self-produced and released his first three solo keyboard recordings while in high school. In 1997 he relocated to Los Angeles to pursue his musical calling, where he met guitarist Chieli Minucci, who was a strong influence and advisor. In 2001 Lao released his first CD titled "Golden Soul". In 2006 he recorded his second CD, "Diversify". In 2008, Lao created "TIZER", featuring "Chieli Minucci and international violin virtuoso Karen Briggs". In that same year, he produced his third album "Passages". Since the release of "Passages", TIZER has performed concerts on tour in Asian and African. In 2010, Lao released his fourth album "Tizer Live". TIZER can been seen and heard at concerts, festivals and in clubs all over the world. Check his calendar for a venue near you. Link: Facebook, Reverbnation, Website, MySpace and DC Bebop page.
---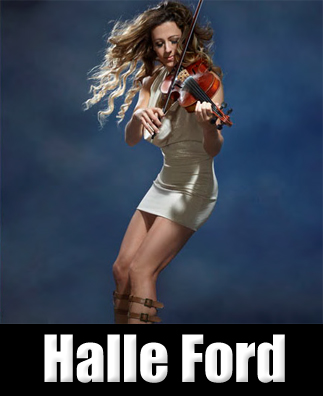 Halle Ford, Violinist, Singer, Songwriter - Halle is originally from Kentucky, now living in California. Her love of music and the violin began when she was four years old after finding an old violin in a closet at her grandmother's house. Halle's bio says, "it was love at first sight", and she "begged" her parents for lessons until they agreed. Sensing how committed Halle was to music, her parents sought out the "area's finest teachers" to instruct her. Halle's talent and dedication materialized when she became the youngest student of Louisville Symphony's Concert Master at the age of 8. She studied songwriting with the Head of Composition at the University of Kentucky in her teens. She played many styles of music, "from classical etudes to traditional fiddle tunes to Madonna covers." Halle moved to Los Angeles in her early 20s in pursuit of her musical dreams, "where she broke into the music scene by absorbing as many experiences as possible." She became a session musician and works with "some of Los Angeles' finest upcoming talent." Link: Facebook, Reverbnation and DC Bebop page.
---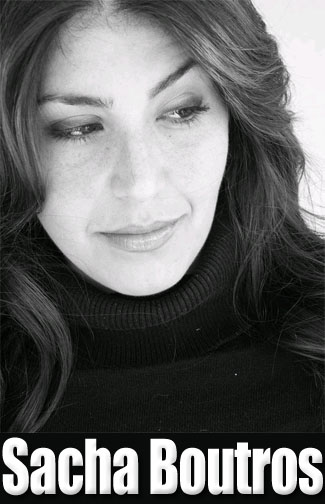 Pianist, singer. songwriter, Sacha Boutros - A native of San Diego, California, Sacha is a classically trained musician whose voice has a four octave range. She sings and speaks fluently in five languages. Her bio says, Sacha's "passion for music resides in her writing and singing of Jazz". Notably, Sacha was introduced by Frankie Laine (at his 90th birthday party) as his "Ingénue". She has performed with Julio Eglesias, Marvin Hamlisch, James Moody, Red Holloway, Karrin Allyson and Patty Paige to name a few. Sacha is currently recording, writing and performing jazz in local and national venues. Sacha has released her first CD, "Simply Sasha" (2008) on CD Baby, which features original songs and several classic and contemporary jazz standards and "Sacha Live in Hawaii" (2011). Links: Website, Reverbnation and All About Jazz article.
---

Singer Melissa Morgan - Born in New York City, she grew up in Teaneck, New Jersey. Her first musical instrument was the piano, which she began practicing at age four. Her singing began while in high school with local choirs and performing with a few select classical vocal groups across the U.S. and other venues abroad. Inspired by the classic recordings by Billie Holiday, Dinah Washington, Nancy Wilson and Sarah Vaughn, Melissa pursued her love of Jazz through studies of music. She attended the SUNY Purchase Conservatory of Music and graduated from the Purchase in 2002 with a B.A. in music. She has since performed as a regular at several of New York's top jazz venues; Cleopatra's Needle, Flute, G Bar, Smalls, Smoke and St. Nick's Pub to name a few. She was featured in performances with Jon Faddis and the Dizzy Gillespie Alumni All-Stars at the Blue Note in New York in 2001. Melissa competed and became a semi-finalist in the 2004 Thelonious Monk International Jazz Competition in Washington D.C., "the most prestigious jazz competition in the world. Melissa now lives in Los Angeles, California where she has pursued a recording career and can be heard at numerous venues in the area. Links: MySpace, Website, Facebook, and DC Bebop page.
---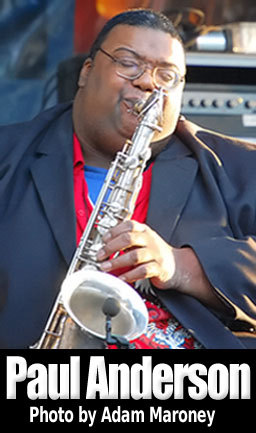 Paul Anderson, Soprano, Tenor Saxes and Keyboards. Paul is from LaPlatta, Maryland, and he remembers growing up with music. His father sang, and received an Opera Scholarship to Columbia University. His mother taught Dance. One of his first remembrances of Jazz at age 8, was "Ray Charles and his Big Band: Sounds of the Genius". Paul's life-long association with music lead to his pursuing it in college, where he studied saxophone, improvisation and composition at the University of Miami. In his travels, he received encouragement from both Stan Getz and Wynton Marsalis. Health issues have prevented Paul from touring, but he continues to play in the Phoenix area, where he can be heard at local churches, clubs and sometimes on Saturday afternoons serenading the shoppers at Nordstroms. Link: Paul's MySpace page
---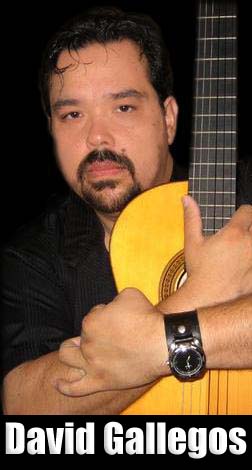 Guitarist David Gallegos has played since picking up an old guitar at the age of 13. He has been playing rock and metal for the greater portion of his career, but David began listening to and writing music with a softer, more emotional touch and in 2003, he began working on his first full-length Latin new age CD. David took his experiences from working with many bands and decided to write, record, design, and release his solo CD completely on his own "Mis Recuerdos", was self-released at the end of 2004. With the CD completed, David moved from San Antonio to Dallas to begin showcasing his music. In Dallas, David met guitarist Sammy Echeverry, bassist Rick Read and drummer/percussionist Ross Young, and they began playing together as the "Power of Omens" band. 2009 culminated in the release of David's most recent project, "Mi Rosa Blanca", which he says was "inspired by love and passion". The CD "combines traditional flamenco rhythms with serene new age melodies to create an ambient soundscape with a Latin flare". Link: Reverbnation, MySpace,YouTube, and CD Baby.
---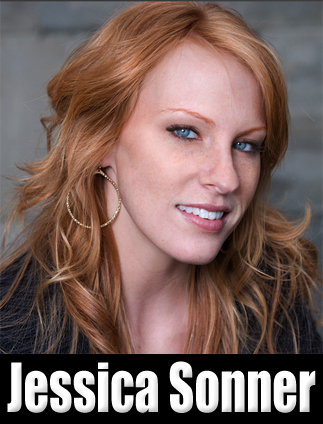 Singer, songwriter Jessica Sonner, grew up in Denver, Colorado. She received a degree in music business from Anderson University in Indiana and then moved to Chicago, Illinois. While in Chicago, she worked on and released her first (self titled) "Jessica Sonner" EP in December 2005. Since then she's been traveling, performing and gathering an enthusiastic fan base in her wake. During her career she has shared the spotlight with artists such as Colbie Caillat, Tristan Prettyman, Matt Wertz, Jon McLaughlin, and Kate Voegle; to name a few. In March of 2008 she released her latest CD, "All We Need". In her bio, she says "The lyrics to all of her songs are genuine and reflect a part of herself..." in response to this, she said "It's all worth it for me when people take something away from what they hear in my music". From review of "All We Need", Joshua Espinosa -Scene Magazine, writes "With her refined blend of country, pop and blues, she exudes a sense of distinctiveness that is rare quality in a genre full of repetitive melodies and predictable hooks." Links: Reverbnation, Website and CDBaby.com
---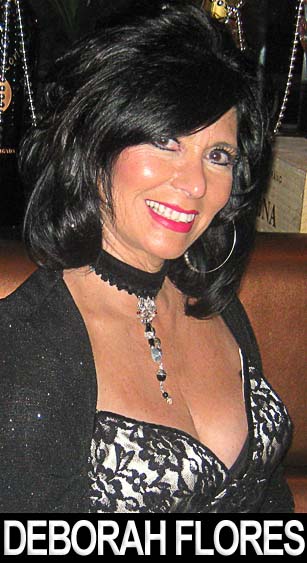 Singer, Songwriter and Band Leader, Deborah Flores - Originally from San Francisco, California, Deborah grew up surrounded by music - by the sounds of Jazz, Soul, R&B, Gospel and Pop music. She says her "father sang and her mother was possessed of natural rhythm", and these musical talents were passed on to her brothers as well as herself. She said her brothers were seasoned performers with the Mason and Kahn Studios in San Francisco when she was growing up. Like her brothers, Deborah was also groomed to be a performer. She sang in high school, earning awards and then sang on tours around the world. She has shared the stage with country music greats Red Merrill and Buck Owens. She was hired by Bill Medley of the Righteous Brothers as a background singer. She found herself in the presence of high-profile performers such as Dizzy Gillespie, B.B. King, Glen Campbell, and the king himself, Elvis, to name a few. Through hard work and dedication Deborah honed her skills and eventually formed her own bands, the latest of which is the Deborah Flores Band. Deborah and her band can be heard performing at various venues in the L.A. area. Deborah released her first CD "Step Aside" (2008) on CD Baby. Link: MySpace, Website and DC Bebop
---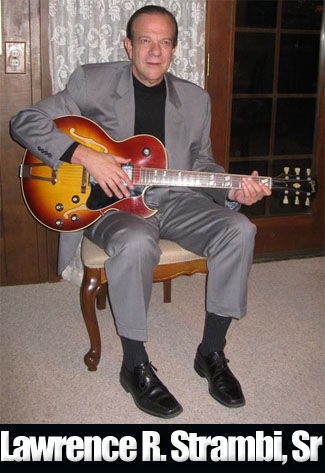 Guitarist, Songwriter - Lawrence R. Strambi, Sr. Larry grew up listening to Big Band/Swing era music. He remembers hearing the music of musicians like Glen Miller; Artie Shaw; Duke Ellington and Stan Kenton. Also the Italian crooners, Frank Sinatra, Dino, Al Martino and Jerry Valle. This was the music he was constantly surrounded by when he was nine years old. Subsequently, this is the music that most influenced him. He says his parents were responsible for his initial interest in music. Larry is trained in classical guitar and Jazz guitar. He plays primarily jazz these days, but also plays classic rock. He has written songs in both genres and has been playing rock and jazz for decades. He has a degree in music education, graduated 1995 Magna Cum Laude from CSU Fresno. Currently, he can be heard playing with American Heritage Jazz Association in the Fresno area. Links: MySpace Music and DC Bebop Notes
---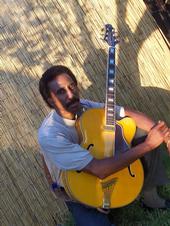 Guitarist, keyboardist, singer, songwriter, music producer, Felix "Flex" Carter from Montgomery, Alabama. For Felix, "Music is the Key to Life". He grew up in music and continues to create, grow and evolve with it. For the last seven years, he has been playing and singing in small clubs throughout the Bay Area. Over the years, Felix has created and developed his own style of music. In his words, "it's kinda like a Jazzy Hop, Latin, Reggae feel type of flavor". Experience it, on his MySpace music page. You'll be glad you did. Links: MySpace and The Jazz Network
---
Top of Page