MUSIC - Bill Anschell, Jazz composer, pianist, writer, humorist
---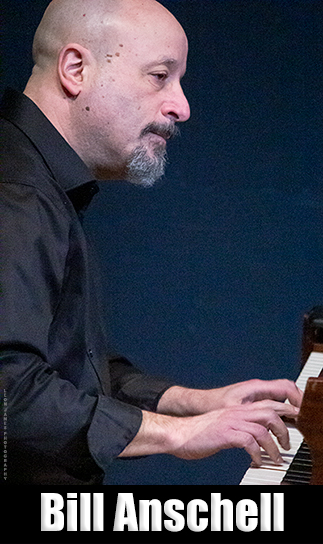 Pianist Bill Anschell has performed in premiere venues throughout the U.S. and abroad, both leading his trio and as pianist/musical director for vocalist Nnenna Freelon. His concert credits include eight European tours with Freelon and seven South American tours with his trio, including concerts in many of the leading international jazz festivals.

Bill was the creator, producer and theme music composer for JazzSouth, a syndicated radio program broadcast from 1990 - 2002 on more than 200 stations around the world. In 1998 his CD, a different note all together, was selected by UPI (United Press International) as one of the year's "10 Best" jazz releases. That CD and his two follow-up releases When Cooler Heads Prevail (2001) and More to the Ear than Meets the Eye (2006) both enjoyed critical acclaim and lengthy stays on the national jazz radio charts. His 2009 duo CD of spontaneous improvisations with saxophonist Brent Jensen was described by Cadence as "startlingly beautiful, surprising, and powerful…a transforming experience." Bill is also highly regarded as a composer; his original pieces have been placed more than 70 times in network and cable programs including NBC's The West Wing, HBO's acclaimed series The Wire, and Paramount Network's Yellowstone.

Anschell, a Seattle native, returned to the Emerald City in 2002 after a long residency in Atlanta, Georgia. He received Earshot's Golden Ear Award as the "Northwest Jazz Instrumentalist of the Year" in 2005, 2010 and 2011; his trio was named "Northwest Acoustic Jazz Ensemble of the Year" in 2006; his Figments CD was named "Northwest Jazz Recording of the Year" in 2011, and in 2016 he was inducted into the Seattle Jazz Hall of Fame.

---
WRITING:
Bill Anschell: Careers In Jazz
"Every year, university programs spit out thousands of highly trained jazz musicians sporting hard-earned diplomas and high hopes. But when these graduates hit the first formal rite of jazz passage—a desperate trip to the local pawn shop—they learn that the diploma is literally not worth the paper it's printed on. Entering school, their dream was simple: To perform music they love for attentive audiences in jazz clubs, concert halls, and festivals, and to earn a fair wage for their efforts. But set loose from the nurturing womb of the campus, they quickly experience the shock of an indifferent and often hostile new reality. "
---
QUOTABLE:
"No matter where he plays on the keyboard, Anschell sounds like no other pianist." (Origin Arts, quoting JazzTimes)
"One of the finest players in the city's jazz history." (www.seattlejazzscene.com)
"Bill Anschell would be a badass wherever he lived, even Greenwich Village. He is an impeccable, distinctive pianist with a valuable body of work on Seattle's Origin label." (JazzTimes)
"The trio has been performing on and off since 2007, and have achieved an intuitive, almost telepathic musical relationship that produces moments only attained through the one mindedness of the piano trio format." (allaboutjazz.com)
"...when Anschell's trio starts with a song that is already slow and wistful, like Leonard Bernstein's "Some Other Time," what transpires is intense. They enter an atmosphere where nothing is certain except the truths of human emotion, and even those truths must be reaffirmed moment to moment, in order to prevail over silence." (Stereophile)
---
CD REVIEWS:

Bill Anschell - Shifting Standards (2018) "Seattle based pianist Bill Anschell has created a tremendous body of work over the the past 30 years, as a composer, musical director, and pianist. He returned to Seattle in 2002 after 25 years abroad and formed a relationship with Origin Records, releasing more than a dozen records both as a leader and co-leader. Whether composing and performing original pieces, or interpreting standards ranging from Cole Porter to Lennon/McCartney, Anschell has consistently upheld a rare standard of excellence. "
---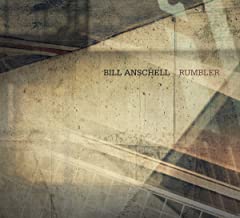 "Bill Anschell: Rumbler" Seattle's eclectic jazz scene has produced a long line of significant voices that have impacted the music on a national and international level. Bill Anschell, as a pianist and composer certainly falls into that category that has produced the likes of Ray Charles, Quincy Jones, Ernestine Anderson, and presently, trumpeter Thomas Marriott. His new Origin Records CD Rumbler, represents his ninth album as a leader, and his first featuring original compositions and arrangements since More to the Ear Than Meets the Eye(Origin, 2006) in 2006. "

---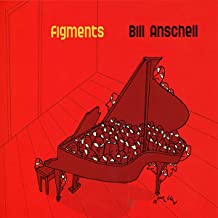 "Throughout Figments, pianist Bill Anschell's creative, abstract approach takes each song to unexpected places without ever leaving his audience behind. Self-recorded over a series of late nights, after gigs, when Anschell's "internal supervisor had clocked out." The result is twelve genre-bending, near stream-of-consciousness takes covering a mix of jazz standards and pop songs from the 60s and 70s."

---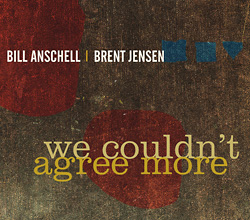 "Jazz duet playing requires empathy and quick responses, qualities evident in profusion on We Couldn't Agree More. On [this record], Anschell and Jensen make music that is startlingly beautiful, surprising, and powerful. At points, I was reminded of the experiments of Al Cohn and Jimmy Rowlek, the forays of Joel Press and Kyle Aho. But these two players follow their own impulses. While exploring familiar standards and honoring their melodic and harmonic possibilities, they create something new on every track."

---
ARTICLES:
Seattle Times: Bill Anschell: The hardest-working piano man in Seattle
"Bill Anschell might be the hardest-working piano man in Seattle, leader of two groups, sideman to almost everyone in town, with regular gigs at Jazz Alley, the New Orleans Creole Restaurant and Tula's. He's also a man who knows how to keep jazz's musical standards interesting."
Seattle Times: Seattle jazz pianist Bill Anschell wins two Golden Ears
"Seattle pianist Bill Anschell was the big winner Wednesday at Tula's jazz club, in Belltown, as the Seattle nonprofit arts organization Earshot Jazz handed out its annual Golden Ear awards. The awards honor excellence and achievement on the Northwest jazz scene. Anschell picked up two prizes, one for Northwest recording of the year, for his album "Figments," and another as top instrumentalist."
---
VIDEOS:

Bill Anschell - Angel Eyes
---
Bill Anschell - Across the Universe
---
Bill Anschell Trio - "Beignet Boogie"
---
Bill Anschell - 'Round Midnight
---
Back to the Top - Back to the Music page