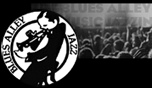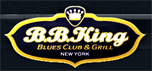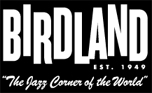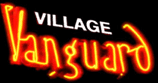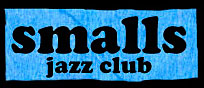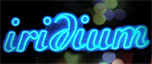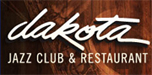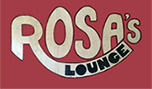 ---
Musician

---
Featured this week,


Lena Seikaly - Jazz vocalist - Lena is a native of Falls Church, Virginia. She is the regular singer for several traditional jazz, swing dance, straight-ahead, Latin jazz and fusion groups in the D.C. area, and has appeared at numerous national and international festivals and venues. Her sound is immediately reminiscent of the great jazz vocalists mixed with the interpretive ingenuity of bebop and modern jazz, while peppering influence from her Arabic heritage. She has had the pleasure of working and studying with some of the world's top names in jazz, as well as classical voice (she is a classically trained mezzo-soprano) and Arabic music. Lena released her first solo album, "Written in the Stars", a collection of standards and original compositions in 2009, "Lovely Changes" in 2011 and "Looking Back" in 2013. Lena can be found entertaining in numerous venues and music festivals in the DC area.



---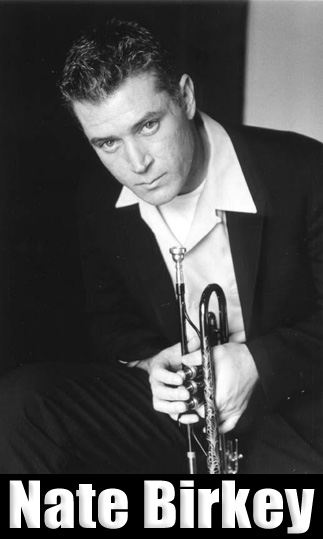 Composer, trumpeter and vocalist Nate Birkey. He studied music at Berklee in Boston, Seattle Pacific University and the University of California Santa Barbara. For a number of years Nate was a "jazz presence" in Southern California and was referred to as a quintessential "west coat jazz musician". He performed with a number of groups before forming his own Quintet and moving to New York City. Over the years, he has contributed to and released a number of CDs. His Quintet released "Indelibly You" in 1998, "Mennonite" in 2001, "Ballads" also in 2001 and "Shortest Day" in 2004. All of Nate's efforts have received glowing reviews for his songwriting, composition, style of play and his singing. In 2008 Nate released "Almost Home" and "christmas" - "his first recordings made with his New York City quintet of saxophonist Sal Giorgianni, pianist Jim Ridl, bassist Tony Marino and drummer Marko Marcinko." Bob Agnew of the L.A. Jazz Scene writes, "Nate's subtle vocal and trumpet approach has often been compared to that of Chet Baker and Miles Davis respectively. A sound poised and assured, powerfully stark and spare, it creates an atmosphere at once solitary and electric." Links: Reverbnation, Facebook, MySpace, Website and DC Bebop page.
---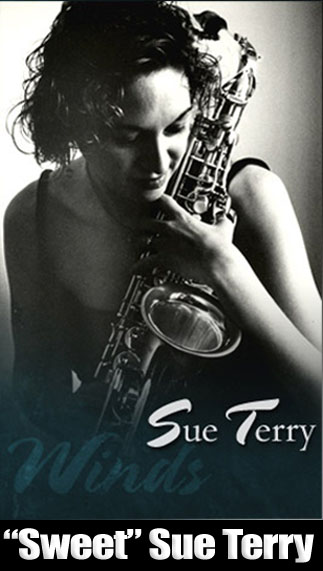 "Sweet" Sue Terry is an alto and soprano saxophonist, songwriter and writer. Sue grew up listening to Jazz from her father's jazz album collection. She later pursued the study of music while in High School, studying under pianist and educator John Mehegan. Sue began her musical career performing at church functions and in musical theater at the age of 16. She attended and graduated from the University of Hartford where she was a protégée' of the late great saxophonist Jackie McLean at the Hartt School of Music, and the first graduate of the jazz studies program he founded. She began playing jazz gigs while attending Hartt. On the advice of Jackie McLean, Sue moved to New York City where she was a featured soloist with many bands. Sue has appeared as a Jazz soloist with the National Symphony at the Kennedy Center, with the New York Pops at Carnegie Hall and with the Brooklyn Philharmonic at the Brooklyn Academy of Music. She has performed at numerous jazz festivals, at Montreux Jazz Festival, the Nice Jazz Festival, the Pori Jazz Festival, the Northsea Jazz Festival and the Blue Note in Tokyo and many more. Link: Website, MySpace, CD Baby Discography, and on DC Bebop
---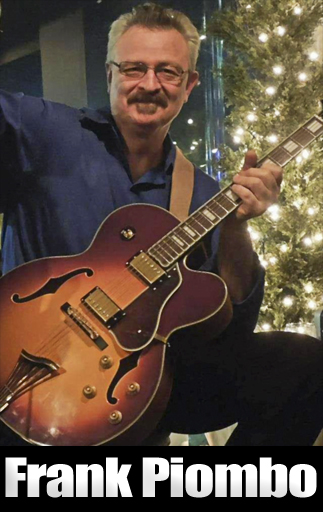 Frank Piombo, Guitarist, band leader & educator. Frank grew up with music all around him. As he traveled with his family, he experienced the unique sounds of the places he lived. His first musical experience was with his grandfather's acoustic guitar. Later, while living in Italy, it was his father's accordion. These and other experiences fueled his desire to learn about and play music and he chose the guitar as his instrument. For more than three decades, Frank has entertained professionally as a guitarist, vocalist, and songwriter, appearing as a lead guitarist and vocalist with many live bands. During his career, he has performed with Sidewalk Symphony, Angelo Uccello and Fantasy, Stepping Out, The New Prince Band, US & Co., the original Infernos, The Duprees, The Mellow Kings, Vito and the Salutations, and Vito and the Elegants, "I Nuovi Angeli" and the "Formula Tre." He has recorded several Jazz and Italian Pop CDs and appeared on the Steve Ames cable show with vocalist/keyboard player Angelo Uccello. Frank's songs have been featured on web-radio shows both nationally and internationally. On both "Lady Jay's" web-radio - www.JazzMatrix.com/ladyjay, and on Udo Freter's Show called "Blues Rockclub Radioshow" from Germany. Frank can be seen and heard in venues both nationally and internationally. Links: Website, Facebook, Reverbnation, YouTube, Discography and DC Bebop page.
---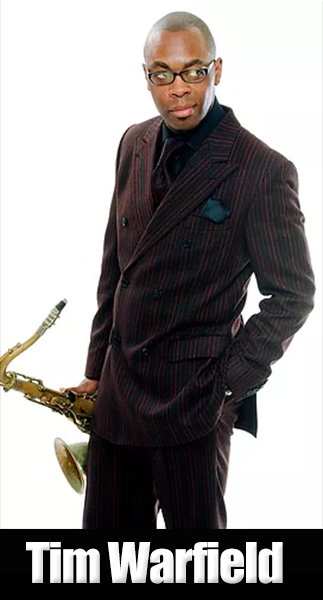 Tim Warfield - Saxophonist, band leader & educator. Tim is originally from York, PA. He has played the alto saxophone since the age of nine. He began playing the tenor saxophone in High School, where he played in a number of musical ensembles, from which he received a number of awards for his solo performances. After high school, he attended Howard University in Washington, D.C. for a period of time before becoming a band leader. He has performed with CBS/Sony recording artist Marlon Jordan's Quintet, Jazz Futures (a world touring group), on the Today Show, Bill Cosby's You Bet Your Life (as a member of the house band), and at Ted Turner's 1998 Trumpet Awards. He has shared the stage with "such names as Donald Byrd, Michelle Rosewoman, Marcus Miller, Marlon Jordan, James Williams, Christian McBride, The Harper Brothers, Dizzy Gillespie, Isaac Hayes, Shirley Scott, Jimmy Smith, Nicholas Payton, Charles Fambrough, Eric Reed, Carl Allen, Terell Stafford, Stefon Harris, Orrin Evans, The Newport Millennium All Stars, "Papa" John Defrancesco, Joey Defrancesco, Claudio Raggazzi, Danilo Perez, and others." Tim has released several albums since his debut CD, "Cool Blue," in 1995. His last three releases are "Tim Warfield's Jazzy Christmas," (2012), "Eye of the Beholder," (2013) and "Inspire Me" (2013). He has served "as a board member for the Central Pennsylvania Friends of Jazz as well as an artist-in-residence at Messiah College in Grantham, Pa." In 2012. Links: Messiah College, Facebook, MySpace, YouTube, Discography and DC Bebop page.
---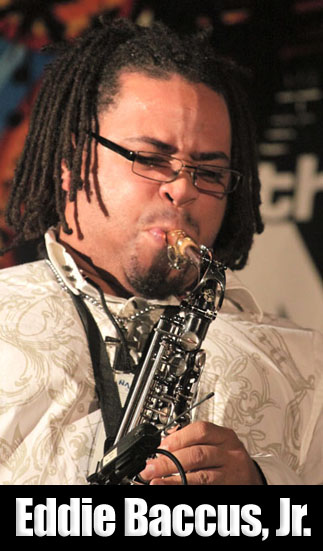 Eddie Baccus, Jr. - Saxophonist and composer. Eddie "play's Sopranino, Soprano, Alto, Tenor, Baritone and Bass sax, Flute, Bb Clarinet, Bass Clarinet as well as the EWI (electric wind instrument) and sings." His repertoire of music includes jazz, R&B, reggae, country, neo soul, big band and is expanding. In the beginning, Eddie played music with a loaner oboe in high school. By chance, fate or fortune, the loaner was broken by another student, so he began playing the Saxophone. After graduating from high school, Eddie enrolled in Berklee's Five-Week Summer Performance Program, better known as "Five-Week." His skill gained him a full scholarship for "Five-Week. Eddie has performed at the "world famous" Apollo Theatre in Harlem and "won, five times off air and two times on air." During his time in New York, he studied with acclaimed saxophonist, Joe Lovano. He has toured with "world-renowned'" trumpeter "Lester Bowie." He is a member of the "internationally known" smooth jazz group "Pieces of a Dream," He has performed with a long list of musicians over the years. To name a few, "Luther Vandross, Jeffrey Osborne, War, Candy Dulfer, Rick Braun, Grover Washington, Jr., George Duke, Bobby Watson, Greg Abate, Lester Bowie, EWF(Earth Wind and Fire), Regina Carter, Dianne Reeves, Vesta Williams, Norman Conners, India Irie, George Benson, Miki Howard, Jean Carne, David Sanborn" and many more. He recorded on eight CD's with "Pieces of a Dream," which feature several songs written and co-written by him. Not just a "sideman," Eddie has headlined several of his own productions. He has also toured with his band "Straight To The Point." Links: Website, Facebook, Discography, MySpace , Légère Reeds, Theo Wanne, YouTube and DC Bebop page.
---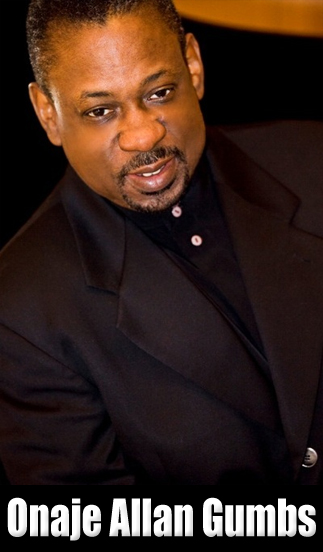 Onaje Allen Gumbs - pianist, composer and bandleader. "Born in Harlem and raised in Queens, Onaje started playing piano at age 7. He graduated from Manhattan's High School of Music and Art as well as SUNY at Fredonia. In 1971, a gig with master guitarist Kenny Burrell at Baker's Keyboard Lounge in Detroit led to recording and sideman gigs with such artists as Norman Connors, Buster Williams, Cecil McBee, Betty Carter and Nat Adderley. He spent 2 years as pianist/arranger/composer in the band led by the late, great trumpeter Woody Shaw. As a producer/arranger/pianist, Onaje has worked with other artists such as Phyllis Hyman, Stanley Jordan, Will Downing, Angela Bofill, Sadao Watanabe and Cassandra Wilson." He is a 2006 NAACP Image Award Nominee for Outstanding Jazz Artist for his album, "Remember Their Innocence". His CD "Sack Full of Dreams" (18th & Vine - 2007), was a Jazz Improv Magazine pick amongst best albums of 2007. In Dec 2010 he released "Just Like Yesterday" (Pony Canyon Records) R&B and Jazz classics featuring Victor Bailey, Omar Hakim, Billy Spaceman Patterson and Chuggy Carter. He served as producer of the 2009 self-titled debut album "Kenny Davis" by bassist Kenny Davis (Daken Records). Onaje is featured pianist on Avery Sharpe's albums, "Dragonfly"(2005), "Legends and Mentors"(2008), "Autumn Moonlight"(2009) and "LIVE"(2010). He composed, arranged and performed the original score for the 1994 Showtime Network film, "Override", directed by actor/producer Danny Glover. He is currently working on the film score as well as serving as Music Supervisor for an upcoming indie film entitled "Indelible", which is due for release in 2011. Links: Wikipedia, Reverbnation, MySpace and DC Bebop page.
---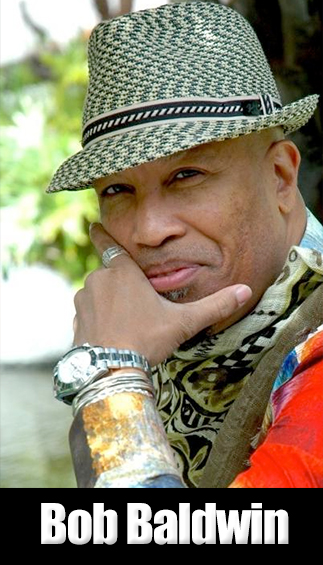 Bob Baldwin - contemporary jazz pianist, music composer, author, and producer. Bob is a multi-facetted person. He is a Jazz Artist, Radio Host, Music Presenter, Arts Advocate, Educator, and Author. He has "a vision to take his gift of music to bless those less fortunate, and raise funds for organizations in need of help." Bob is originally from Mount Vernon, N.Y. He began playing piano when he was four years old, and was taught by his father, Robert Baldwin, Sr., who was an accomplished jazz pianist and upright bassist. In his youth, Bob would accompany his father to jam sessions near home, and had the opportunity to listen to and study the music of "the masters of the Westchester region." Later, Bob was influenced musically by a number of artists, "strongly by Herbie Hancock, Stevie Wonder, Patrice Rushen, Chick Corea, EWF, Joe Sample, Ramsey Lewis, Miles Davis, and George Duke." His style is "a by-product of these artists." During the 80's, Bob performed with a who's who of talent, including Roy Ayers, Gerald Albright Dean James, Chieli Minucci, Jocelyn Brown, Kim Waters, Will Downing, Marion Meadows, Najee, the late Grover Washington, Jr., and Noel Pointer and many others. In 2010, Bob released "Never Can Say Goodbye: A Tribute to Michael Jackson," and "Betcha By Golly Wow: The Songs Of Thom Bell" in 2012.. Links: Website, Facebook, Discography, MySpace , Reverbnation and DC Bebop page.
---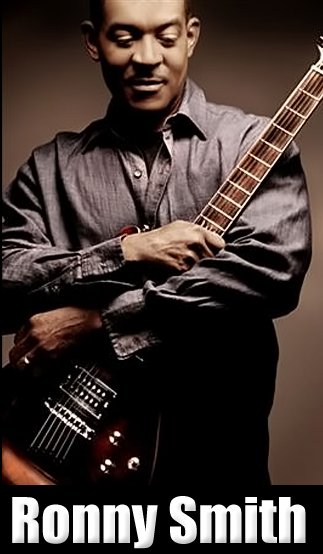 Guitarist Ronny Smith, Originally from Baltimore, Maryland. Ronny is a self-taught musician who began learning to play the guitar, by ear, while strumming along to songs he heard performed by musicians such as Wes Montgomery, Joe Pass, and George Benson, at age 12. These musicians represented his greatest influence while growing up and their presence can be heard in Ronny's smooth style. Through out his time in college, he played in school jazz bands. In his senior year he enlisted in the Army and became a member of the U.S. Army Band, touring extensively in the United States and Europe. During his musical career, Ronny has performed on stage with the famed Motown singing group, the Marvelettes and also with drummer and Philadelphia jazz icon Bobby Durham. He had the opportunity to share the stage with R&B singer and actress, Melba Moore who performed with the U.S. Army band. Ronny has recorded four CD's . His first, "Long Time Comin" (2001), "Laid Back" (2002), "Got Groove" (2006), "Simply Stated" (2007) and "Just Groovin" (2009). Links: Website, Facebook, Reverbnation, Reverbnation, MySpaceand DC Bebop page.
---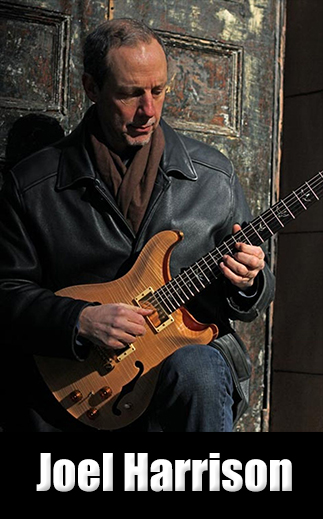 Joel Harrison - guitarist, composer and vocalist, a DC native whose medium is primarily jazz, but his music emanates from many sources: African and Indian, contemporary classical, blues and R&B all have a place in his unique voice. Over the course of his musical career, Joel has involved himself in ever-inventive bands and projects, including Free Country, Harrison on Harrison, and Harbor, but he is best known for his composing and arranging skills. He has twice been selected as the winner of the Jazz Composer's Alliance Julius Hemphill Composition Competition. Joel has been evolving his musical craft through the release of several CDs over the last few years. He recorded "Harbor" (2007) with internationally renowned guitarist Nguyên Lê , and his 60 minute chamber/jazz piece for double quartet entitled "The Wheel" (2008), "Urban Myths" (2009), "Life Force" (2010), "String Choir" (2010), "Search" (2011) and his latest titled "Holy Abyss" (2012). Links: website, Reverbnation, MySpace and website music store.
---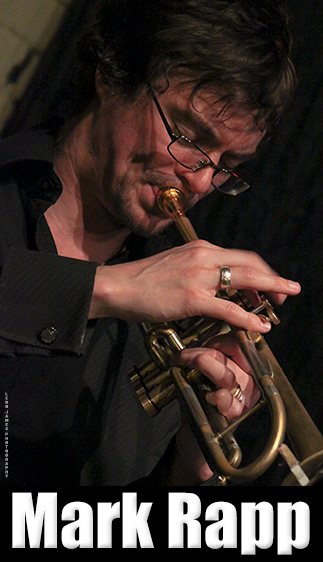 Trumpeter, composer Mark Rapp. Mark is originally from South Carolina, he began playing trumpet in the sixth grade. He is a graduate of Winthrop University in South Carolina. He received his Masters in Jazz from the University of New Orleans. Mark moved to New York to cast his fate to the musical winds there. It was difficult times in the beginning, but his music carried him through. He has performed with many top artists over the years including "Rockers like Darius Rucker, Hootie & The Blowfish, Edwin McCain and Sister Hazel." From the jazz side, He has worked with Walter Blanding Jr., Don Braden, Gerald Clayton, Wess Anderson, Wycliffe Gordon, Seamus Blake, John Ellis, Wynton Marsalis, Branford Marsalis and Rodney Green, to name a few. Mark is seen as being a "new breed of young trumpeters... The resultant music they create melds and brings together the radio music of their youth with the history of their horn to find fresh ways to approach and fashion a style of playing." Mark is seen to be "one of the best examples of the direction being taken by this new breed". Mark and Don Braden (Braden-Rapp) have released their new CD: The Music of Billy Strayhorn titled "The Strayhorn Project" recorded with Gerald Clayton and Sachal Vasandani. In 2011, Mark released "Good Eats" to good reviews: "In crafting a tribute to Donaldson, trumpeter Mark Rapp honors this diversity and organic amalgam of music by touching on various styles, as he works his way through Donaldson's catalog." Mark Rapp and Derek Lee Bronston are the two halves of TSP (The Song Project) performing "unique arrangements of popular songs by bands as diverse as Radiohead, AC/DC and Tears for Fears, as well as original compositions. Links: MySpace, The Song Project, website, Braden-Rapp, Mark Rapp store, DC Bebop.
---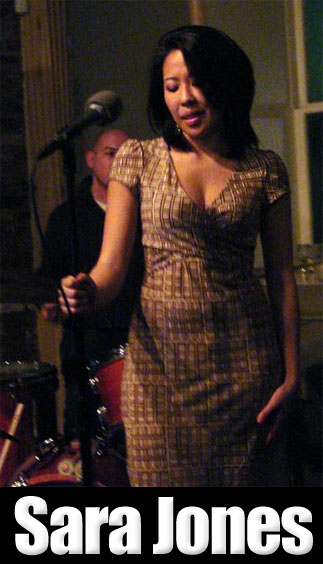 Sara Jones - singer, pianist. Sara is from the Maryland Eastern Shore. She attained degrees in music from both St. Mary's College of Maryland and her masters in music from the University of Cincinnati in Ohio. She began playing piano at age 4 and professionally at the age of 14. She won first prize in the W.A. Virts Piano Concerto Competition in high school at 18. Critics have written that Sara's musical voice is "lush", that she "beguiles and charms" the audience with her "velvet embrace" of the music. These qualities won her the " Billie Holiday Vocal Competition" in 2004. Since then she has toured and performed through out the U.S. While a full-time singer, Sara also performs as a pianist and accompanies both singers and instrumentalists on recitals. She is a featured vocalist on The Young Brothers CD "Tales of Time" (2007) on CD Baby.com. Sara released her first CD in 2010, a 14 track compilation titled "Daydream A Little", which is available through Amazon and other online vendors. Links: website, Facebook, Reverbnation, MySpace, DC Bebop page.
---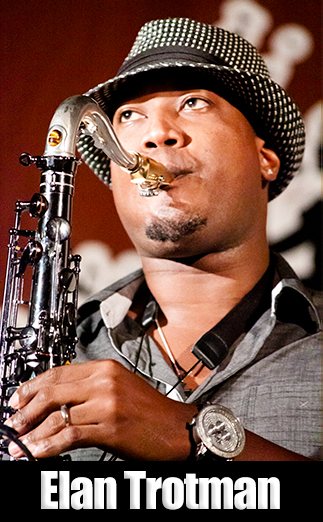 Elan Trotman - Saxophonist, composer and educator. Elan grew up in Barbados listening to calypso, reggae, local and other music. His first instrument was the piano, which he began playing when he was 7, his musical curiosity led him to the Sax at age 12. While in high school, he had the good luck to be mentored by Berklee schooled saxophonist Arturo Tappin. While in high school, Elan "led his own band, worked with a couple of gospel groups and eventually organized a combo, 'Inspiration'," which successfully found "work at local shows and festivals." He discovered the music of "Grover Washington Jr. and other contemporary jazz musicians who performed at the prestigious Barbados Jazz Festival," and his interest in jazz became a focal point for evolving his own style. His musical virtuosity contributed to him receiving a full scholarship to the Berklee School of Music in Boston from the Barbados government. Elan is committed to educating the young, and has served as a teacher in the Boston public school system for a number of years. Elan has released five CD's. "Memories: The Debut" (2001), "Let's Have a Good Time" (2005), "A Reggae Christmas" (2007) and his latest, "Love and Sax" (2010) and the single "As" with trumpeter Lin Roundtree (2011). He has "recorded and performed with Roberta Flack, Kirk Whalum, Brian McKnight, Johnny Gill, Tony Terry, Nathan East, Najee, Walter Beasley, Don Grusin" and many other well known musicians. Elan can be seen and heard performing at venues national and international. Links: website, MySpace, Facebook, Reverbnation, Discography and DC Bebop page.
---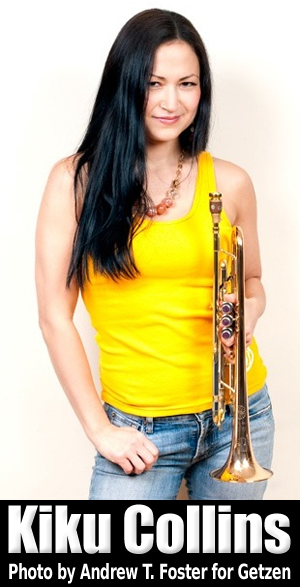 Kiku Collins -Trumpet, Flugelhorn, Valve Trombone, Vocals, Actor, Songwriter.
Kiku Collins, classically trained trumpet player at the prestigious Interlochen Arts Academy and Manhattan School of Music, found her way to a successful pop/jazz career, sharing the stage with many musicians - most notably with Beyonce (on trumpet and trombone) and Michael Bolton (trumpet and vocals). She has also been seen as an actor/musician in off-Broadway shows in NYC, as an on-camera actress in Television commercials, as well as heard on countless television and radio commercials and television shows. Kiku is a Getzen featured trumpet artist and "Freelance Trumpet Player who began playing the trumpet in the fifth grade in the footsteps of her older brother." Kiku has released two CDs. "Here With Me" (2007) and "Red Light" in June 2011. Listen to Kiku on Reverbnation and MySpace. Visit her website, her Facebook Fans page and her DC Bebop page. Buy her CDs at CD Baby.com.
---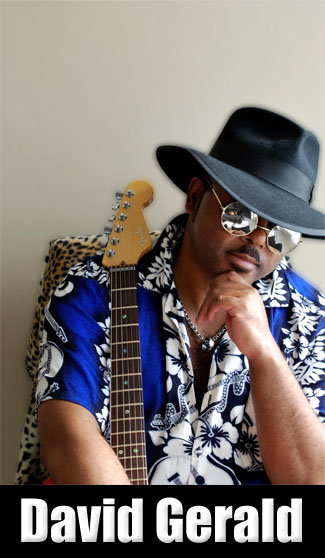 David Gerald - Guitar, Vocals, Bandleader, Songwriter and Producer - David is a blues guitarist. He is originally from Detroit, Michigan. Growing up in the "Motor City" and the home of Motown, meant that he was surrounded by the soulful sounds of R&B and the Blues. After many years of listening, at age 16, he began to learn to play the guitar. He attributed his interest to the musical influence of Prince and other 80's rock guitarists. In Motown, the sound is soul and R&B, but somewhere along his path, David says "He rediscovered the blues" and began listened more seriously to the music of Albert King, ZZ Hill, B.B. King, and Stevie Ray Vaughan. In the 80's David composed rock and pop tunes. At age 24, he began writing and composing tunes with the help of a computer program, and has continued to write and compose to this day. In 2009, David released his first album "Hell and Back" (CD Baby) containing 5 of his original tunes and a selection of cover tunes previously recorded by Blues greats. The "Thrill is Gone", "Red House", "Cold Shot", and the other cover tunes were recorded live at J. Dubs bar in Riverview, Michigan. David can be seen and heard playing at clubs and festivals in the Detroit area. Links: MySpace Music, Website, Facebook, YouTube and Reverbnation.
---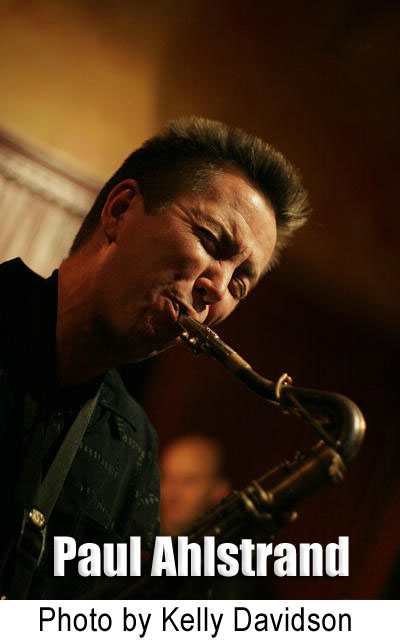 Saxophonist, composer, arranger, band leader, and producer Paul Ahlstrand, is considered to be one of the best saxophonists in the Boston area. Paul began playing the sax in elementary school. By high school, he was performing in two professional bands. He majored in Music Education at Syracuse University, where "he learned from artists such as Thad Jones and Mel Lewis, Toshiko Akioshi and Lew Tabakin, Nick Brignola and Phil Woods. It was Woods that gave him a most valuable piece of practical working-musician advice: 'Shut up, drink a beer, play a song.' After graduation, he earned his road stripes touring the country for a year with a Top-40 band before returning to Boston to freelance and teach privately." From 1992 - 2001 he performed and toured with vocalist Toni Lynn Washington. While working with her band, "he arranged and co-produced Washington's first Tone-Cool Records release, "Blues at Midnight," which garnered W.C. Handy and NAIRD award nominations." After his stint with the Toni Lynn Washington band, Paul did studio work, engaged in special projects and collaborations and taught at Tufts University. During his musical career, "Paul has performed with: The Temptations, Dennis Brennan, Ronnie Earl, The Family Jewels, The Four Tops, Tim Gearan, Luther 'Guitar Junior' Johnson, Thad Jones, The Love Dogs, Gato Malo, Mighty Sam McCain, Nicole Nelson, Rebecca Parris, Son Seals, Howard Tate, Susan Tedeschi, Frankie Valli And The Four Seasons, Toni Lynn Washington, and many others." He can be heard leading his stellar quartet on Sundays in Cambridge, MA performing at Toad in Porter Square and numerous other venues in the area. Check out Paul's most recent CD on the Gibraltar label titled "Sunday Hang", which showcases several original tunes by him. Read about him on his Website and listen to him on MySpace.
---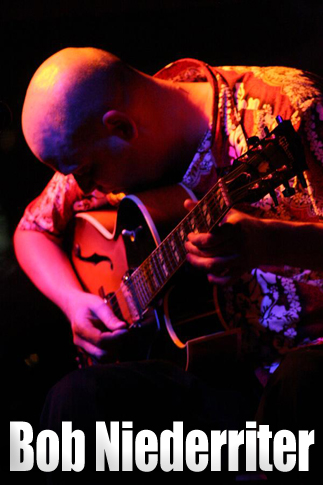 Bob Niederriter - jazz artist, composer, guitarist and arranger - During his career he has studied and performed with great artists in jazz and modern classical music. All for the purpose of achieving excellence in his pursuit of music. At the same time searching and finding inspiration and instruction from masters of music. During the course of his life Bob has pursued multiple art forms. His other artistic accomplishments include being a glass blower, painter, cook and gardener. He is an accomplished artist in many disciplines. As a Guitarist he cites the dominant influence of Wes Montgomery on his thumb technique, his tone and his compositional style. He also points to the seminal recordings of Charlie Christian and Barney Kessel as having had an important impact on his playing. As a guitarist he has also been strengthened through study with masters such as Jimmy Rainey, Cal Collins, Jack Wilkins, Herb Ellis and Jim Hall With respect to chording and texture , one hears in Niederriter's playing the influence of Farlow and Montgomery". Bob is very active in the Cleveland jazz scene and can be heard at numerous venues in the area. Bob's CD "Full Circle (2003) available on CD Baby. Links: Reverbnation, Facebook Band Page and DC Bebop.
---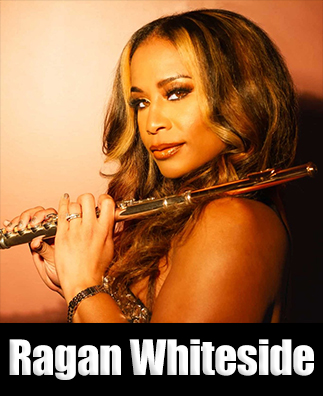 Ragan Whiteside - flutist, vocalist and songwriter. Ragan is originally from Mount Vernon, New York. She began her study of musical at the age of 5. She took piano lessons, played drums, and eventually gravitated to the study of the violin, but in the final analysis, she chose playing the flute and studying classical music. She also discovered a love of songwriting and arranging. Ragan studied at the Cleveland Institute of Music and the Harid Conservatory, where she earned her Bachelor of Music - Performance degree. After graduating, she returned to New York to advance her musical dream, and while there she took a major turn from her chosen path of Classical music to follow her interests for Jazz, Funk, and R&B. In 2006, she won the Capital Jazz Challenge at the Capital Jazz Festival. She returned to the festival in 2007 with a new "critically acclaimed" album, Class Axe. She penned half the songs on the album. It was produced by Pianist/Arranger Bob Baldwin and Engineer/Arranger Dennis Johnson. During her career, Ragan has performed with Earl Klugh, Gerald Veasley, Kirk Whalum, Rick Braun, Eric Darius, Kim Waters, Marion Meadows, and Grammy Award winning opera singer Esther Hinds, and Bob Baldwin. Link: Reverbnation, Website, Jazz Review Interview and DCBebop page.
---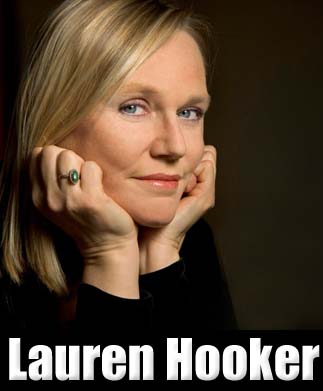 Lauren Hooker Jazz vocalist, composer and lyricist from Teaneck, NJ. In her bio it is written that Lauren "was born into music ... as early as in the womb (kicking to the beat - my mother tells me)... hearing my dad jam with his fellow musicians in the basement ... starting piano lessons at age four ... meeting Bill Evans at the Vanguard whom my father recorded with in college ... being exposed to and singing most of the major classical oratorios with full orchestra ...shaking hands with Duke Ellington and Dave Brubeck ...reaching for Sarah Vaughan's range, Ella's scat, Miles Davis' tone and Coltrane's intention. Lauren's talents were recognized and encouraged early in life and allowed her to develop her skills. Her critically acclaimed debut CD produced by Rufus Reid and Allen Farnham entitled: "Right Where I Belong" was released in May of 2007, with Rufus Reid on the bass, Allen Farnham on piano and Tim Horner on drums and percussion. In 2010, Lauren released "Life of the Music", which was described as both "ambitious and eclectic" with "American Songbook" standards, and several of her original songs. Lauren has been featured and can be heard in many major venues in the New York metropolitan area. Link: MySpace, Facebook, Miles High Records, Website and DC Bebop page.
---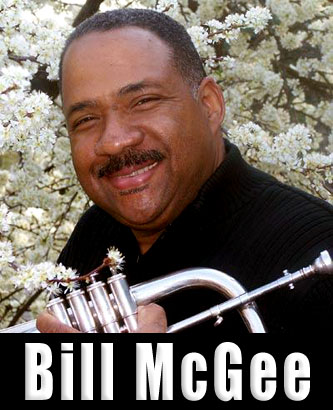 Bill McGee - Trumpeter, songwriter, arranger, producer, educator, musical mentor and quintessential musician. Originally from Richmond, Virginia, Bill comes from a family of musicians. His grandfather was a former educator and became a top selling gospel music recording artist and pioneer. Bill became an educator and he is noted as being a top trumpet man in the music industry for well over thirty years. His musical credits are numerous. Bill performed with Evelyn "Champagne" King. He worked as a member of the New York based studio horn section "Chops". His group recorded all of the Sugar Hill Records rap classics (before samplers took over). He played lead trumpet on many of the original rap records by "Grand Master Flash, The Sugar Hill Gang, The West Street Mob and Sequence (Angie Stone) He also played lead trumpet on albums by The O'Jays "Out In The Real World," Leon Huff "The Right Stuff," Patti Labelle, The Stylistics, and McFadden and Whitehead. Bill performed as a musician with Lou Rawls and Ray, Goodman, and Brown (The Moments.) After many years of recording behind the scenes for others, Bill decided to begin recording his own CD's. On these CD's you'll find what he calls the 804 Jazz All Stars, and in Bill's words, "essentially the best musicians and singers that Virginia has to offer". Many of whom have their own outstanding professional discographies and track records.
Links: Website, Discography, MySpace Music and DC Bebop.
---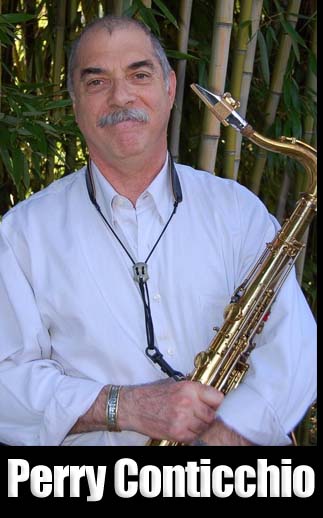 Perry Conticchio, a musicians musician - plays all the saxes, a bit of flute and occasionally bass clarinet. Perry is also a band leader, mentor and teacher of music. A New Jersey native, he studied music at Miami University of Ohio and Berklee College of Music in Boston, at Berklee he studied with Joe Viola, John LaPorta and Charley Mariano. In 1976 Perry relocated to the DC area, where he performed with and learned from three multi-talented musicians - Don Cherry, Anthony Braxton and Sam Rivers. At one point, Perry was co-leader of a jazz quartet "Clarity". From this experience, he started his own quartet. Perry plays all types of music, but he says his real love is jazz. Perry can be heard performing at several local venues in the DC area. Pick up his CD "Speak Your Truth" which you can purchase on his website. Links: website and MySpace page.
---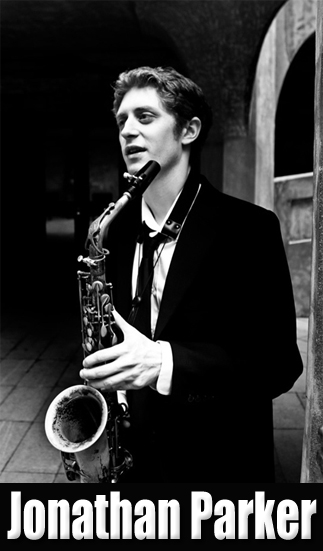 Jonathan Parker - Saxophone . Originally from the Washington D.C. area, Jonathan currently resides in New York City. "He graduated from The Oberlin Conservatory in 2008 where he studied under jazz legend Gary Bartz, as well as other world-class musicians, including Wendell Logan, Marcus Belgrave, Billy Hart, Dan Wall, and Robin Eubanks." Jonathan has also performed with Jimmy Heath, Dave Brubeck, and Slide Hampton while attending Oberlin. He has shared the stage with Terence Blanchard, Randy Brecker, Mulgrew Miller, and David Berkman to name a few. Jonathan has also performed at Carnegie Hall, Fat Cat Jazz Club in NYC, Stanford University in California, Skidmore College in New York, Night Town Jazz Club and The Bop Stop in Cleveland, OH. Jonathan moved to Shanghai, China, where he lived and performed for two years. Jonathan toured for 4 month in Beijing with American jazz singer Frankye Kelly. Now living in New York City, Jonathan has gotten to know and perform with "many talented and innovative young musicians who are at the vanguard of modern jazz." Jonathan leads his own band, the "Jonathan Parker Group" for which he "exclusively composes and arranges." Influenced by a wide range of musical genres and manifesting his experiences from all over the world, Jonathan Parker's compositions and improvisations have been described by reviewers from All About Jazz as "bold," "having an intense energy," "sentimental," and "emotional." ~ Assembled from multiple sources Links: Website, Reverbnation, MySpace and DC Bebop page.
---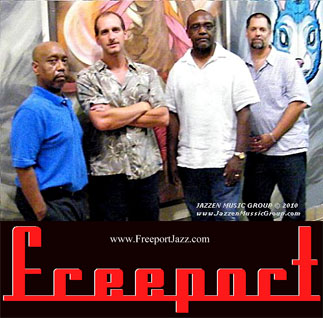 Freeport, Smooth Jazz, Jazz/Funk, and Jazz Standards - Freeport, organized in 1981 in Philadelphia, "Scott Marvill assembled a group of musicians eager to play the music they enjoyed. Jazz." Freeport has recorded and performed with Tower Of Power, The Temptations, The Four Tops, Special EFX, and Grover Washington Jr. to name a few. Several years ago Scott moved to Winston-Salem, NC where he reorganized Freeport. The band has performed with artists like Bob James, James Cotton, Joyce Cooling, Paul Brown, Nils, Bob Baldwin, Eric Mintel, Matt Marshak, Dee Lucas, Marcus Johnson, and the list goes on. "Freeport offers a combination of Smooth Jazz, Contemporary Jazz, and Jazz Standards." The four piece Jazz group consists of Steve Thornton on saxes, flute, percussion, Jo Daniels on keyboards, Tony Testa on drums, and Scott Marvill on guitar and basses. Links: Reverbnation, MySpace, Facebook, Website and DCBebop page.
---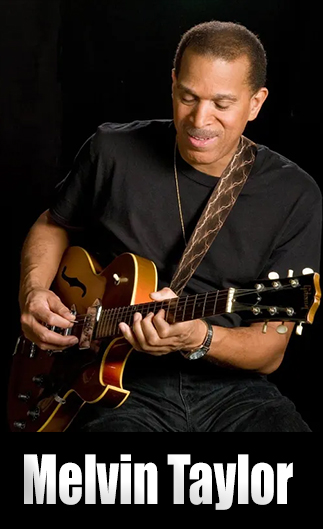 Melvin Taylor - Vocals / Lead Guitar
Melvin is a world renowned Jazz and Blues guitarist who has been at the top of the charts in Europe for years.  His first two CD's, "I'll Play The Blues For You", and "Blues On The Run", were recorded in France in the early 1980's.  Melvin returned to the US in 1990 where he recorded 4 additional CD's for Evidence Music - "Dirty Pool", remains Evidence label's best selling release ever. Taylor was born in Mississippi but raised in Chicago.  Entirely self taught, this virtuoso began playing the famous, Maxwell Street when he was 10 years old.  Melvin has developed a unique style and sound, mixing jazz chords with hints of blues and rock - ranging from hard, fast, explosive tones reminiscent of Hendrix, to the refined, smooth, elegant manner of Wes Montgomery. Melvin has recorded and performed throughout the world for the past 20 years.  He has performed at historic and world class theaters attended by dignitaries.  For the third year in a row, the Melvin Taylor Band is scheduled to perform and record live at the opening weekend of Sundance Film Festival in Park City, Utah - January 21 & 22, 2011. "Beyond The Burning Guitar", Melvin's 7th CD, released through the Orchard in November 2010, is available on iTunes. Links: Website, Reverbnation, Wikipedia, NY Times article: "A Blues Guitarist Takes Off" and DC Bebop page.
---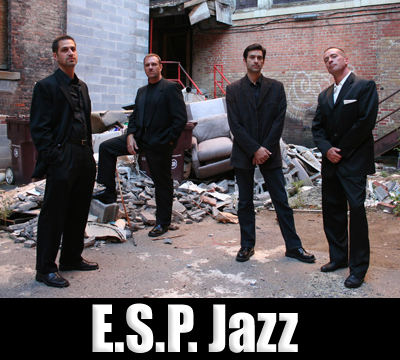 Drummer Karl Sterling with E.S.P. Jazz
Born in Ithaca, New York, grew up in Syracuse, NY. Both of Karl's parents attended the Ithaca College School of Music. Karl's father is a drummer, composer/arranger, and has been a leader of several successful bands in the Central New York area. His mother majored in vocal studies at Ithaca College and is pianist. Karl was 9 years old when he first saw legendary drummer Buddy Rich perform. Karl KNEW the drums were his instrument and began seriously studying and practicing under his father. When he was 11 Karl met drummer Peter Erskine and began a friendship that has lasted over 30 years. By the age of 13 he was playing gigs with his father's band. While in college Karl studied percusion with John Barker. Over the years he has studied drums with Peter Erskine, Danny D'Imperio, Joe Morello, Mike Melito, Wilby Fletcher adn Mike Lewander. Karl has played with many wonderful musicians and bands in the Syracuse, Rochester, and New York City area's. He has performed with Ronnie Leigh, Bob Dibaudo, Mala Waldron, Eye Level, Prime Time, Seaflight to name a few. Along the way, Karl teamed up with guitarist John Magnante, bassist Matthew Vacanti, and saxophone/flautist Brian Scherer to form E.S.P. Jazz. ESP released their third CD "Time's Up!" CD in 2009 on CD Baby, and the group received a SAMMY AWARD for "Time's UP! Best Jazz CD of 2009". Links: E.S.P. Jazz Website, Discography, YouTube and Reverbnation
---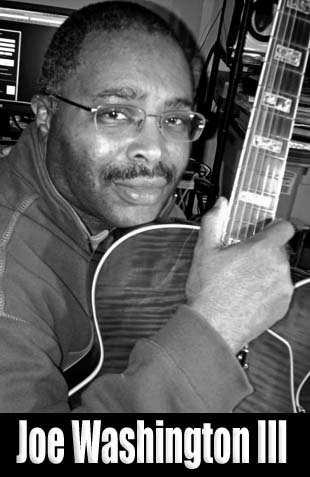 Guitarist Joe Washington III - born and raised in Chicago, Illinois. He was a Chicago Police officer for 11yrs. Started playing guitar under the direction of a local teacher by the name of Jack Cecchini, who he believes is still teaching on the north side of Chicago. He studied with a classical guitarist by the name of Paul Herman at the Chicago Music Conservatory, and the Chicago Musical College. Says he has done some minor studio work, notably "with a great jazz guy by the name of Bobby Irving". Joe sat in on an album by a singer named Susan Osborn (produced by Bobby Irving), and he has played with a number of small groups and bands over the years locally. Joe says "the one thing that has drawn me to jazz and the guitar would most assuredly be my dad, who unfortunately passed away last year, however he's the one who purchased my first guitar and my first jazz guitar album, "Movin' Wes" by the late great Wes Montgomery, and that album and albums by George Benson, Kenny Burrell, Pat Martino, Pat Metheny, Ronny Jordan, Earl Klugh and many, many more has made me crazy for jazz. At this stage of my life, I guess more than anything I want to play, but I want to play with guys (and gal's) who want to play, and truly appreciate the only true American music heritage, Jazz and all that goes along with that statement". Links: MySpace Music and YouTube.
---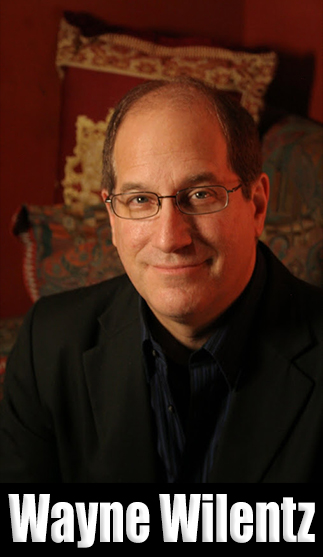 Pianist Wayne Wilentz, originally fron New York, moved to the DC area in 1989 and has played Brazilian Jazz in the nation's capitol since then. Before coming to DC Wayne was a keyboardist and composer for the '80's funk band "SKYY", and received a gold record commemorating their #1 Album "Skyy Line" on Salsoul Records. During his career he has performed with such famous R&B acts as Carl Gardner's Coasters, The Shirelles, The Marvellettes, and Jimmy Norman. Since moving to the DC area, Wayne has recorded on a number of CD's, many of which he co-produced. In 2004, Wayne released his first compilation of original material entitled "Break of Dawn". It featured vocals by four of DC's finest jazz singers, Pam Bricker, Patrick Desantos, Nicki Gonzalez and Steve Washington. Over the years Wayne has done many sessions for ESL Music and Thievery Corporation, and can be heard on remixes by them. The Wayne Wilentz Quartet has released a new CD, Recordar E Viver (2008) on CDBaby.com. Link: MySpace
---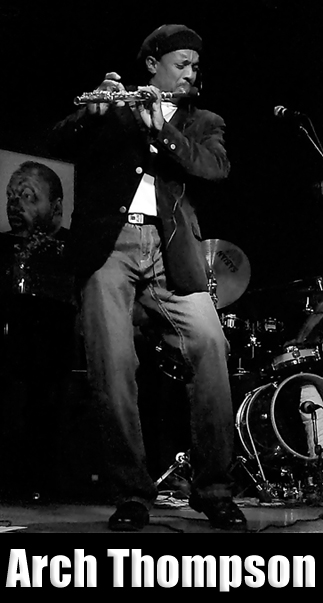 Flutologist Arch Thompson began his musical journey at the age of twelve. In High School he began playing flute. When he was 16, he said his father would take him to clubs where he would sit in with the band. He remembers standing online with other musicians waiting to have a turn on stage. His father was his spokesperson at the clubs for his music and the club "Jam Sessions" were his inspiration. Arch attended and studied music at City College in L.A. It was also around this time that he heard the music of John Coltrane. He said Coltrane's "Love Supreme" raised his consciousness and he began playing his own "music within". While a member of the U.S. Army Band, a chance opportunity arose for him to play with a salsa band. This introduced him to a number of Latin artists and awakened an interest in Latin music. This interest launched him on a musical odyssey which took him to Puerto Rico, New York and finally to DC. Since arriving in DC, Arch has immersed himself in the diverse musical atmosphere of the city. He performs a wide range of music from classical to hip-hop, but he is always connected to and performs Latin Jazz. Arch can be heard performing in venues in the DC area with several groups. He more commonly seen per Flute Visions, Visions of Jazz, The Sabroso Latin Jazz Ensemble, ElectroKoustic, solo and with other groups. Links: Website, Facebook, Reverbnation, MySpace and DC Bebop page.
---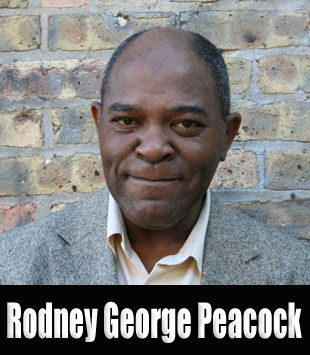 Rodney George Peacock - Rodney is a multi-instrumentalist, poet and writer. He is an eclectic artist. He plays the flute, organ, piano, bass clarinet , harpsichord and saxophone. In the late 60's into the early 70's, Rodney lived and played music in San Francisco. A dedicated hard working artist, Rodney is a self-described perfectionist. Over the years, he has contributed to several albums on the Chicago's Audio 8 label, playing flute and saxophones. He has recorded with Chicago hip-hop artists, noted jazz musicians and has written poems and an opera. Artist of many talents, Rodney is also an opera man. In June of 2006, Radio Free Urbana (WRFU-LP 104.5 FM) aired Rodney's "artist statement", which was a two-hour program chronicling his history as a musician and poet. During the program, he talked about his mythological opera, "Noontide Trilogy". Six actors from the University of Illinois performed four partial scenes and one full scene of the drama. Links: MySpace Music and Dolce Stil Nuovo CD (2001) - Audio8 Recordings.
---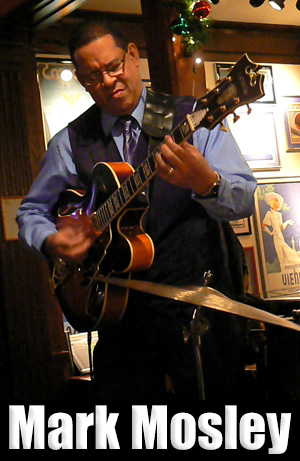 Mark Mosley - Jazz and Blues Guitarist. Mark was Born in Arkansas, but saw a lot of the world because his parents were career military. When he was old enough, Mark followed the military career path into the U.S. Army from which he eventually retired, then served in a reserve capacity for a number of years. Mark began playing guitar when he was 11, first learning to emulate the playing of BB King. Later he played in school bands and was part of R&B and Jazz bands. Through the support of his family members Mark kept faith with his music, which has evolved into a mellow, smooth and characteristic sound for him. He has performed with many musical greats. He toured with Lou Donaldson and has shared the stage with Gary Bartz, Keter Betts, and many others. Mark has been a band leader for several years, which also includes while living as a civilian in the Heidleburg Germany region. Some of the major venues performed in as a band leader in the DC and Baltimore area are Blues Alley, Montpelier Arts Center, Twins Jazz, Md. Public TV, WJZ-TV ch. 13 (Baltimore), WPFW 89.3 FM radio interviews/airplay, and various Borders Books and Music outlets. Mark writes for Modern Guitar Magazine. Links: Mark's MySpace Music page, Website and DC Bebop.
---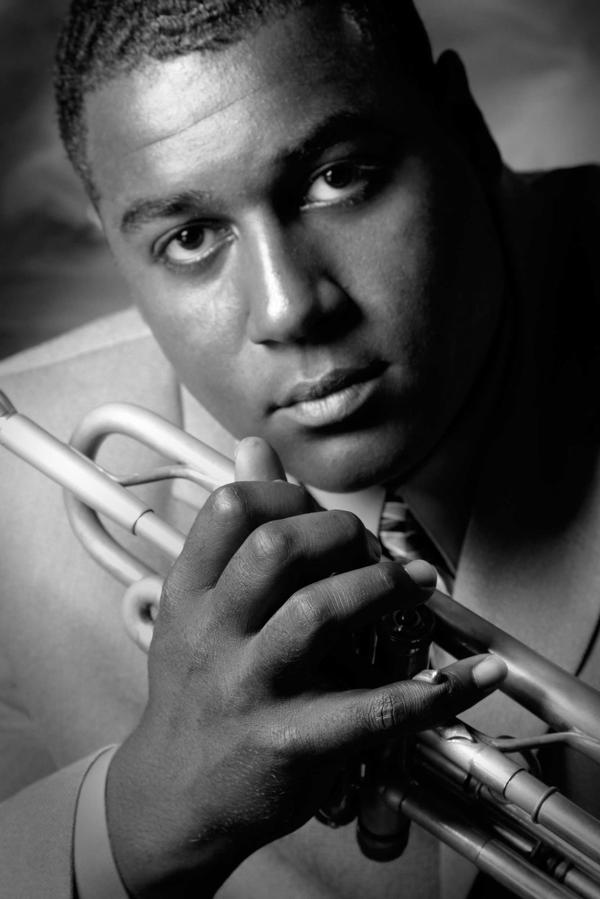 Trumpeter Arzo Tureaud originally from Springfield Missouri. While growing up, Arzo's mother encouraged him to pursue the musical arts. Her encouragement and his dedication to music won him many awards. In 1995 he won the "outstanding soloist" award at Disneyworld's "Magical Music Days.". Over the years, Arzo has studied and performed with many noted musicians. He studied under Trumpeter Terell Stafford.  Carnigie Hall's Jazz direcotr, John Faddis, Dr. Joel Treybig, an  international music scholar. Arzo is currently being mentored by jazz trumpeter Tony Lujan, Miles Jaye and saxaphonist, Bobby Watson. Arzo can be heard performing  with his Jazz Quintet. Link: MySpace. and Music Lessons with Arzo at Pellegrino's School Of Music
---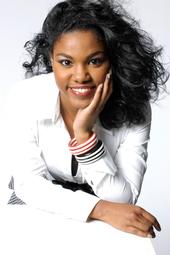 Piano, Keyboardist, Songwriter, Arranger
Kne-O'chaw Hampton is (at this writing) a 15 year old prodigy from Willingboro, New Jersey, who has been actively engaged in creating and performing her own music. She began playing keyboards at age 8. By the age of 10, Kne had learned "to write songs at an advanced and accelerated level". She wrote and arranged her first CD titled "The Other Side of Town". She created and released her second CD "From Deep in My Soul" at age 11. Kne released her third CD in 2005 titled "Planet 9ine". In addition to her original works, Kne also plays Classical, Gospel, R&B and Jazz Standards. Link: MySpace and Reverbnation.
---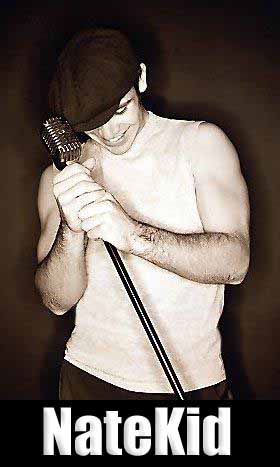 Nate "NateKid" Lombardi - Singer, songwriter, arranger, producer and dancer. Nate says he has "always been attracted to music with funk and soul" and it all started with his hearing the music of Stevie Wonder. "As a kid, I do remember sitting in my room listening to him.. it changed my life." From Stevie he says it expanded to his interest in Hip-Hop. While in high school Nate performed for fun. In college he was introduced to tap dancing and the ole movie musical. Nate saw "Singing in the Rain" with Gene Kelly and was inspired by both the cinematic performance and the music of the era. Nate has "been in Off-Broadway shows, modeled, done TV and film, and sang with big bands". He says he "wants to bring brilliant and still relevant tunes back that the younger ears have never heard, (sometimes, with drastic interpretations, sometimes not) and write songs that will be as immortal as the ones from the American Songbook." Nate is cast in the role of a musical bridge that joins the past to the present. Classic jazz standards married to contemporary interpretations of the music of both times. Links: Reverbnation, MySpace, Website and DC Bebop page.
---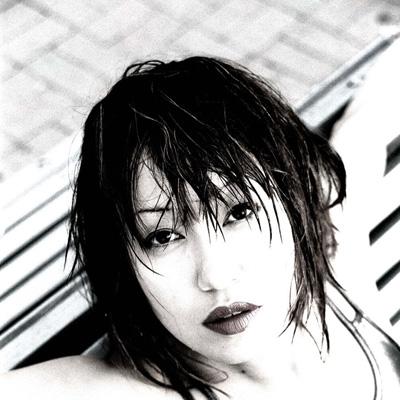 Sali Oguri - Singer, keyboardist, composer and arranger, is a Modern Pop Rock artist whose music has been described as being "emotionally gripping", and "is a linking of ethereal and hard-edged elements". "With her smoky-angelic voice and high energy, blood-rushing performance, her sound is juxtaposition extremes: heaven and hell, hot and cold." Sali has captured the interest of top industry professionals and fans across the world. Links: MySpace, Website, WUJ Productions and buy her CD: Pink Manhattan (2005) on CD Baby. Also, Sali's Blog "Pink Manhattan".
---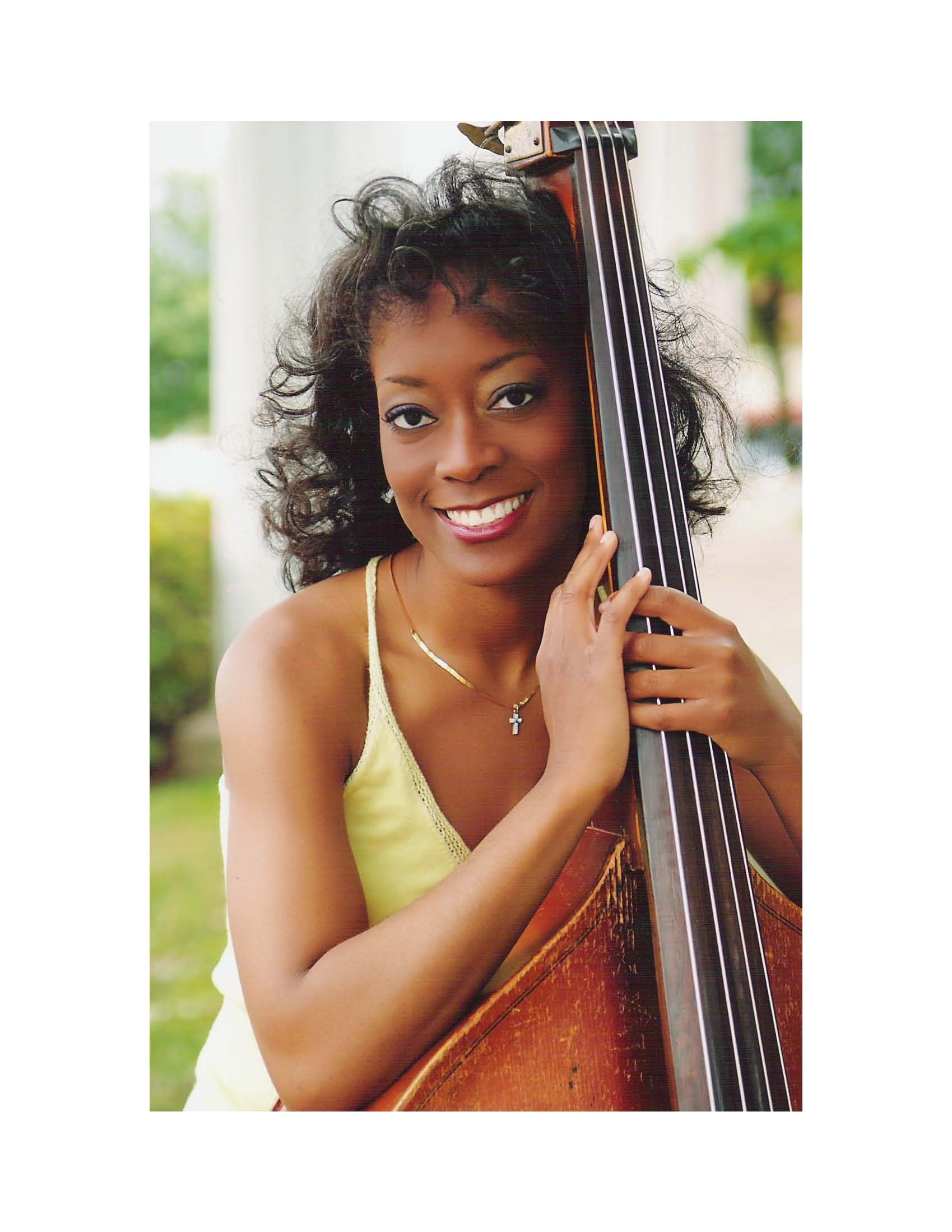 Phyllis Beard - Bassist. Born in Hot Springs National Park, AR, Phyllis started at the piano at age eight, but in junior high school she began playing the bass. Her talent earned here a music scholarshiop to Stetson University in central Florida, where she majored in Classical Bass Performance. After college she moved to Minneapolis MN, where she earned her teaching license, and master's degree in education. On one eventful night at the Dakota Jazz club in St. Paul, she heard Gerald Cannon of the Roy Hargrove Quintet performing and it revitalized here interest in performing jazz. Phyllis left Minnesota eighteen months later to pursue here musical career. Since answering her musical calling, Phyllis has toured Canada, Europe, Iceland, Greenland, Faroe and the Shetland Islands. She performs with her trio in NYC. Link: MySpace.
---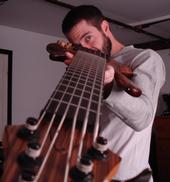 Bassist Kyle Spark grew up south of Boston and has made his way around the country with two national groups. As a freelance bassist he did national tours with Blueground Undergrass (Atlanta,GA) and DJ Logic's Project (NYC). He currently is doing freelance bass work around Boston as well as working on his own solo and overdubbed bass compositions.
Link to Kyle's MySpace Music page.
---
Vocalist Maria Rochelle - from Kansas City, Missouri. Singer and lyricist. Whether singing her combination of Hip-Hop with European soul or and Italian aria, her melodies and lyrics capture the essence of love for diversity, humanity and romance.
Link to Maria's MySpace Music site.
---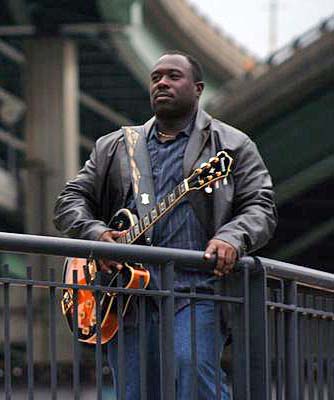 Rhythm guitarist Tom Reaves, Jr. from Richmond, Virginia. Known for his style of playing as the "Tonedoctor", Tom can be heard laying down the rhythm and soul on tracks with producers; Lamont "Hit.La" Fleming, Marcus "Bellringer" Bell, and Nate Smith. He can also be heard on CD recordings with such artist as Trumpeter; Bill McGee, and singers; Eric Dozier, Antoinique, and Jarrard Anthony. In addition he regularly frequents the Virginia club circuit with his band "The Krewe", and others. Link: MySpace.
---
Atiba Taylor is a saxophonist and vocalist with a distinctive style. He has shared the stage with greats like Archie Shepp, Wallace Roney and Organist Jimmy Smith. Atiba has relocated to Brazil, where he has returned to his musical roots singing and playing blues and R&B. He has released his first major Cd in 10 years with Brazil Modern Jazz Quartet featuring Carlos Bala (drummer ), Ricardo Lopes(guitar), and Felix Baigon (bass), Atiba is planning a national tour of Brazil and the World. Look for the release of his CD, "Back to My Roots, Da Blues" in the near future. Link: Atiba's Blog.
---
Top of Page