MUSIC - Drew Davidsen - jazz artist, composer, guitarist and arranger
---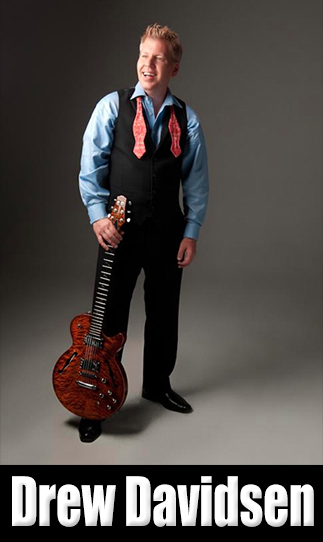 Drew Davidsen is a multi-talented composer/guitarist. and longtime session player living in Towson, Maryland. During his career, Drew has been part of nearly 30 high profile projects. He has received high praise for his musical talents from his playing of urban jazz to his gospel music performances. He was at one point named one of the "Ten Hottest New Guitarists" in Guitar Player Magazine's influential Reader's Poll. Drew is a classically trained cellist who studied at the Peabody Conservatory. Reportedly, Drew was drawn from the classics by his growing interest in rock and jazz. After high school, Drew put down has cello and bass guitar to join the Navy, but while on active duty he picked up the guitar again to play lead & rhythm guitar. After completing his tour of duty, Drew returned to civilian life and eventually organized his first band, The Aces. While performing with them Drew began doing his own writing. Each of Drew's albums feature several of his original songs. Some of his musical credits include performing with the ska band Regatta 69 and the R & B group Touch. He signed on to the Notlaw Record label as the lead guitar player for the Richard Walton Group in Baltimore and continued to write and record his music. In 2008, Drew self-produced his first solo album, "This Journey". After releasing "This Journey", he went on to work on preview tracks which he released online. "Astro" and "Bounce" were both well received and feature Dan Needham on drums, Gary Lunn on bass and pianist Jay Rowe. In 2009, Drew released "Around Again", which has attracted a lot of attention and good reviews. "We3Stringz" CD was released in 2010 and "Spin Cycle" in 2011 and ""True Drew" in 2013. 2016, Drew wrote and produced this new single composition, "East Moon," with producer/drummer Cedric Givens. Drew can be seen and heard at venues around the U.S. and numerous festivals.
---
Drew on Reverbnation
---
REVIEWS:
"True Drew" (2013)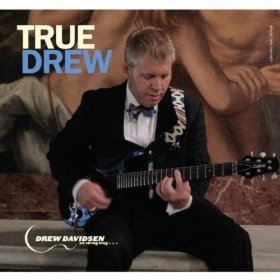 When in 2010 I reviewed 'Around Again' by guitarist Drew Davidsen I described him as being someone who was destined to be around in smooth jazz for a considerable time to come. His follow-up, 'Spin Cycle' garnered similar critical acclaim and now he is back with 'True Drew'. It's a CD that artistically moves him closer to players such as Pat Metheny, George Benson, Earl Klugh, Larry Carlton and Robben Ford from whom he has drawn both inspiration and musical direction. Not only that 'True Drew' marks out Davidsen as a guitarist with rhythm and melody at his fingertips.

---
"Around Again" CD
"Drew Davidsen is a multi-talented composer, guitarist, and longtime session player who has appeared on close to 30 high profile projects. Now Drew steps into a broader spotlight as he releases his newest CD "Around Again" to a national audience. Drew's very first first single, the high energy, feel good, top down, sun in your face travel tune "Astro", hit the Smooth Jazz Top Ten." ~ Creative Soul Jazz "Around again With his brand new CD 'Around (Again)' guitarist Drew Davidsen has really hit the ground running. Not only is it becoming one of the most talked about releases of the year but has also led to his nomination in the category 'Best New Artist' at the up coming American Smooth Jazz Awards that will take place in Michigan City, IN on October 29. With featured performances from bassist Gerald Veasley and Special EFX keyboard player Jay Rowe the album is already garnering considerable interest with both terrestrial and internet radio." ~ Smooth Jazz Therapy
---
ARTICLE:
Drew Davidsen - We 3 Stringz (2010)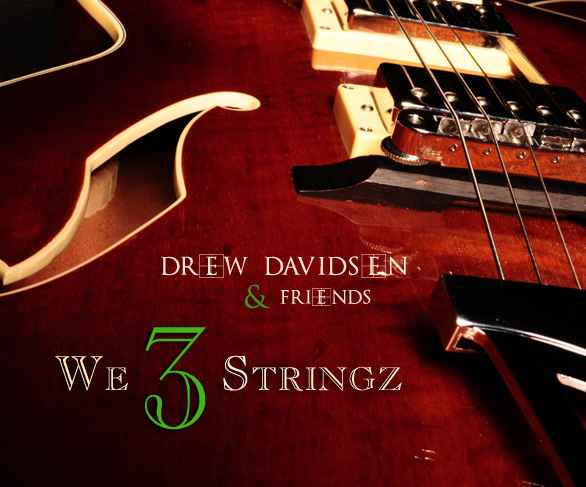 Drew Davidsen's new Christmas CD features inspired performances setting the backdrop for a wonderful holiday season, evoking rich textures and new reveries in these brilliant, classic melodies. 'We 3 Stringz, ' features guitarists Chuck Loeb, Paul Jackson, Jr. and a host of wonderful Nashville session players, released just in time for the upcoming holiday season. In a day where some smooth jazz is programmed, a distinctive of Drew's music is a commitment to capturing the essence of jazz, 'having live musicians in a room together.' This new offering confirms there's always room for those with talent to rise to the top. He is exceptionally grateful for his collaboration with producer Eric Copeland of Creative Soul Jazz www.creativesouljazz.com and says that his fourth CD project will show a 'deeper side' to his playing slated to be released in January of 2011. ~ Jazz News Available at: www.DrewDavidsen.com, CD Baby, iTunes, and Amazon.com
---
OneSheet2> Onesheet: Drew Davidsen - Spin Cycle (2011) "Spin Cycle," is the title track of Drew Davidsen's sparkling new project, featuring fresh, clean grooves. In this wholly original, upbeat tune, he continues to demonstrate his mastery of the fretboard. The album, Spin Cycle, inspired by the likes of Acoustic Alchemy, Steve Lukather and George Benson, fuses jazz with pop, funk, rock, blues, Latin and even disco. Drew Davidsen comes 'around again' with a boatload of inventive hooks to show us how creative, skillful, and fun his composing is." (excerpt from "Spin Cycle" CD onesheet pdf. Available at: www.DrewDavidsen.com, CD Baby, iTunes, and Amazon.com

---
Onesheet: Drew Davidsen - Around (Again) (2009)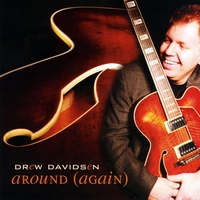 The enclosed track, "Astro", features Jay Rowe, long time member of Special EFX on keys, legendary session players, Dan Needham on drums and Gary Lunn on bass. This is exciting support for Drew's smooth guitar. "Astro" is up-beat with an amazing hook that reels you right in, perfect for a drive up the coast. The production, handled by Eric Copeland at Creative Soul Jazz, is top notch. You can expect many more great tracks from this dynamic duo when the full album hits next month. With Father's Day just around the corner, Drew reflects on the meaning behind the title of this single. "'Astro' is a special tune written in memory of my Dad, Dr. Arthur F. Davidsen, an astrophysicist who was the principle investigator of the Hopkins Ultraviolet Telescope (HUT) which was a part of two NASA missions on the Space Shuttle, Astro 1 and Astro 2. This was his baby!" More About Drew Drew Davidsen is a two time Momentum Award winner, Jazz Artist of the Year (2008 and 2009), and was recently named one of the "Ten Hottest New Guitarists" in Guitar Player Magazine's influential Reader's Poll. Around Again is the follow up to Davidsen's 2008 This Journey CD, a stellar project that was recorded and produced by Drew himself.
Chieli Minucci exclaims, "Drew, great playing! You have a new fan!" Available at: www.DrewDavidsen.com, CD Baby, iTunes, and Amazon.com
---
VIDEOS:
Drew Davidsen - Drew's Blues @ Jazzclub Rorschach
---
Drew Davidsen Promo
---
Back to the Top - Back to the Music page