EAST
---
MUSIC - US East - FEATURED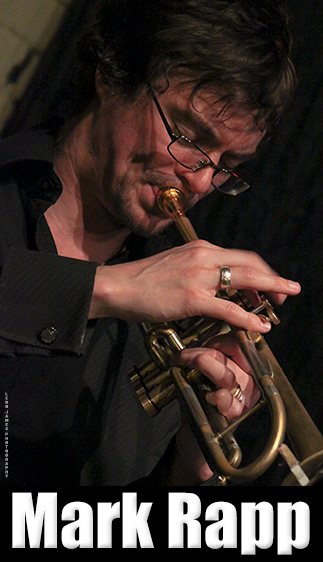 Trumpeter, composer, arranger and bandleader Mark Rapp. Mark is originally from South Carolina, he began playing trumpet in the sixth grade. It was an off-on endeavor but he stuck with it. His musical prowess in high school earned him a music scholarship to attended Lenoir-Rhyne College in Hickory, North Carolina but he left after a few months. He returned to college at Winthrop University in South Carolina where he received his degree. After graduating he moved to New Orleans to study music with Ellis Marsalis while earning a Masters in Jazz from the University of New Orleans. Mark moved to New York to cast his fate to the musical winds there. It was difficult times in the beginning but his music carried him through. In more recent times, Mark created and launched an all-ages, all-levels summer jazz camp which has featured jazz luminaries such as Delfeayo Marsalis, NEA Jazz Master Dave Liebman and Sullivan Fortner. Rapp also created and launched an annual ColaJazz Festival featuring Chris Potter, longtime Wynton Marsalis sideman Wess "Warmdddy" Anderson, Count Basie Musical Director Scotty Barnhart, Brazilian vocalist Liz Rosa, saxophonists Tia Fuller, Don Braden and Alexa Tarantino. In 2018, Rapp was named an Ambassador of Jazz for the State of South Carolina by the SC House of Representatives. Rapp is a 2020 Experience Columbia Ambassador and serves on the McKissick Museum advisory council. Mark has released 8 diverse recordings and appears as a sideman on a myriad of projects including Disney's "Everybody Wants to be a Cat" alongside Roy Hargrove, Dave Brubeck, Esperanza Spalding, The Bad Plus, Joshua Redman and more. Rapp's celebrated 2009 debut release "Token Tale" earned him a spot as a "Top Emerging Trumpeter" in Downbeat Magazine, sold out the Blue Note (NYC) and debuted at the famed Newport Jazz Festival. Rapp is a featured artist in Mellen Press' "How Jazz Trumpeters Understand Their Music" among a prestigious list including Terence Blanchard, Lew Soloff, Freddie Hubbard, Tim Hagans, Dave Douglas and more. Rapp also composed and produced a jazz ballet "Woven: Life in Notes and Steps"" (wovenballet.com). He has performed in jazz clubs and festivals around the world from Croatia, Brasil, Austria, Switzerland and USA including back-to-back appearances at the 2017 & 2018 New Orleans Jazz Links: Website, Facebook, Twitter, Ambassador of Jazz, Take Five AAJ, Discography, DC Bebop.
---
MUSIC - US East -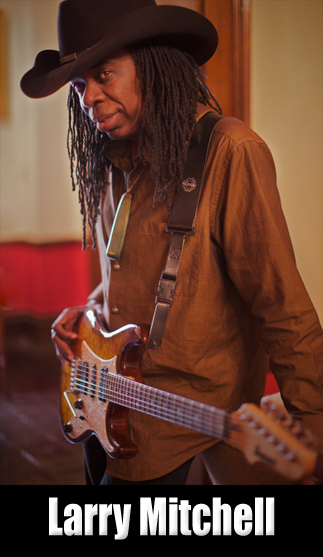 Larry Mitchell - solo artist, sideman, songwriter and music producer. "Larry Mitchell is a Grammy award-winning producer, engineer and performer who has toured the world playing guitar with well-known artists including Tracy Chapman, Billy Squier, Ric Ocasek and Miguel Bosé. In his original compositions, Larry skillfully weaves guitar textures that showcase his virtuosity as a solo artist and ensemble player. As an artist, he has released 9 solo records and won a San Diego Music Award for best pop jazz artist. As a producer-engineer, Larry has won 26 New Mexico Music Awards in various categories from pop, adult contemporary, rap, rock, country and Native American. He won a Grammy Award for producing, engineering and performing on "Totemic Flute Chants" by artist Johnny Whitehorse, who is better known as Robert Mirabal of Taos Pueblo. Larry is currently touring with his own trio as well as with Native artists Shelley Morningsong, Dawn Avery, Joy Harjo and Robert Mirabal. He has many long-standing endorsements and relationships with companies such as D'Adarrio Strings, D'Marzio Pickups, Tech 21 NYC, Dava Picks, Majik Box, Fractal Audio, Composite Acoustics, Hotone, Samson, Keeley Electronics and now with Knaggs Guitars and Godin Acoustic Guitars." Website About Links: Website, Facebook, Reverbnation, NAMM Show, Discography, YouTube and DC Bebop page.
---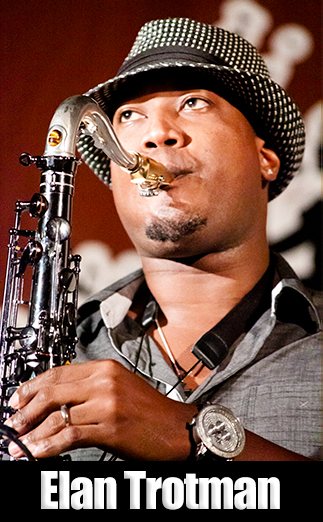 Elan Trotman - Saxophonist, composer and educator. Elan grew up in Barbados listening to calypso, reggae, local and other music. His first instrument was the piano, which he began playing when he was 7, his musical curiosity led him to the Sax at age 12. While in high school, he had the good luck to be mentored by Berklee schooled saxophonist Arturo Tappin. Also while in high school, Elan "led his own band, worked with a couple of gospel groups and eventually organized a combo, 'Inspiration', " which successfully found "work at local shows and festivals." He discovered the music of "Grover Washington Jr. and other contemporary jazz musicians who performed at the prestigious Barbados Jazz Festival," and his interest in jazz became a focal point for evolving his own style. His musical virtuosity contributed to him receiving a full scholarship to the Berklee School of Music in Boston from the Barbados government. Elan is committed to educating the young, and has served as a teacher in the Boston public school system for a number of years. Elan has released five CD's. "Memories: The Debut" (2001), "Let's Have a Good Time" (2005), "A Reggae Christmas" (2007) and his latest, "Love and Sax" (2010) and the single "As" with trumpeter Lin Roundtree (2011). He has "recorded and performed with Roberta Flack, Kirk Whalum, Brian McKnight, Johnny Gill, Tony Terry, Nathan East, Najee, Walter Beasley, Don Grusin" As a recording artist Elan has topped the Billboard Radio Charts over 10 times. As a solo artist charting songs include "Heaven In Your Eyes" feat. Brian Simpson, "Tradewinds" feat Peter White, "Master Blaster", "As" feat. Lin Rountree, "Thoughts of Sumer" feat. Will Downing, and "Smooth N Saxy". Collaborations that have topped the charts include "Magic Men" Marion Meadows), "Groove Me" (Greg Manning), "Just What You Need" (Brian Simpson), "Smooth (Cal Harris) and "Ride Along" (Julian Vaughn)." Elan's collaborations are exponential, and there are many other well known musicians. Elan can be seen and heard performing at venues national and international. Links: website, Facebook, Reverbnation, Discography and DC Bebop page.
---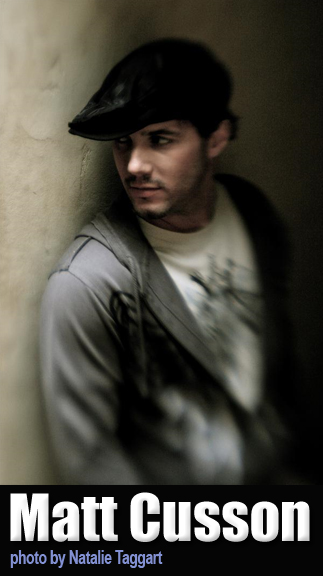 Matt Cusson, Singer, Songwriter - Matt's entire life has been influenced by music. His bio says he started singing at the age of 2 and was performing publicly at age 11. In 1999, he took part in the "Amateur Night at the Apollo" competition in New York City and won. He won that award three times. Matt attended the Berklee College of Music, where in 2000, he met Brian McKnight, after Brian heard him perform. Brian was so impressed with Matt, he flew him to Los Angeles to begin a music collaboration. Since meeting Brian, Matt has performed with a host of well known music headliners such as James Taylor, Norah Jones, Jessica Simpson, Babyface, Christina Aguilera and many more. In 2008, Matt released his debut CD, self-titled, "Matt Cusson". In November 2010, the Spectra Jazz label released the maxi single "One of Those Nights" by Matt. The song is an "autobiographical jazz ballad (unanimously voted as the winner of the 2008 "John Lennon Songwriting Contest") and 2009 "Maxell Song of the Year", has been re-mixed and re-mastered to include orchestral embellishments, provided by composer/arranger Bill Meyers." " Matt is a three-time "Amateur Night at The Apollo" winner, and has a long list of television shows that he has made appearances on, including "The Tonight Show with Jay Leno", "The View", "Rachael Ray Show, "Live with Kelly and Michael", "Live with Regis and Kelly", "The Brian McKnight Show", "Christmas in Rockefeller Center", and "Millionaire Matchmaker". He was also a regular as the "one man band" and also a musical guest on VH1's, "Big Morning Buzz Live" with Nick Lachey, where he co-wrote and arranged several bumps and songs for the show. He was a featured performer on the international "Michael Jackson - Man In The Mirror" tour in 2010. Matt's current single, "Leaving L.A." is receiving rave reviews and being played all over the world. His 2012 Christmas EP, "It's Christmas Time", is a regular play on Sirius XM Radio and numerous radio stations during the holiday season. His sophomore album, "Only Human", is now available on iTunes, Amazon and everywhere else you buy/stream music online." Links: Website Facebook, Reverbnation, Twitter, SoundCloud and DC Bebop page.
---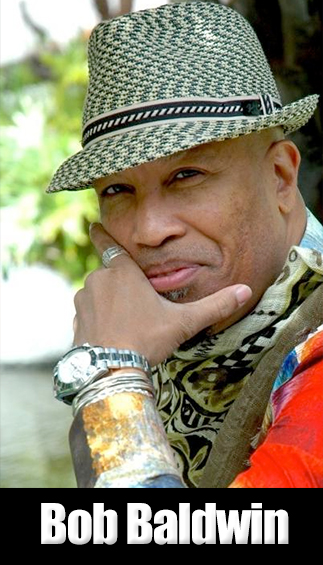 Bob Baldwin - contemporary jazz pianist, music composer, author, and producer. Bob is a multi-facetted person. He is a Jazz Artist, Radio Host, Music Presenter, Arts Advocate, Educator, and Author. He has "a vision to take his gift of music to bless those less fortunate, and raise funds for organizations in need of help." Bob is originally from Mount Vernon, N.Y. He began playing piano when he was four years old, and was taught by his father, Robert Baldwin, Sr., who was an accomplished jazz pianist and upright bassist. In his youth, Bob would accompany his father to jam sessions near home, and had the opportunity to listen to and study the music of "the masters of the Westchester region." Later, Bob was influenced musically by a number of artists, "strongly by Herbie Hancock, Stevie Wonder, Patrice Rushen, Chick Corea, EWF, Joe Sample, Ramsey Lewis, Miles Davis, and George Duke." His style is "a by-product of these artists." During the 80's, Bob performed with a who's who of talent, including Roy Ayers, Gerald Albright Dean James, Chieli Minucci, Jocelyn Brown, Kim Waters, Will Downing, Marion Meadows, Najee, the late Grover Washington, Jr., and Noel Pointer and many others. (2010), Bob released "Never Can Say Goodbye: A Tribute to Michael Jackson," "Betcha By Golly Wow: The Songs Of Thom Bell" (2012). "The Brazilian-American Soundtrack" (2016), "Never Out of Season " (2017), and "Abbey Road and the Beatles," in 2018. Bob can be seen and heard in venues nationally and internationally. Links: Website, Facebook, Discography, Reverbnationand DC Bebop page.
---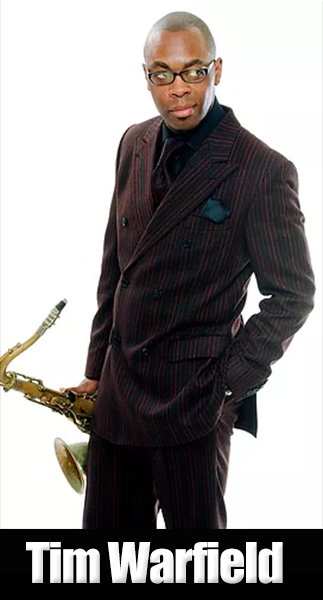 Tim Warfield - Saxophonist, band leader & educator. Tim is originally from York, PA. He has played the alto saxophone since the age of nine. He began playing the tenor saxophone in High School, where he played in a number of musical ensembles, from which he received a number of awards for his solo performances. After high school, he attended Howard University in Washington, D.C. for a period of time before becoming a band leader. He has performed with CBS/Sony recording artist Marlon Jordan's Quintet, Jazz Futures (a world touring group), on the Today Show, Bill Cosby's You Bet Your Life (as a member of the house band), and at Ted Turner's 1998 Trumpet Awards. He has shared the stage with "such names as Donald Byrd, Michelle Rosewoman, Marcus Miller, Marlon Jordan, James Williams, Christian McBride, The Harper Brothers, Dizzy Gillespie, Isaac Hayes, Shirley Scott, Jimmy Smith, Nicholas Payton, Charles Fambrough, Eric Reed, Carl Allen, Terell Stafford, Stefon Harris, Orrin Evans, The Newport Millennium All Stars, "Papa" John Defrancesco, Joey Defrancesco, Claudio Raggazzi, Danilo Perez, and others." Tim has released several albums since his debut CD, "Cool Blue," in 1995. His last three releases are "Tim Warfield's Jazzy Christmas," (2012), "Eye of the Beholder," (2013) and "Inspire Me" (2013). He has served "as a board member for the Central Pennsylvania Friends of Jazz as well as an artist-in-residence at Messiah College in Grantham, Pa." In 2012, Tim released " Tim Warfield's Jazzy Christmas." Edward Blanco, at All About Jazz says, "Performing a selection of familiar songs with a heavy contemporary flavor, the music is so straight-ahead in nature that such seasonal tunes like "Let It Snow," "Joy To The World," and "Silent Night," are almost unrecognizable as Christmas music and could easily be part of any playlist throughout the year." " Eye of the Beholder," (2013), " Inspire Me" (2013), " Spherical - Dedicated To Thelonious Sphere Monk" (2015) and "Jazzland" (2018) Tim's latest album. Links: Messiah College, Facebook, YouTube, Discography and DC Bebop page.
---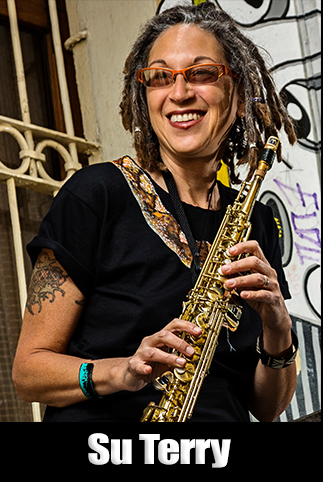 Su Terry is an alto and soprano saxophonist, songwriter and writer. Su grew up listening to Jazz from her father's jazz album collection. She later pursued the study of music while in High School, studying under pianist and educator John Mehegan. Her musical career started at the age of 16, performing at church functions and in musical theater. She attended and graduated from the University of Hartford where she was a protegee' of the late great saxophonist Jackie McLean at the Hartt School of Music, and the first graduate of the jazz studies program he founded. She began playing jazz gigs while attending Hartt. On the advice of Jackie McLean, Su moved to New York City where she was a featured soloist with many bands. Su has appeared as a Jazz soloist with the National Symphony at the Kennedy Center, with the New York Pops at Carnegie Hall and with the Brooklyn Philharmonic at the Brooklyn Academy of Music. She has performed at numerous jazz festivals, at Montreux Jazz Festival, the Nice Jazz Festival, the Pori Jazz Festival, the Northsea Jazz Festival and the Blue Note in Tokyo and many more. Links: Website, Wikipedia, Sonicbids, YouTube, and DC Bebop
---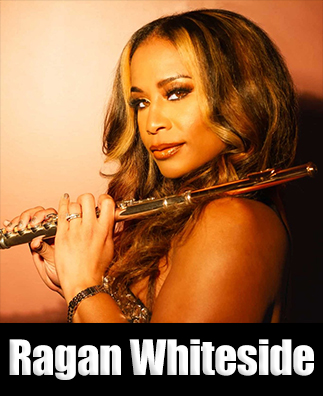 Ragan Whiteside - flutist, vocalist and songwriter. Ragan is originally from Mount Vernon, New York. She began her study of musical at the age of 5. She took piano lessons, played drums, and eventually gravitated to the study of the violin, but in the final analysis, she chose playing the flute and studying classical music. She also discovered a love of songwriting and arranging. Ragan studied at the Cleveland Institute of Music and the Harid Conservatory, where she earned her Bachelor of Music - Performance degree. After graduating, she returned to New York to advance her musical dream, and while there she took a major turn from her chosen path of Classical music to follow her interests for Jazz, Funk, and R&B. In 2006, she won the Capital Jazz Challenge at the Capital Jazz Festival. She returned to the festival in 2007 with a new "critically acclaimed" album, Class Axe. She penned half the songs on the album. It was produced by Pianist/Arranger Bob Baldwin and Engineer/Arranger Dennis Johnson. During her career, Ragan has performed with Earl Klugh, Gerald Veasley, Kirk Whalum, Rick Braun, Eric Darius, Kim Waters, Marion Meadows, and Grammy Award winning opera singer Esther Hinds, and Bob Baldwin. Links: Reverbnation, Website, Jazz Review Interview and DCBebop page.
---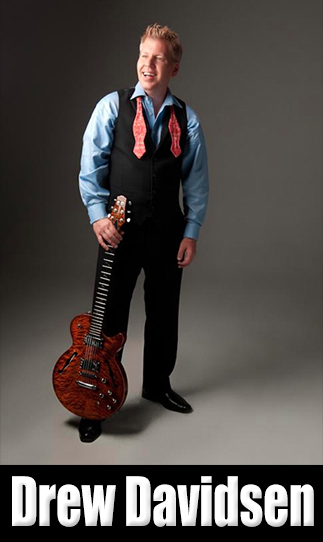 Drew Davidsen is a multi-talented composer/guitarist - Drew is a classically trained cellist who studied at the Peabody Conservatory, but he was drawn from the classics by his ever growing interest in rock and jazz. He plays several instruments, but while in the Navy, he returned to the guitar, and that became his instrument of choice. During his career, Drew has been part of nearly 30 high profile projects. He has received high praise for his musical talents from his playing of urban jazz to his gospel music. Drew was named one of the "Ten Hottest New Guitarists" in Guitar Player Magazine's influential Reader's Poll. In 2008, Drew self-produced his first solo album, "This Journey". On the heels of the release of "This Journey", he wrote, recorded and released two preview tracks online. "Astro" and "Bounce", which were both well received, the tracks feature Dan Needham on drums, Gary Lunn on bass and pianist Jay Rowe. In 2009, Drew released "Around Again", which has attracted a lot of attention and good reviews. "We3Stringz" CD was released in 2010, "Spin Cycle" in 2011 and "True Drew" in 2013. 2016, Drew wrote and produced this new single composition, "East Moon," with producer/drummer Cedric Givens. Drew can be seen and heard at venues around the U.S. and numerous festivals. Links: Reverbnation, Facebook, Website, and DC Bebop page.
---
Guitarist Joe Washington III - born and raised in Chicago, Illinois. He was a Chicago Police officer for 11yrs. Started playing guitar under the direction of a local teacher by the name of Jack Cecchini, who he believes is still teaching on the north side of Chicago. He studied with a classical guitarist by the name of Paul Herman at the Chicago Music Conservatory, and the Chicago Musical College. Says he has done some minor studio work, notably "with a great jazz guy by the name of Bobby Irving". Joe sat in on an album by a singer named Susan Osborn (produced by Bobby Irving), and he has played with a number of small groups and bands over the years locally. Joe says "the one thing that has drawn me to jazz and the guitar would most assuredly be my dad, who unfortunately passed away last year, however he's the one who purchased my first guitar and my first jazz guitar album, "Movin' Wes" by the late great Wes Montgomery, and that album and albums by George Benson, Kenny Burrell, Pat Martino, Pat Metheny, Ronny Jordan, Earl Klugh and many, many more has made me crazy for jazz. At this stage of my life, I guess more than anything I want to play, but I want to play with guys (and gal's) who want to play, and truly appreciate the only true American music heritage, Jazz and all that goes along with that statement". Links: Facebook, Fandalism, YouTube and DC Bebop page.

---

Guitarist Ronny Smith, Originally from Baltimore, Maryland. Ronny is a self-taught musician who began learning to play the guitar, by ear, while strumming along to songs he heard performed by musicians such as Wes Montgomery, Joe Pass, and George Benson, at age 12. These musicians represented his greatest influence while growing up and their presence can be heard in Ronny's smooth style. Through out his time in college, he played in school jazz bands. In his senior year he enlisted in the Army and became a member of the U.S. Army Band, touring extensively in the United States and Europe. During his musical career, Ronny has performed on stage with the famed Motown singing group, the Marvelettes and also with drummer and Philadelphia jazz icon Bobby Durham. He had the opportunity to share the stage with R&B singer and actress, Melba Moore who performed with the U.S. Army band. "He has recorded with some of the top session musicians of the Nashville and California scene, including John Hammond (Player A), Gary Lunn (Peter Cetera), Pat Coil (Michael McDonald), Craig Nelson (Ben Tankard), and Dan Needham (Euge Groove), Scott Martin (Quincy Jones) Andy Martin (Gordon Goodwin's Big Phat band), Stan Martin (Quincy Jones)." Ronny has recorded six CD's. His first, "Long Time Comin" (2001), "Laid Back" (2002), "Got Groove" (2006), "Simply Stated" (2007), "Just Groovin" (2009) and "Can't Stop Now" (2013). Links: Website, Facebook, Reverbnation and DC Bebop page.

---

Kiku Collins -Trumpet, Flugelhorn, Valve Trombone, Vocals, Actor, Songwriter. Kiku Collins, classically trained trumpet player at the prestigious Interlochen Arts Academy and Manhattan School of Music, found her way to a successful pop/jazz career, sharing the stage with many musicians - most notably with Beyonce (on trumpet and trombone) and Michael Bolton (trumpet and vocals). She has also been seen as an actor/musician in off-Broadway shows in NYC, as an on-camera actress in Television commercials, as well as heard on countless television and radio commercials and television shows. Kiku is a Getzen featured trumpet artist and "Freelance Trumpet Player who began playing the trumpet in the fifth grade in the footsteps of her older brother." Kiku has released two CDs. "Here With Me" (2007) and "Red Light" in June 2011. Links: Reverbnation, website, Facebook Fans page, and DC Bebop page.

---

Bill McGee - Trumpeter, songwriter, arranger, producer, educator, musical mentor and quintessential musician. Originally from Richmond, Virginia, Bill comes from a family of musicians. His grandfather was a former educator and became a top selling gospel music recording artist and pioneer. Bill became an educator and he is noted as being a top trumpet man in the music industry for well over thirty years. His musical credits are numerous. Bill performed with Evelyn "Champagne" King. He worked as a member of the New York based studio horn section "Chops". His group recorded all of the Sugar Hill Records rap classics (before samplers took over). He played lead trumpet on many of the original rap records by "Grand Master Flash, The Sugar Hill Gang, The West Street Mob and Sequence (Angie Stone) He also played lead trumpet on albums by The O'Jays "Out In The Real World," Leon Huff "The Right Stuff," Patti Labelle, The Stylistics, and McFadden and Whitehead. Bill performed as a musician with Lou Rawls and Ray, Goodman, and Brown (The Moments.) After many years of recording behind the scenes for others, Bill decided to begin recording his own CD's. On these CD's you'll find what he calls the 804 Jazz All Stars, and in Bill's words, "essentially the best musicians and singers that Virginia has to offer". Many of whom have their own outstanding professional discographies and track records. Links: Website, Facebook, REVERBNATION, SmoothJazz.de, Last.FM, YouTube and DC Bebop.

---

Jonathan Parker - Saxophone
Jonathan is originally from the Washington D.C. area. "He graduated from The Oberlin Conservatory in 2008 where he studied under jazz legend Gary Bartz, as well as other world-class musicians, including Wendell Logan, Marcus Belgrave, Billy Hart, Dan Wall, and Robin Eubanks." Jonathan has also performed with Jimmy with Jimmy Heath, Dave Brubeck, and Slide Hampton while attending Oberlin. He has shared the stage with Terence Blanchard, Randy Brecker, Mulgrew Miller, and David Berkman to name a few. Jonathan has also performed at Carnegie Hall, Fat Cat Jazz Club in NYC, Stanford University in California, Skidmore College in New York, Night Town Jazz Club and The Bop Stop in Cleveland, OH. Jonathan moved to Shanghai, China, where he lived and performed, touring for 4 months in Beijing with American jazz singer Frankye Kelly. He moved back to the U.S., settling in New York City, where he met and perform with "many talented and innovative young musicians who are at the vanguard of modern jazz." Jonathan leads his own band, the "Jonathan Parker Group" for which he "exclusively composes and arranges." Influenced by a wide range of musical genres and manifesting his experiences from all over the world, Jonathan Parker's compositions and improvisations have been described by reviewers from All About Jazz as "bold," "having an intense energy," "sentimental," and "emotional." ~ Assembled from multiple sources Links: Website, BandCamp, Reverbnation and DC Bebop page.

---

Melvin Taylor - Vocals / Lead Guitar
Melvin is a world renowned Jazz and Blues guitarist who has been at the top of the charts in Europe for years. His first two CD's, "I'll Play The Blues For You", and "Blues On The Run", were recorded in France in the early 1980's. Melvin returned to the US in 1990 where he recorded 4 additional CD's for Evidence Music - "Dirty Pool", remains Evidence label's best selling release ever. Taylor was born in Mississippi but raised in Chicago. Entirely self taught, this virtuoso began playing the famous, Maxwell Street when he was 10 years old. Melvin has developed a unique style and sound, mixing jazz chords with hints of blues and rock - ranging from hard, fast, explosive tones reminiscent of Hendrix, to the refined, smooth, elegant manner of Wes Montgomery. Melvin has recorded and performed throughout the world for the past 20 years. He has performed at historic and world class theaters attended by dignitaries. The Melvin Taylor Band has performed and been record live at the opening weekend of Sundance Film Festival in Park City, Utah - on three occasions. During his career, Melvin has released nine albums and several singles. In 2012, he released "Sweet Taste of Guitar", through Melvin Taylor LLC. and "Taylor Made," in 2013. His music is available on iTunes. Links: Website, AMI Website, Reverbnation, Wikipedia, NY Times article: "A Blues Guitarist Takes Off" and DC Bebop page.

---

Composer, trumpeter and vocalist Nate Birkey. He studied music at Berklee in Boston, Seattle Pacific University and the University of California Santa Barbara. For a number of years Nate was a "jazz presence" in Southern California and was referred to as a quintessential "west coast jazz musician". He performed with a number of groups before forming his own Quintet and moving to New York City. Over the years, he has contributed to and released a number of CDs. His Quintet released "Indelibly You" in 1998, "Mennonite" in 2001, "Ballads" also in 2001 and "Shortest Day" in 2004. All of Nate's efforts have received glowing reviews for his songwriting, composition, style of play and his singing. In 2008 Nate released "Almost Home" and "christmas" - "his first recordings made with his New York City quintet of saxophonist Sal Giorgianni, pianist Jim Ridl, bassist Tony Marino and drummer Marko Marcinko." Bob Agnew of the L.A. Jazz Scene writes, "Nate's subtle vocal and trumpet approach has often been compared to that of Chet Baker and Miles Davis respectively. A sound poised and assured, powerfully stark and spare, it creates an atmosphere at once solitary and electric." Links: Reverbnation, Facebook, Website and DC Bebop page.

---

Michael Karr - Trumpeter, multi-instrumentalist, and producer - Michael is originally from Pittsburgh, PA, and is a formally trained, award winning, trumpet player, keyboardist, composer, arranger, lyricist, engineer and producer and has been featured on close to 40 albums. Michael is a veteran session musician, signed under numerous labels. As a producer, Michael hit the Top Ten on Billboard's R&B charts with the Stanley Fields cover of "You, Me & He" (3C Records). He was the first musician to record live for WDUQ's Tony Mowad and Chuck Leavens in Pittsburgh, PA. He has worked with many production, mixing, mastering and engineers of note, including the Grammy-winning Phil Nicolo of Studio 4 Recording. Michael's band, Michael's Karrtet features a rotation of top musicians. As a band leader, Michael is listed as a Jazz Improv Magazine "Noteworthy Performance". Over the years, he has held several residencies at notable jazz venues in NYC. Michael has performed with many music greats, sush as Harold Melvin & the Blue Notes, The Drifters, Houston Person, The Whispers, The O'Jays, Billy Price and the Keystone Rhythm Band, The Human League, Jimmy Ponder, The Tommy Dorsey Band, Stanley Turrentine, Freddie Hubbard, After 7, The Gap Band, Roy Buchanan, Maynard Ferguson, B.B. King, Mary Wilson, Billy Joel and many more. Links: Website, Facebook, Reverbnation and DC Bebop page.

---

David Gerald - Guitar, Vocals, Bandleader, Songwriter and Producer - David is a blues guitarist. He is originally from Detroit, Michigan. Growing up in the "Motor City" and the home of Motown, meant that he was surrounded by the soulful sounds of R&B and the Blues. After many years of listening, at age 16, he began to learn to play the guitar. He attributed his interest to the musical influence of Prince and other 80's rock guitarists. In Motown, the sound is soul and R&B, but somewhere along his path, David says "He rediscovered the blues" and began listened more seriously to the music of Albert King, ZZ Hill, B.B. King, and Stevie Ray Vaughan. In the 80's David composed rock and pop tunes. At age 24, he began writing and composing tunes with the help of a computer program, and has continued to write and compose to this day. In 2009, David released his first album "Hell and Back" (Amazon) containing 5 of his original tunes and a selection of cover tunes previously recorded by Blues greats. The "Thrill is Gone", "Red House", "Cold Shot", and the other cover tunes were recorded live at J. Dubs bar in Riverview, Michigan. David can be seen and heard playing at growing number of clubs and festivals across the U.S Links: Website, Facebook, YouTube, SonicBids, Reverbnation and DC Bebop page.

---

Frank Piombo, Guitarist, band leader & educator. Frank grew up with music all around him. As he traveled with his family, he experienced the unique sounds of the places he lived. His first musical experience was with his grandfather's acoustic guitar. Later, while living in Italy, it was his father's accordion. These and other experiences fueled his desire to learn about and play music and he chose the guitar as his instrument. For more than three decades, Frank has entertained professionally as a guitarist, vocalist, and songwriter, appearing as a lead guitarist and vocalist with many live bands. During his career, he has performed with Sidewalk Symphony, Angelo Uccello and Fantasy, Stepping Out, The New Prince Band, US & Co., the original Infernos, The Duprees, The Mellow Kings, Vito and the Salutations, and Vito and the Elegants, "I Nuovi Angeli" and the "Formula Tre." He has recorded several Jazz and Italian Pop CDs and appeared on the Steve Ames cable show with vocalist/keyboard player Angelo Uccello. Frank's songs have been featured on web-radio shows both nationally and internationally. On both "Lady Jay's" web-radio - www.JazzMatrix.com/ladyjay, and on Udo Freter's Show called "Blues Rockclub Radioshow" from Germany. Frank can be seen and heard in venues both nationally and internationally. Links: Website, Facebook, Reverbnation, YouTube, Discography and DC Bebop page.

---

Eddie Baccus, Jr. - Saxophonist and composer. Eddie "play's Sopranino, Soprano, Alto, Tenor, Baritone and Bass sax, Flute, Bb Clarinet, Bass Clarinet as well as the EWI (electric wind instrument) and sings." His repertoire of music includes jazz, R&B, reggae, country, neo soul, big band and is expanding. In the beginning, Eddie played music with a loaner oboe in high school. By chance, fate or fortune, the loaner was broken by another student, so he began playing the Saxophone. After graduating from high school, Eddie enrolled in Berklee's Five-Week Summer Performance Program, better known as "Five-Week." His skill gained him a full scholarship for "Five-Week. Eddie has performed at the "world famous" Apollo Theatre in Harlem and "won, five times off air and two times on air." During his time in New York, he studied with acclaimed saxophonist, Joe Lovano. He has toured with "world-renowned'" trumpeter "Lester Bowie." He is a member of the "internationally known" smooth jazz group "Pieces of a Dream," He has performed with a long list of musicians over the years. To name a few, "Luther Vandross, Jeffrey Osborne, War, Candy Dulfer, Rick Braun, Grover Washington, Jr., George Duke, Bobby Watson, Greg Abate, Lester Bowie, EWF(Earth Wind and Fire), Regina Carter, Dianne Reeves, Vesta Williams, Norman Conners, India Irie, George Benson, Miki Howard, Jean Carne, David Sanborn" and many more. He recorded on eight CD's with "Pieces of a Dream," which feature several songs written and co-written by him. Not just a "sideman," Eddie has headlined several of his own productions. He has also toured with his band "Straight To The Point." Links: Facebook, Legere Reeds, Theo Wanne, YouTube and DC Bebop page.

---

Joel Harrison - guitarist, composer and vocalist, a DC native whose medium is primarily jazz, but his music emanates from many sources: African and Indian, contemporary classical, blues and R&B all have a place in his unique voice. Over the course of his musical career, Joel has involved himself in ever-inventive bands and projects, including Free Country, Harrison on Harrison, and Harbor, but he is best known for his composing and arranging skills. He has twice been selected as the winner of the Jazz Composer's Alliance Julius Hemphill Composition Competition. Joel has been evolving his musical craft through the release of several CDs over the last few years. He has released 17 cds since 1995 as a leader, and has appeared high up on the "Rising Star" Downbeat Magazine poll for many years. He is the founder and administrator of the Alternative Guitar Summit, a yearly festival devoted to new and unusual guitar music. Pat Metheny called the Summit "one of the most interesting and distinguished forums for guitar on the planet." The New York Times called him "protean" and "brilliant," while the New Orleans Times Picayune said "Along with Scofield, Metheny, and Frisell Harrison has created a new blueprint for jazz." Links: Website, Reverbnation, Albums and DC Bebop page.

---

Sara Jones - singer, pianist. Sara is from the Maryland Eastern Shore. She attained degrees in music from both St. Mary's College of Maryland and her masters in music from the University of Cincinnati in Ohio. She began playing piano at age 4 and professionally at the age of 14. She won first prize in the W.A. Virts Piano Concerto Competition in high school at 18. Critics have written that Sara's musical voice is "lush", that she "beguiles and charms" the audience with her "velvet embrace" of the music. These qualities won her the " Billie Holiday Vocal Competition" in 2004. Since then she has toured and performed through out the U.S. While a full-time singer, Sara also performs as a pianist and accompanies both singers and instrumentalists on recitals. She is a featured vocalist on The Young Brothers CD " Tales of Time" (2007) on CD Baby.com. Sara released her first CD in 2010, a 14 track compilation titled " Daydream A Little", which is available through Amazon and other online vendors. Links: website, Facebook, Reverbnation and DC Bebop page.

---

Saxophonist, composer, arranger, band leader, and producer Paul Ahlstrand, is considered to be one of the best saxophonists in the Boston area. Paul began playing the sax in elementary school. By high school, he was performing in two professional bands. He majored in Music Education at Syracuse University, where "he learned from artists such as Thad Jones and Mel Lewis, Toshiko Akioshi and Lew Tabakin, Nick Brignola and Phil Woods. It was Woods that gave him a most valuable piece of practical working-musician advice: 'Shut up, drink a beer, play a song.' After graduation, he earned his road stripes touring the country for a year with a Top-40 band before returning to Boston to freelance and teach privately." From 1992 - 2001 he performed and toured with vocalist Toni Lynn Washington. While working with her band, "he arranged and co-produced Washington's first Tone-Cool Records release, "Blues at Midnight," which garnered W.C. Handy and NAIRD award nominations." After his stint with the Toni Lynn Washington band, Paul did studio work, engaged in special projects and collaborations and taught at Tufts University. During his musical career, "Paul has performed with: The Temptations, Dennis Brennan, Ronnie Earl, The Family Jewels, The Four Tops, Tim Gearan, Luther 'Guitar Junior' Johnson, Thad Jones, The Love Dogs, Gato Malo, Mighty Sam McCain, Nicole Nelson, Rebecca Parris, Son Seals, Howard Tate, Susan Tedeschi, Frankie Valli And The Four Seasons, Toni Lynn Washington, and many others." He can be heard leading his stellar quartet on Sundays in Cambridge, MA performing at Toad in Porter Square and numerous other venues in the area. Check out Paul's most recent CD on the Gibraltar label titled "Sunday Hang", which showcases several original tunes by him. Links: Website, Facebook and YouTube,

---

Bob Niederriter - jazz artist, composer, guitarist and arranger - During his career he has studied and performed with great artists in jazz and modern classical music. All for the purpose of achieving excellence in his pursuit of music. At the same time searching and finding inspiration and instruction from masters of music. During the course of his life Bob has pursued multiple art forms. His other artistic accomplishments include being a glass blower, painter, cook and gardener. He is an accomplished artist in many disciplines. As a Guitarist he cites the dominant influence of Wes Montgomery on his thumb technique, his tone and his compositional style. He also points to the seminal recordings of Charlie Christian and Barney Kessel as having had an important impact on his playing. As a guitarist he has also been strengthened through study with masters such as Jimmy Rainey, Cal Collins, Jack Wilkins, Herb Ellis and Jim Hall With respect to chording and texture , one hears in Niederriter's playing the influence of Farlow and Montgomery". Bob is very active in the Cleveland jazz scene and can be heard at numerous venues in the area. Bob's CD "Full Circle (2003) available on Amazon. Links: Reverbnation, Facebook Band Page and DC Bebop.

---

Lauren Hooker Jazz vocalist, composer and lyricist from Teaneck, NJ. In her bio it is written that Lauren "was born into music ... as early as in the womb (kicking to the beat - my mother tells me)... hearing my dad jam with his fellow musicians in the basement ... starting piano lessons at age four ... meeting Bill Evans at the Vanguard whom my father recorded with in college ... being exposed to and singing most of the major classical oratorios with full orchestra ...shaking hands with Duke Ellington and Dave Brubeck ...reaching for Sarah Vaughan's range, Ella's scat, Miles Davis' tone and Coltrane's intention. Lauren's talents were recognized and encouraged early in life and allowed her to develop her skills. Her critically acclaimed debut CD produced by Rufus Reid and Allen Farnham entitled: "Right Where I Belong" was released in May of 2007, with Rufus Reid on the bass, Allen Farnham on piano and Tim Horner on drums and percussion. In 2010, Lauren released "Life of the Music", which was described as both "ambitious and eclectic" with "American Songbook" standards, and several of her original songs. Lauren has been featured and can be heard in many major venues in the New York metropolitan area. Links: Facebook, Miles High Records, Website and DC Bebop page.

---

Perry Conticchio, a musicians musician - plays all the saxes, a bit of flute and occasionally bass clarinet. Perry is also a band leader, mentor and teacher of music. A New Jersey native, he studied music at Miami University of Ohio and Berklee College of Music in Boston, at Berklee he studied with Joe Viola, John LaPorta and Charley Mariano. In 1976 Perry relocated to the DC area, where he performed with and learned from three multi-talented musicians - Don Cherry, Anthony Braxton and Sam Rivers. At one point, Perry was co-leader of a jazz quartet "Clarity". From this experience, he started his own quartet. Perry plays all types of music, but he says his real love is jazz. Perry can be heard performing at several local venues in the DC area. Pick up his CD "Speak Your Truth" which you can purchase on his website. Links: website, Facebook, Discography and YouTube page.

---

Flutologist Arch Thompson began his musical journey at the age of twelve. In High School he began playing flute. When he was 16, he said his father would take him to clubs where he would sit in with the band. He remembers standing online with other musicians waiting to have a turn on stage. His father was his spokesperson at the clubs for his music and the club "Jam Sessions" were his inspiration. Arch attended and studied music at City College in L.A. It was also around this time that he heard the music of John Coltrane. He said Coltrane's "Love Supreme" raised his consciousness and he began playing his own "music within". While a member of the U.S. Army Band, a chance opportunity arose for him to play with a salsa band. This introduced him to a number of Latin artists and awakened an interest in Latin music. This interest launched him on a musical odyssey which took him to Puerto Rico, New York and finally to DC. Since arriving in DC, Arch has immersed himself in the diverse musical atmosphere of the city. He performs a wide range of music from classical to hip-hop, but he is always connected to and performs Latin Jazz. Arch can be heard performing in venues in the DC area with several groups. He more commonly seen per Flute Visions, Visions of Jazz, The Sabroso Latin Jazz Ensemble, ElectroKoustic, solo and with other groups. Links: Website, Facebook, Reverbnation and DC Bebop page.

---

Mark Mosley - Jazz and Blues Guitarist. Mark was Born in Arkansas, but saw a lot of the world because his parents were career military. When he was old enough, Mark followed the military career path into the U.S. Army from which he eventually retired, then served in a reserve capacity for a number of years. Mark began playing guitar when he was 11, first learning to emulate the playing of BB King. Later he played in school bands and was part of R&B and Jazz bands. Through the support of his family members Mark kept faith with his music, which has evolved into a mellow, smooth and characteristic sound for him. He has performed with many musical greats. He toured with Lou Donaldson and has shared the stage with Gary Bartz, Keter Betts, and many others. Mark has been a band leader for several years, which also includes while living as a civilian in the Heidleburg Germany region. Some of the major venues performed in as a band leader in the DC and Baltimore area are Blues Alley, Montpelier Arts Center, Twins Jazz, Md. Public TV, WJZ-TV ch. 13 (Baltimore), WPFW 89.3 FM radio interviews/airplay, and various Borders Books and Music outlets. Mark writes for Modern Guitar Magazine. Links: Website and DC Bebop.

---

Nate "NateKid" Lombardi - Singer, songwriter, arranger, producer and dancer. Nate says he has "always been attracted to music with funk and soul" and it all started with his hearing the music of Stevie Wonder. "As a kid, I do remember sitting in my room listening to him.. it changed my life." From Stevie he says it expanded to his interest in Hip-Hop. While in high school Nate performed for fun. In college he was introduced to tap dancing and the ole movie musical. Nate saw "Singing in the Rain" with Gene Kelly and was inspired by both the cinematic performance and the music of the era. Nate has "been in Off-Broadway shows, modeled, done TV and film, and sang with big bands". He says he "wants to bring brilliant and still relevant tunes back that the younger ears have never heard, (sometimes, with drastic interpretations, sometimes not) and write songs that will be as immortal as the ones from the American Songbook." Nate is cast in the role of a musical bridge that joins the past to the present. Classic jazz standards married to contemporary interpretations of the music of both times. Links: Reverbnation, MySpace, Website and DC Bebop page.