MUSIC - Melvin Taylor - Jazz, Blues & Rock Guitarist
---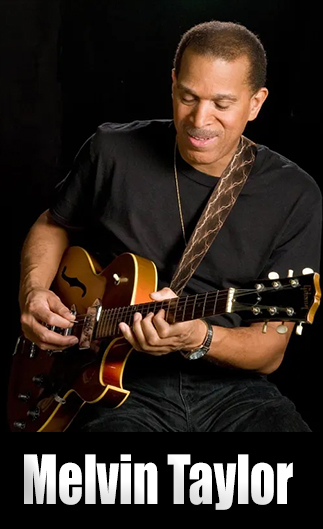 Melvin Taylor is a world renowned Jazz and Blues guitarist who has been at the top of the charts in Europe for years. His first two CD's, "I'll Play The Blues For You", and "Blues On The Run", were recorded in France in the early 1980's. Melvin returned to the US in 1990 where he recorded 4 additional CD's for Evidence Music - "Dirty Pool", remains Evidence label's best selling release ever. Taylor was born in Mississippi but raised in Chicago. Entirely self taught this virtuoso began playing the famous, Maxwell Street when he was 10 years old. Melvin has developed a unique style and sound, mixing jazz chords with hints of blues and rock - ranging from hard, fast, explosive tones reminiscent of Hendrix, to the refined, smooth, elegant manner of Wes Montgomery. "One of the most exhilarating blues guitarists to emerge in the past decade.. [he] is more a blues innovator than a purist, mixing jazz chords and rock influences into his tapestry of electric blues." - Rolling Stone Magazine "A volcanic guitarist... the sort of virtuosity that drags an audience into a world of risks and chances and excitement." - The New York Times Melvin on Reverbnation

"Taylor's arsenal consists of blinding speed, a feverish wah-wah pedal, a range of tones that leaps from groans to squeals, and notes bent so dramatically that his guitar sounds like it's retching. Taylor succeeds because he's a virtuoso who pushes the limits of his own skills." - Living Blues Magazine "Taylor throws off incredibly intricate runs and wrings impossible textures and tones out of his hollow-body with a casualness that belies his virtuosity." - Knight Ridder Papers Melvin Taylor has recorded and performed throughout the world for more than 20 years. He has, "Sold Out" tours in Ukraine and Crimean Peninsula sponsored by the US Embassy - "American Music Series". Melvin's performances at the historic and world class theaters were attended by dignitaries, government officials, as well as the US Ambassador and his family. The Melvin Taylor Band has performed and been record live at the opening weekend of Sundance Film Festival in Park City, Utah - on three occasions. During his career, Melvin has released nine albums and several singles. In 2012, he released "Sweet Taste of Guitar", through Melvin Taylor LLC. and "Taylor Made," in 2013. His music is available on iTunes. Please visit Melvin's website: www.melvintaylormusic.com for upcoming tour dates and recorded releases.
---
INTERVIEWS:
Melvin Taylor, deep within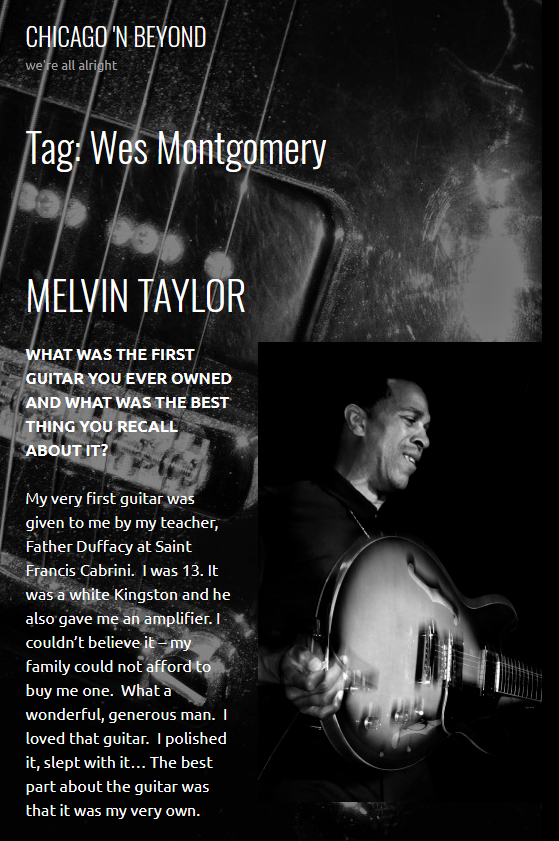 ~ CHICAGO 'N BEYOND
---
Beyond The Blues - Melvin Taylor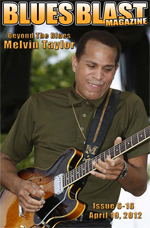 "Back during its hey-day, there was arguably no better place to hear the blues in Chicago than on a Sunday afternoon at the Maxwell Street market. With regulars like Blind Jim Brewer, Jimmie Lee Robinson and Robert Nighthawk holding court on a weekly basis – all fiercely competitive performers who would not surrender their chunk of concrete to just anyone - Maxwell Street was certainly not the place for the meek or the timid to get up and perform. Especially those that were not even at the legal age to possess a driver's license. And although he may have been a bit on the young side when he made his debut playing on famed Maxwell Street at the tender age of 11, Melvin Taylor was neither meek nor timid. Maybe just a tad bit nervous." ~ Blues Blast Magazine
---
Melvin Taylor - Anonimity With Style (article/interview)
"As far as the patrons of a Windy City watering hole called Rosas Lounge are concerned, there are really three things in life that you can bank on: death, taxes, and Melvin Taylor on Tuesday night. Unless hes out of town on a short string of U.S. club dates or busy hopping around Europe, he'll most likely be there, dazzling the locals with his monstrous fretboard... Rosas is Taylors turf a place where hes wildly popular for his otherworldly explorations of blues, jazz, funk and rock. He's been the house attraction there for nearly two decades now, and to him, its not just a steady gig its home. A truly accessible modern-day folk hero, Taylor lives upstairs with his girlfriend Jennifer, a seven-month-old son named Morgan, a cat, a goldfish and a yellow Labrador retriever. In Taylors off-hours, hell mingle with the locals, often autographing copies of one of his five CDs."

~ Guitar.com
---
REVIEWS:
Melvin Taylor - Beyond the Burning Guitar (2010)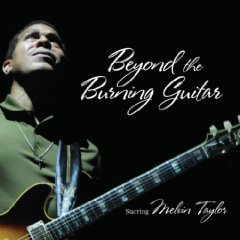 "This isn't just a 2-CD set of some unbelievable guitar work from a long-esteemed player of truly formidable skill but rather a treasury that proves beyond doubt that Melvin Taylor needs to be placed within the museum of the guitar greats: Wes Montgomery, George Benson, Chet Atkins, Frank Zappa, Earl Klugh, Jim Hall, Leo Kottke, Robert Fripp, Grant Green, Pat Metheny…all of 'em, regardless of style and genre."

---
Melvin Taylor - Dirty Pool (1997)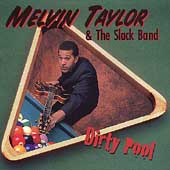 "Electric blues guitarist Melvin Taylor has been sporadically recording solo albums for some twenty-five years now. Even though he's been a hit in Europe for some time now, a steady run of performing in Chicago's famed blues clubs is slowly earning him a well-deserved reputation as an equal talent among the giants before him, such as Otis Rush, Albert King, and Stevie Ray Vaughan."

---
NY Times Review/Music - A Blues Guitarist Takes Off
"Greenwich House, where the young Chicago-based blues guitarist Melvin Taylor performed to a full house on Saturday night at a concert produced by Jazztrack, takes some work to be transformed into a roadhouse. Mr. Taylor did it in a few minutes at most; standing still most of the time and looking a bit like an off-duty accountant, he turned the audience into a shouting crowd who'd cheer his every solo and give him a standing ovation when he deserved it."


~ Peter Watrous - The New York Times (02/27/1989)
---
VIDEOS:
Melvin Taylor Blues Band - Evil
---
Melvin Taylor Blues Band - Blues Is The Healer
---
Melvin Taylor At Rosa's Lounge Feb 3, 2012 "Breezin"
---
Melvin Taylor Blues Band - Oye Como Va
---
VIP Blues Band with Tony Carey, Melvin Taylor, Angus "Bangus" Thomas and Martin Hämmerle - Texas Blues
---
Back to the Top - Back to the Music page