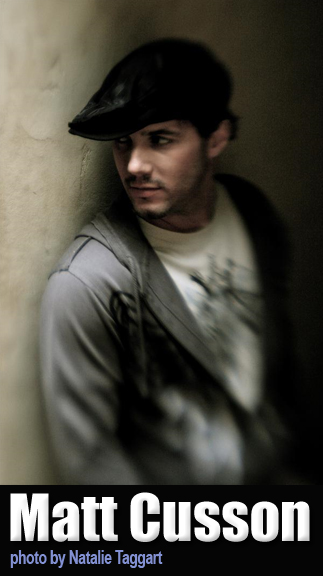 Matt's entire life has been influenced by music. His bio says he started singing at the age of 2 and was performing publicly at age 11. In 1999, he took part in the "Amateur Night at the Apollo" competition in New York City and won. He won that award three times. Matt attended the Berklee College of Music, where in 2000, he met Brian McKnight, after Brian heard him perform. Brian was so impressed with Matt, he flew him to Los Angeles to begin a music collaboration. Since meeting Brian, Matt has performed with a host of well known music headliners such as James Taylor, Norah Jones, Jessica Simpson, Babyface, Christina Aguilera and many more. In 2008, Matt released his debut CD, self-titled, "Matt Cusson". In November 2010, the Spectra Jazz label released the maxi single "One of Those Nights" by Matt. The song is an "autobiographical jazz ballad which has "been re-mixed and re-mastered to include orchestral embellishments, provided by composer/arranger Bill Meyers." " Matt is a three-time "Amateur Night at The Apollo" winner, and has a long list of television shows that he has made appearances on, including "The Tonight Show with Jay Leno", "The View", "Rachael Ray Show, "Live with Kelly and Michael", "Live with Regis and Kelly", "The Brian McKnight Show", "Christmas in Rockefeller Center", and "Millionaire Matchmaker". He was also a regular as the "one man band" and also a musical guest on VH1's, "Big Morning Buzz Live" with Nick Lachey, where he co-wrote and arranged several bumps and songs for the show. He was a featured performer on the international "Michael Jackson - Man In The Mirror" tour in 2010. Matt's current single, "Leaving L.A." is receiving rave reviews and being played all over the world. His 2012 Christmas EP, "It's Christmas Time", is a regular play on Sirius XM Radio and numerous radio stations during the holiday season. His sophomore album, "Only Human", is now available on iTunes, Amazon and everywhere else you buy/stream music online."
Matt's Bio by Fans
"The humility that Matt Cusson exudes never hints at the wealth of talent that he embodies. Outwardly unassuming, magic happens as soon as Matt starts to sing. Matt has floored audiences with his vocal acrobatics, range, and control, but his one-of-a-kind voice is only the beginning. Matt is also a highly accomplished pianist, guitarist, songwriter, arranger, producer, and dancer.

Perhaps most importantly however, he writes songs that touch the listeners very soul. His music hits deep, with unique chord combinations, inspiring rhythms, and an uplifting message. It is difficult to place Matt's music into any specific category. His style is fresh, sophisticated, and unique. He credits Stevie Wonder, Djavan, Take 6, James Tayler, Miles Davis, and Nat King Cole heavily influencing his music, along with more contemporary artists such as Dave Matthews, Avishal Cohen, D'angelo and John Mayer (a friend from Berklee College of Music with whom Matt has played alongside.)

Matt began singing at the age of two, and started performing in public at the age of eleven. He began his formal studies at the Berklee College of Music in 1999, where he was chosen to perform at the prestigious Singers Showcase (which highlights the colleges best eight singers). In 2000, Matt was discovered by one of his biggest musical inspirations, Brian McKnight, who flew Matt to his home in Los Angeles the day after hearing Matt perform his original music, to collaborate musically. According to McKnight, Matt has an incredible gift.

After studying at Berklee, Matt was given opportunities to perform alongside such accomplished artists as James Taylor, Norah Jones, Jessica Simpson, Nick Lachey, The Beach Boys and Babyface, among many others. In 2004, Matt was chosen as the only male singer to perform with Christina Aguilera on her summer tour Exposed. He has also worked with Arnold McCuller, a well-known recording artist and background singer who exclaims, Matt is a wonderful songwriter and an exquisite singer, with soul and a unique style for song delivery, believability and sincere interpretation. Matt has also worked regularly with Livingston Taylor, who enthusiastically refers to Matt as the Michael Jordan of music. Matt is now doing many shows and writing with Capitol Recording Artist, Javier who says about Matt, "Matt Cusson is honestly one of the most talented musicians I've ever met. When I heard him live for the first time, I was blown away not only by how well he sang and played but how easy he makes it seem. I became an instant fan. There are alot of artists out there, but few even come close to the amount of talent he has.

Matt has also done many shows and much writing with Cheskea Recording Artists, and Billboard Award Nominee, Marta Gomez. Marta exclaims, "Matt's voice is so pure and clear that it almost sounds like a whisper; as if he was telling you a secret, singing just for you. I perfectly remember the first time I heard him. The sound that came out of his mouth was so unique that every person around him had to stopwhat they were doing and just listen to that voice that came from another world. Suddenly, I had to close my eyes and could not stop smiling, it was like I had to appreciate his music with all my senses and not miss a single note. In 1999, Matt was one of the 12 people chosen out of hundreds to perform at the historical and highly competitive Amateur Night at the Apollo Theatre in New York City, and went on to win the competition three times. Matt has also performed on The Daily Beat with Allure, BET Live with Avant, as well as Bobby Jones Gospel and the 2003 US Open Tennis Tour with well-known group Here II Praise. Matt also received high acclaim when appearing as a musical guest on the number-one daytime television show ABC's The View. Host Meredith Vierra eagerly proclaimed, Matt is a star in the making!" The above is excerpted from a Matt Cusson BIO written by Ryan Leslie, Flipper Hope, Kelly Cusson and Natalie Brown, which was submitted to Wikipedia in 2008 but not accepted.
---
COMMENTS: Matt Cusson Story

YOU'VE GOT TO HEAR HIS MUSIC TO BELIEVE IT
"An extraordinary songwriter and musician, with a Voice (yes, with a capital V!) that's sexy and poetic, Matt Cusson is an exciting new talent in the music industry." "MATT HAS AN INCREDIBLE GIFT..." - Brian McKnight "As for his humble beginnings, Matt's family jokes that even in the womb he was kicking to the beat of the songs on the radio. He sang and performed for his family from age two, and from then on devoured the music of Stevie Wonder, James Taylor, Nat King Cole, Miles Davis, John Coltrane, The Beatles, Djavan, Take 6 and so many others." "HE IS THE REAL THING." - James Taylor "Matt's unique sound is a breakthrough for the music world. His music is real. You've got to hear it to believe it."
---
INTERVIEW:
Matt Cusson - Singer, Songwriter and Producer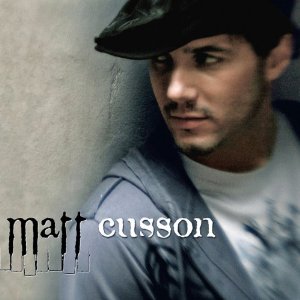 Matt Cusson - Matt Cusson (2008) "While studying in Boston at Berklee College of Music, Matt Cusson instinctively found his way to Harlem's Apollo stage. And in the years to follow, as a three-time winner of the venue's legendary Amateur Night, Cusson would eventually perform alongside some of the music industry's greatest contemporary voices: Babyface, Christina Aguilera, and Norah Jones, to name a few. In July 2009, Matt Cusson's jazz composition, "One of Those Nights," was announced as the 2008 Maxell Song of the Year. (In previous months, the song was unanimously heralded as the winner of the John Lennon Songwriting Contest within the "Jazz" category.) Quite fittingly, the grand prize was presented to Cusson by his long-time mentor, Brian McKnight." ~ Clayton Perry - Blogcritics Music.
---
REVIEW:
Spectra Jazz releases award winning ballad by Matt Cusson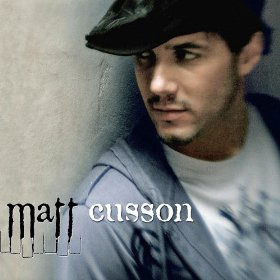 "The Spectra Jazz label will release the maxi single "One of Those Nights" by singer/songwriter Matt Cusson on November 15, 2010. The autobiographical jazz ballad (unanimously voted as the winner of the 2008 "John Lennon Songwriting Contest") and 2009 "Maxell Song of the Year", has been re-mixed and re-mastered to include orchestral embellishments, provided by composer/arranger Bill Meyers. ." ~ Cornelius White - jazzreview.com
---
VIDEOS:
Everything - Michael Buble cover by Matt Cusson
---
Megan Hilty and Matt Cusson singing "You Don't Know Me"
---
Matt Cusson singing "Just The Way You Are"
---
Back to the Top - Back to the Music page