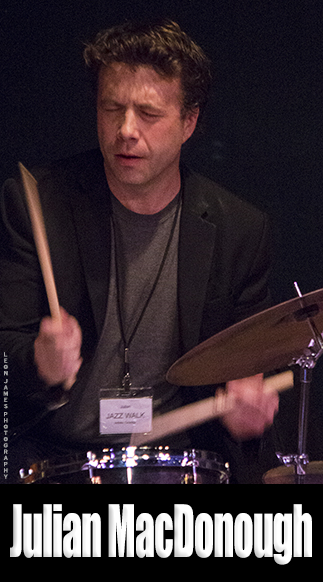 Julian MacDonough is an award winning drummer and educator residing in Bellingham Washington. Besides being a full time musician, Julian is also the artistic director of the Whatcom Jazz Music Arts Center located in Bellingham. He performs regularly with his own trio consisting of pianist Miles Black and bassist Michael Glynn, various bands with saxophonist and promoter Cory Weeds, a modern trio with saxophonist Josh Cook and bassist Michael Glynn as well as the swing era bands of Solomon Douglas. He loves and enjoys performing all styles of jazz from traditional, to swing, be bop, and modern. His love of great rock, funk and americana music in addition to jazz has helped make him an in demand studio drummer, having appeared on over 70 recordings. Besides performing over 200 times a year, Julian keeps busy with his love of teaching, instructing not only drums, but jazz combos as part of the Whatcom Jazz Music Arts Center's high school combo programs. He has had the honor and privilege of performing and touring with Harold Mabern, Jimmy Heath, Peter Bernstein, Larry Willis, Seamus Blake, Geoffry Keezer, Jon-Erik Kellso, Grant Stewart, Eric Alexander, David Hazeltine, Joey DeFrancesco, Vincent Herring, Steve Davis, Josh Bruneau, George Cables, Gary Smulyan, Julian Preister, Aaron Parks and many many others.
---
Julian on Reverbnation
---
WJMAC:
The Whatcom Jazz Music Arts Center
The WJMAC is an all ages nonprofit 501c3 performance and education space located in the downstairs portion of the Majestic (1027 N.Forest st) in Bellingham Washington. Spearheaded by northwest drummer and educator Julian MacDonough, the goal of WJMAC is to provide an all ages space for high quality jazz performance from local, regional and national acts, as well as to offer the best jazz combo instruction in the northwest, taught by some of this areas finest musicians."
~ website
---
Northwest +1: Minor Suggestions
"Northwest + 1 is a group of five jazz musicians, all educators that were brought together in a routine guest artist appearance at Spokane Falls Community College in June of 2013, by trumpeter/educator Kevin Woods. Woods along with his SFCC colleague pianist Danny McCollum, assembled a rhythm section of Washington's finest with Jon Hamar on bass and Julian MacDonough on drums to fill out the group of Northwestern based musicians. " Read more... All About Jazz
---
Focus on jazz at the new all-ages Whatcom Jazz Music Arts Center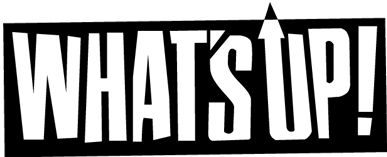 "The spirit of jazz is burning bright in the heart of Julian MacDonough. Some may say it's an old or tired genre but he doesn't believe it for a second… In fact he believes that jazz can blossom in the public eye once again if someone would just be willing to put on the shows and teach it to the kids. That's where the Whatcom Jazz Music Arts Center comes in. A personal project for MacDonough, he is hoping the Center will help ignite the passion that he feels for jazz in the younger generations of upcoming musicians as well as the community."
~ Raleigh Davis - Whatsup - Magazine
---
VIDEOS:
Change Partners - Champian Fulton

"Change Partners" was recorded live at the Yardbird Suite in Edmonton Alberta (Canada) and features Jodi Proznick (bass), Julian MacDonough (drums), and Cory Weeds (tenor sax).
---
Julian MacDonough Trio - The Duke
---
Josh Cook, Chuck Kistler, Julian MacDonough Trio Live at Egan's (Wiggy)
---
Back to the Top - Back to the Music page