MUSIC - Giovanni Zucchi is a composer, producer, arranger and sound technician
---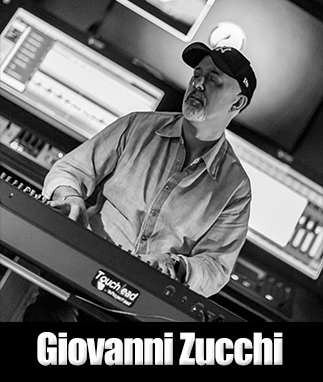 Giovanni Zucchi, composer, producer, arranger, and sound technician, who, over the years has developed his own personal research on production techniques while working as a consultant in the production of professional studio outboards and music recording software, has encountered many different and varied genres of music. On his journey, he has had the pleasure of meeting and collaborating with many artists, independent and international. Gio's Project is the result of this rich variety of musical background. Gio's Project - Bi Winda - World Music
---
Behind the music
"There are moments in life when we become aware of an unexpected, surprising reality, revealing how fate directs our lives. Chance takes us into a magical world where passion and determination lead us to undertake a unique journey, one that is fulfilling and all absorbing. We might even say that our destiny was predetermined. I have not heard really good music in a long time, but Gio's Project is an example of what is called 'Good Music,' one which I find in working with many talented artists; usually, I see music in a flat, monochrome world…..but there are exceptions and the Project is one. By the way, music is the most subjective thing that exists, one of the most powerful forces in the universe. The sounds, melody, and chords in Gio's Project release emotions, evoke memories, profoundly affect our moods, both positive and negative, stir even the most hidden feelings…happiness or sadness, joy or confusion, satisfaction or despair. I fell in love with this project at its very outset: thousands of sounds and their multiple interactions awakened new sensations, filling my soul and making each single listening experience unique. Years ago, a friend of mine taught me that music has no rules or defined structures, but rather awakens feelings. Listening to a song cannot be defined by predetermined standards nor can a melody be relegated to a specific category."
---
Gio's Project: About and musicians
"Gio's project was born from the desire to condense 20 years of experience into a musical project to represent Giovanni's human and musical values, along with those of the artists who have collaborated on the project. This 'musical laboratory', grown from the seed of this idea, has reached the international music scene in artists such as Gio's Project - Preview

Oskar Cartaya ( Spyro Gira, Jennifer Lopez, Steve Winwood, Tito Puente, Obie Bermudez, Arturo Sandoval)
Angie Brown (Mariah Carey, Michael Bolton, Amii Stewart, Laura Pausini)
Marco Brioschi (Bob Mintzer, Donna Summer, Barry White, Lisa Hunt)
Bebo Ferra (Paolo Fresu, Alex Foster, John Clark, Enrico Rava, Steve Grossmann, Billy Cobham, Carol Welsman, Eddie Martinez, Paul Mc Candless)
Carlo Maria Micheli (Tony Bennett, Michael Buble, Tony Hadley, Elisa)
Isgrò Carmelo (Tracy Spencer, Celentano, Fiorello, Gigi Cifarelli)
Martino Malacrida (Briant Jones "Chicago Gospel Choir", Cheryl Porter, Bazil Meade e Annette Bowen -london community gospel choir-, Daniel stenbaek, Dexter walker III -Fellowship Chicago-, Steve Hackett and many Musical : Like Next to Normal, Cabaret and Grease)
Andrea Pollione (Andrea Boccelli, Marco Mengoni, Dirotta su Cuba, X-Factor Italy, The Voice of Italy)
Lucy Campeti (Orlando Johnson, Dee Dee Bridgewater, GABIN)
Yves Ntola (Mariah Carey, Miguel Bosè)
Luca Trolli (Andrea Boccelli, Anna Oxa, Il Tryo, Renato Zero)
Ambrogio Frigerio (many TV Show, Fiorello, Neya, Renato Zero, Matt Bianco )
Antonio Galbiati (Andrea Bocelli, Laura Pausini, Josh Groban & the Corrs, Russell Watson, Backstreet Boys)
Ugo Bongianni (Michael Baker, Mario Biondi, Danilo Rea, Mina)
Isgrò Santi (Eros Ramazzotti, Fiorello)
Rino di Pace (many TV Show, Dirotta su Cuba, Demo Morselli's Big Band)
Mikee Introna (World tour with musical "Burn the floor",Funky Brothers Incorporated, TV show "Dancing with the star")
Lela Cortesi (The Gospel Light Vocal, Ronnie Jones, Joyce Yuille, Lisa Hunt, TV show "Crozza Nel Paese Delle Meraviglie")
and great special guests like Paolo Jannacci,Carlo Bianchi, Flaviano Braga, Michele Fazio, Stefano Dall'ora, Beppe Pini, Daniele Giardina, Valerio Galla, Silvio Melloni, Claudio Pascoli, Francesco Isola.
---
VIDEOS:
Gio's Project - Can I Say Anything - Soul - Jazz Rock Music
---
Gio's Project - Crazy Joe's (Instrumental) - Funky
---
Gio's Project - Don't Ask - Soul
---
Back to the Top - Back to the Music page