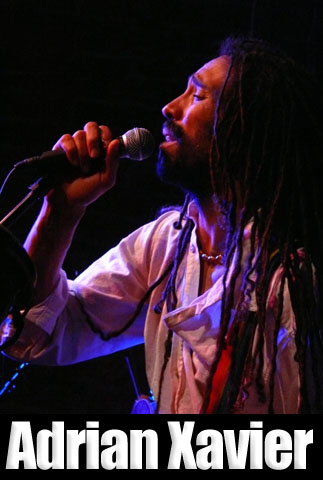 Born in Seattle, he grew up surrounded by the music played by his father, a radio DJ, in the 80's. Adrian's musical background gave rise to an environment which allowed him to create songs that appeal to a broad cultural range of people. When you listen to his music, you hear the strong reggae influence, but also other forms of music included. He and his band are just as comfortable playing soul, jazz, Hip-Hop and other musical styles. At this point in his musical career, Adrian has been a performing artist for more than 20 years and has shared the stage with many well known musicians. While a member of the "Pure Water Band", they opened for "The Wailers (of Bob Marley fame) and also for the famous Jamaican ska and reggae musician Jimmy Cliff.
---
Adrian on Reverbnation
---
Adrian formed the "Adrian Xavier Band" in 2000, and has been performing in and around Seattle and various cities in the state of Washington. Additionally, he and his band have performed in China, Bali, Japan, Hawaii, Canada, Jamaica, France and other countries while on tour. In 2004 he released his debut CD "R-Nature", which had several critically acclaimed tracks.
Also available is the "Adrian Xavier Band Live" CD (2006) recorded at the 36th annual Oregon Country Fair. The CD features Adrian Xavier & His all Star band in a "one of kind high energy performance". The Seattle Times - "Energetic and honey voiced, Seattle's Adrian Xavier Blended Sax and Fiddle, Reggae and Soul, in a highly appealing musical brew."
---
PRESS:
"Adrian Xavier's brought together some of Seattle's most influential musicians to record and tour, The Adrian Xavier Band, has blossomed into a all-star cast of musicians from a full spectrum of backgrounds" Lollapalooza 2008 - Sonicbids.com "Judging from the number of Seattle clubs and events at which Adrian Xavier has played, you'd deduce he likes his hometown fine, but he reached far-flung audiences world wide with the release of his first Album R. Nature. Over the last few years he has played his songs with Radio Active a former member of Spearhead, Roger Fisher & Mike Druiser original members of Heart and Alan White of Yes and has been recording with and performing alongside Geoffrey Castle violinist of (Children of the Revolution) for the last two years." Seattle Noise - seattlepi.com
---
VIDEOS:
Adrian Xavier & the dub championz - get up stand up dub
---
Adrian Xavier - "Miracle" (Seattle Folk Life 2009)
---
Back to the Top - Back to the Music page