MUSIC - Mid-Atlantic Jazz Festival
---

"The Mid-Atlantic Jazz Festival (MAFJ) is presented in the true spirit and intent of the former East Coast Jazz Festival (ECJF). Founded in 1992 by vocalist/vocal educator Ronnie Wells, for the next 15 years the ECJF was produced by and benefited The Fish Middleton Jazz Scholarship Fund, Inc. (FMJS). ECJF was originally created in honor of Elmore "Fish" Middleton, a Washington, DC jazz radio programmer, whose commitment to promoting jazz music and supporting emerging jazz artists became the guiding principle behind the festival.
---
Jazz Never Dies - The Story of the Mid-Atlantic Jazz Festival
---
The mission of the FMJS was "…to assist emerging jazz artists throughout the nation in their educational and artistic development; offer a wider base for the presentation of jazz; and insure the continuation of jazz education and performance in public schools and institutions of higher learning." That mission directly mirrors the intent of the Mid Atlantic Jazz Festival, which is being developed by a committee of concerned arts citizens & professionals convened by the Arts & Humanities Council of Montgomery County (MD).

For 15 years, up until Ms. Wells passing on to ancestry in March, 2007 she and her husband and co-founder, pianist-educator Ron Elliston presented the ECJF. The festival ultimately became a mid-winter tradition in the Washington, DC metro region. Additionally, the ECJF was the primary vehicle and fundraising element behind the FMJS.

As a mid-winter event the ECJF was unusual in the pantheon of jazz festivals, which are normally summertime phenomena across the globe. But based on the FMJS mission the mid-winter date made perfect sense, enabling the ECJF to be positioned in the midst of the school year, attracting aspiring jazz students from around the region and beyond for performance and competition opportunities.
---
Jazz Festivals Are Big Fun - Mid-Atlantic Jazz Festival
---
The Mid Atlantic Jazz Festival (MAJF) represents an auspicious renewal of the spirit and intent of the ECJF, as a showcase for some of the DC area's finest established and emerging artists, student ensembles, and a healthy dose of renowned touring jazz artists as well. MAJF is designed to take the ECJF mid-winter jazz festival tradition to the next level and to further enhance arts & culture in the Washington, DC region.." ~ Excerpt from "History"
---
REVIEWS:
The 2012 Mid-Atlantic Jazz Festival "Real Jazz" lives with Harper, Haynes, Payton and others "The third edition of the Mid-Atlantic Jazz Festival, which took over a Hilton Hotel in the D.C. suburb of Rockville, Md., Feb. 17-20, touted the slogan, "Standing Up for Real Jazz," and it mostly did. (This is as good a time as any to disclose that JT was a festival sponsor.) Mid-Atlantic featured jazz as it's defined by core values you might associate with Jazz at Lincoln Center and the majority of current jazz radio: swing; head-solos-head arrangements; an idea of canonical repertory; the indomitable foundation of the blues and African-American culture in general; and, in the form of clinics and an ambitious school band competition, the need to instill the music in young people."
~ Evan Haga - JazzReviews.com
---
2012 Mid-Atlantic Jazz Festival - A Sneak Preview
---
ARTICLES:
Jazz festival hits a high note in Rockville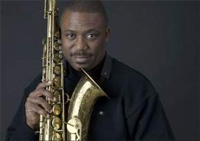 Third annual event meshes top-notch talent with educational opportunities

When the great jazz trumpeter Louis Armstrong was once asked to explain jazz music, he famously replied, "If you have to ask what jazz is, you'll never know." But that is not a motto Paul Carr probably would agree with, as he has crafted a four day festival aimed at community outreach and education about jazz music. ~ Cody Calamaio, Staff Writer - Gazette.Net (2012)

---
New Mid-Atlantic Jazz Festival Swings D.C. Suburbs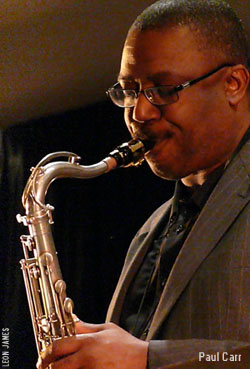 "Saxophonist Paul Carr had his work cut out for him when he produced the inaugural Mid-Atlantic Jazz Festival Feb. 19-21 in Rockville, MD. Carr's challenges included the location, as suburban Washington D.C., is not exactly a jazz hub." ~ read the article
- Eric Fine, Downbeat Magazine
---
VIDEOS:
Name that Monk Tune: Paul Carr's Quintet 2011 Mid-Atlantic Jazz Festival


(Rockville, MD) with Special Guest Randy Brecker
---
Back to the Top - Back to the Music page