DC
---
MUSIC - DC SCENE - FEATURED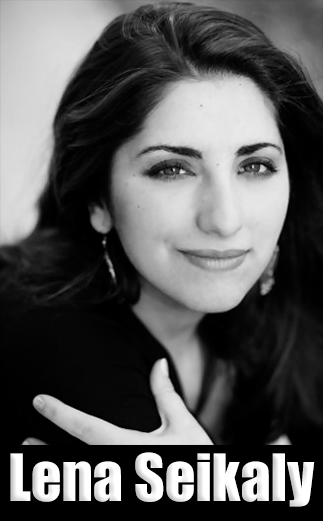 Vocalist Lena Seikaly Lena is a native of Falls Church, Virginia. She is the regular singer for several traditional jazz, swing dance, straight-ahead, Latin jazz and fusion groups in the D.C. area, and has appeared at numerous national and international festivals and venues. Her sound is immediately reminiscent of the great jazz vocalists mixed with the interpretive ingenuity of bebop and modern jazz, while peppering influence from her Arabic heritage. She has had the pleasure of working and studying with some of the world's top names in jazz, as well as classical voice (she is a classically trained mezzo-soprano) and Arabic music. Lena released her first solo album, "Written in the Stars", a collection of standards and original compositions in 2009, "Lovely Changes" in 2011 and "Looking Back" in 2013. Lena can be found entertaining in numerous venues and music festivals in the DC area. Links: Website, Reverbnation, Facebook and DC Bebop page.
---
MUSIC - DC SCENE -
---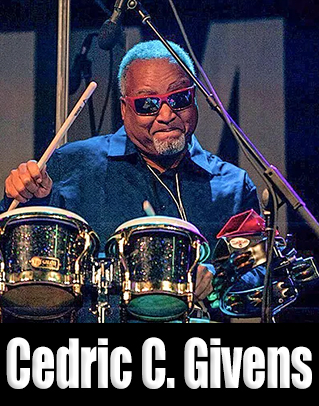 Cedric C. Givens - composer and multi-instrumentalist. Originally from St. Petersburg, Florida, Cedric's passion for music began when he was a child. First with playing drums in the school band in elementary and high school, later his interest evolving into playing both the guitar and piano. While growing up, he says his most significant musical development originated amidst his "garage band" experience when he and his musical friends would gather at his house for jam sessions. They played R&B, Rock, Fusion and Jazz. They tapped into the "essence of the funk" and played the music of groups like the Parliament Funkadelic and the Ohio Players. This is the musical life force that energized him and the other members of the band. After graduating from high school, Cedric attended and graduated from Florida A&M University in Tallahassee, FL where he obtained a degree in Business. Out of college, he returned to St. Petersburg where he taught himself how to play the piano. He says this instrument "became the foundation for much of his songwriting and performing". He began collaborating with guitarist Roberto Tyson to write songs together to record their first album "Nemesis Bleu" (1997). Cedric says he went on hiatus for a few years, but "got the spark again after having an opportunity to sit in on stage with musical giant George Duke". Cedric and guitarist Roberto Tyson reconnected on new material for a new group "N-GROOVE" which resulted in the creation of the "It's who we are" (2008) CD. This CD features Senegalese bassist Cheikh Ndoye who collaborated on the project. Cedric is working on the next N-Groove CD which he says revisits his R&B and Funk roots. Links - Website Reverbnation, and DC Bebop.
---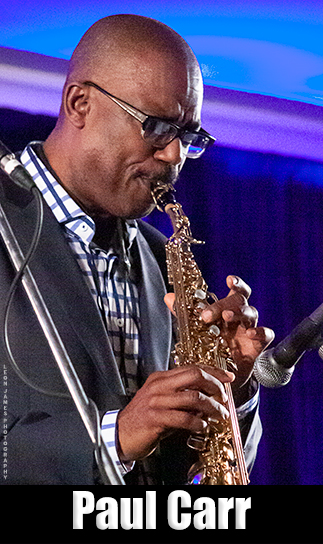 Paul Carr - Saxophonist, Educator, Bandleader, Composer, Producer Paul, a Houston native and 1985 Howard University graduate, has dedicated his professional career to mastering the saxophone and the art of Jazz. He carries on the Texas tenor tradition espoused by great heroes such as the late Houstonians Arnett Cobb and Don Wilkerson who served as his early idols and mentors. He grew up in inner-city Houston, Texas and was a member of the Kashmere High School Stage Band, whose director, the late Conrad Johnson, is the subject of a documentary, Thunder Soul, produced by actor, Jamie Foxx. Though never having had private music lessons, Paul has received several outstanding musician awards at high school and college jazz festivals. Paul is passionately committed to the education of children and particularly as it relates to the preservation of jazz. In 2002, he founded The Jazz Academy of Music Inc, which hosts summer camps and jazz ensembles for kids throughout the year. Several of his students have been admitted and even received full scholarships to some of the top music schools and conservatories in the country. Paul has recorded 8 CD's, which have been well received by critics and jazz fans alike. His new CD "The Real Jazz Whisperer" features Allyn Johnson, Michael Bowie, Lewis Nash and will be released September, 2020. His CD "DC-NYC Organ Sessions" reached #9 on the Jazz Week radio play charts. His CD released in 2013, "Standard Domain," reached #3 on the Jazz Week radio play chart and stayed on the chart for 16 weeks. Paul has toured Russia, Europe, the Middle East, the Caribbean and Central and South America and has shared the stage with many of the greatest names in jazz. Paul was a favorite of President Clinton during his term in office and Paul performed at many of the Clinton's private events. He also did a special performance for the late King Hussein and Queen Noir of Jordan at their residence in Aqaba, Jordan. In 2010, Paul re-established the East Coast Jazz Festival as the Mid-Atlantic Jazz Festival, and serves as its Executive and Artistic Director. The festival enjoys over 2,000 attendees that travel from states across the U.S. and beyond. Held every Presidents Day weekend in Rockville, MD, the festival incorporates a strong educational component, with a high school band competition and free master classes for students as well as an entertainment component with performances by NEA Jazz Masters, such as Benny Golson, Jimmy Heath, and Roy Haynes, just to name of few. Links: Website, Reverbnation, DC Bebop - MAJF and Paul's DC Bebop page
---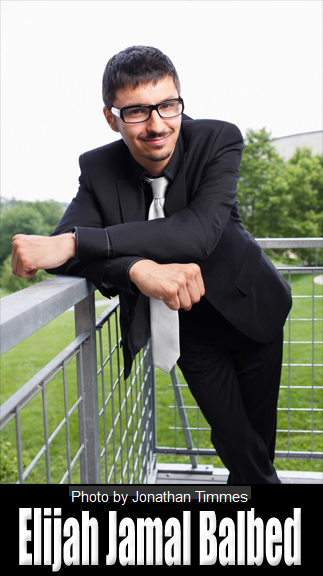 Elijah Jamal Balbed - Saxophonist, composer - Elijah is a native of Washington, D.C. In a Washingtonian Magazine article, he said he first wanted to become a martial artist, but in high school his enthusiasm and interest was captured by his desire to play music. He immersed himself in the pursuit of music as a career and the fruit of his efforts were realized. "In 2007, Elijah earned a Maryland Distinguished Scholar award, an Overall Best Soloist award in the Maryland Band Director's Association Big Band Festival, and a Best Soloist award at the 2008 Festival Disney Jazz competition." Elijah was recognized for his abilities by the Washingtonian Magaine in 2009, and twice by the Washington City Paper, which in 2010 named Elijah "Best New Jazz Musician" and then in 2013 the paper named him "Best Tenor Saxophonist." In an interview on JazzCast, he says he began taking private lessons from Saxophonist Paul Carr while attending Albert Einstein High School, and with the encouragement of his private tutor and school teacher, Joan Rackey, he began taking his music more seriously and decided to actively pursue a musical career as a life goal. Links: Website, Reverbnation, Facebook Bandcamp, SoundCloud, and DC Bebop page
---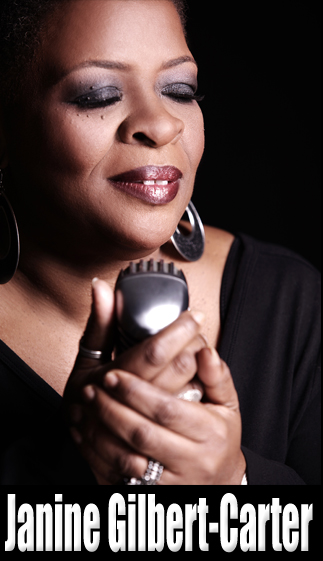 Janine Gilbert-Carter - Vocalist - Music, in all its forms, has been a part of Janine's life from the beginning. She was introduced to gospel, Jazz and blues at a very early age by her parents and grandmother. Her "musical journey" began in the church as a member of the choir in Aliquippa, PA. From her singing there, opportunities to sing expanded with "solo performances as a member of the Bach Choir of PA, which performed for some of Braodway's most exciting musicals," and she continued to pursue music as a life goal. Janine moved to the Washington DC area in 1988. In the summer of 1996, She launched her career with a performance at the New Genesis Baptist Church. Since then she has performed as a soloist or with groups in the DC area. She has shared the stage with notable artists such as Tramaine Hawkins, Oleta Adams, Regina Bell, Ann Nesby and Donnie McClurkin and Sweet Honey in the Rock for WPAS's Annual Gospel concert held at the Kennedy Center in Washington, DC." She has performed at many DC jazz venues over the years. During her jazz performances, "she has shared the stage with area-wide jazz musicians like pianist Aaron Grave, Vince Smith, Eric Byrd, Chris Grasso and Ron Elliston; bassist Wes Biles, James King, Saxophonist Paul Carr and percussionist Nasar Abady, Jeff Neal and the late Ricky Loza and Mike Smith." Janine's style has earned her recognition through the awards received at numerous competitions. Her discography on CD Baby: "Good Spoke To Me" (2003), "In the Moment" (2003), "A Song For You" (2006), In A Silent Tear (2009), "At Last" (2013), "The Classic Sounds of Christma" (2017) and "My Foolish Heart" (2018). Janine can be seen at Laporta's Restaurant in Old Town Alexandria, VA every Thursday night, and at venues in the wider DC area, and abroad when she is touring. Links: Website, Reverbnation, Facebook Sonicbids, YouTube, and DC Bebop page.
---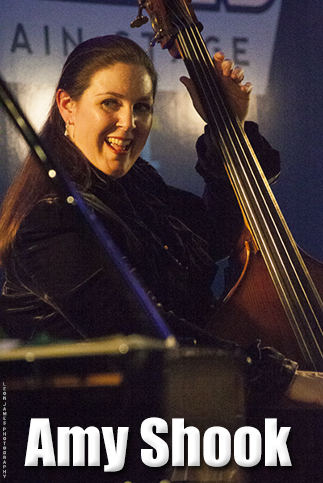 Amy Shook - Bassist, composer and songwriter. Amy holds two bachelor's degrees (performance and composition) and a master's degree (performance) from the University of Idaho in Moscow, ID. She also performs and teaches with various teaching artists, led by pianist Fred Hughes. The members of this ensemble are integral components of the Washington Performing Arts Society's (WPAS) Capitol Jazz Project in affiliation with Wynton Marsalis and Jazz At Lincoln Center. Since settling in the Washington DC area in 2003, Amy has become "one of the most in-demand upright bassists" in the metropolitan DC and Maryland area. She is a versatile musician, able to play "jazz standards as well as new music." Amy co-leads "The Amy Shook Quartet" with drummer Frank Russo, and her husband, Pat. She is featured on singer/songwriter Felicia Carter's 2008 double CD release Feather/Step Lightly, as both a performer and an arranger of the music. In 2009, they released "So Far From Home" on Summit Records, which features original music by Amy and Pat. In 2011, Felicia Carter and Amy Shook released their first CD collaboration "Nothing To Do," receiving great acclaim. In the summer of 2013, Amy joined the Fred Hughes Trio (Fred Hughes, piano, Amy Shook, bass and Frank Russo, drums), performing for audiences up and down the east coast and the trio recorded a live DVD. In 2013, Amy joined Sherrie Maricle and the DIVA Jazz Orchestra backing up Maurice Hines' TAPPIN' THRU LIFE for critically acclaimed performances at Arena Stage in Washington, D.C. and the Cleveland Playhouse in Cleveland, OH, where Sherrie and Amy met pianist Jackie Warren and formed the powerhouse trio 3Divas. 3Divas went on to more critically acclaimed performances of TAPPIN' THRU LIFE in Wilmington, DE at the Delaware Theater Company, Off-Broadway at New World Stages in New York, at Penn's Landing Playhouse in Philadelphia, and a live webcast concert version of the show at Dizzy's Club Coca Cola at Jazz At Lincoln Center in New York. Since then, they have released 3 more critically acclaimed albums, "Love Letters" in 2015, "I'll Be Home For Christmas" in 2015, and "Matrix" in 2016. They also did a TV performance of the show, filmed live at the Katherine Hepburn Performing Arts Center in Old Saybrook, CT, for The Kate TV series' 2nd season, airing in April of 2017. She has performed at numerous East Coast Jazz Festivals, including the Mid-Atlantic Jazz Festival, and has shared the stage with Lionel Hampton, Jane Jarvis, Claudio Roditi, Al Grey, Bill Watrous, John Stowell, Greg Gisbert, Ingrid Jensen, Ethel Ennis, Slide Hampton, Paquito d'Rivera, Ali Ryerson, Maureen McGovern, Dee Daniels, Lanny Morgan, Jim Snidero, Frank Lacy, Walt Weiskopf, Greg Boyer and Bobby Watson."
Links to - Website, Facebook, YouTube and DCBebop page.
---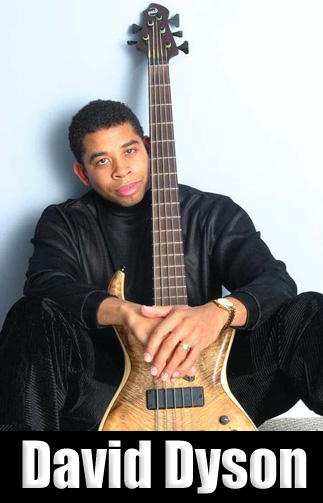 David Dyson - Bassist, Songwriter, Arranger and Producer - David began playing the bass when he was 12. He played bass in school, church, local bands and participated in studio sessions with local gospel artists. He followed his musical dream, attending and graduating from the Berklee College of Music. After which, he was the bassist for Saxophonist Walter Beasley. In January, 1989, he was called to audition for Maurice Starr (Producer of New Kids On the Block) and was hired as the bassist the for the show and eventually rose to the position of musical director. Since then he's toured and worked with artists such as Kirk Whalum, Bob James, Chico Freeman, Tim Hagans, Terumasa Hino, Jonathan Butler, Me'shell N'degeocello, Rick Braun, and Najee to name a few. He can be heard backing many musicians on albums. Over the years, he has released a few albums of his own. He recorded "Soulmates" (1999), he also joined Trumpeter Tim Hagans and producer Bob Belden to write and record two CD's in that same year. In 2004, he released "The Dawning," on his own label "Lohandfunk," and released his third CD "Unleashed!" in 2008. David often performs with Pieces of a Dream and is featured on several of their CD's. He performs worldwide. Catch a performance at a venue near you. Link to Website, Facebook, Reverbnation, YouTube, Discography and DC Bebop page.
---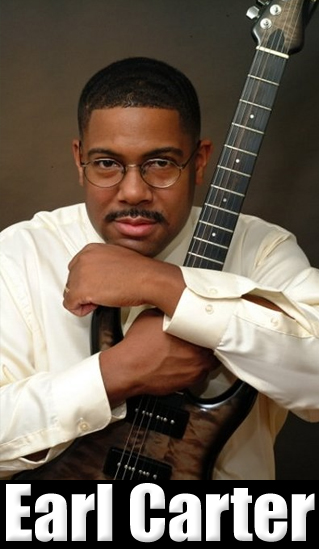 Earl Carter - Guitarist, songwriter, arranger and producer - When Earl was 11 years old he bought a couple of books and began teaching himself to play the guitar. At 15 years old he began learning to play saxophone and performing in the school band, marching band and jazz ensemble. His bio says he practiced both "diligently" but eventually chose the guitar to be his main focus. He was a member of the "14 Karat" band and later played with "EU", recording music on the soundtrack of Spike Lee's "Do The Right Thing" movie soundtrack. In "1999 he laid several guitar tracks for many artists at Diddy's New York City recording facility, 'Daddy's House'." Earl has performed with many groups and played many styles of music from dance/go-go to jazz. He has been a studio musician, co-produced dialogue recordings for motivational speakers and sports stars, and he has performed with a host of local and world-renowned artists. To name a few, he has performed with Bobby Lyle, Marcus Johnson, Jaared, Alyson Williams, Nick Colionne, Bob Baldwin, Michael Lington, Angela Bofill, Regina belle, Gerald Veasley and opened for Pieces of a Dream, Spyro Gyra, Bona Fide and many others. He released "My Paradise"(2007), "X Project" 2009. Two EP's in 2011 "Yeah Mon" and "Summertime", and his "Welcome Back Carter" album in 2013, all of which can be purchased on CD Baby. Links: Website, Private Music Lessons, Reverbnation, and DC Bebop page.
---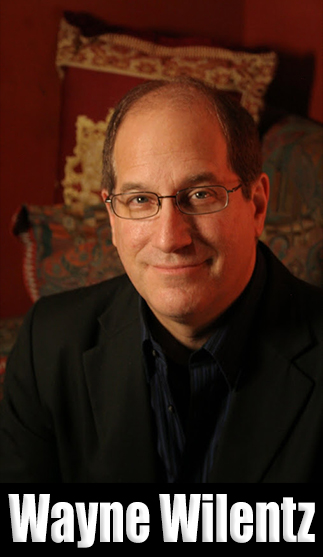 Wayne Wilentz - Pianist and bandleader, originally from New York, moved to the DC area in 1989 and has played Brazilian Jazz in the nation's capitol since then. Before coming to DC Wayne was a keyboardist and composer for the '80's funk band "SKYY", and received a gold record commemorating their #1 Album "Skyy Line" on Salsoul Records. During his career he has performed with such famous R&B acts as Carl Gardner's Coasters, The Shirelles, The Marvellettes, and Jimmy Norman. Since moving to the DC area, Wayne has recorded on a number of CD's, many of which he co-produced. In 2004, Wayne released his first compilation of original material entitled "Break of Dawn". It featured vocals by four of DC's finest jazz singers, Pam Bricker, Patrick Desantos, Nicki Gonzalez and Steve Washington. Over the years Wayne has done many sessions for ESL Music and Thievery Corporation, and can be heard on remixes by them. The Wayne Wilentz Quartet released Recordar E Viver (2008). Wayne performs regularly in the DC area. Check his calendar for coming performances. Links: Website, Reverbnation, SoundCloud, Facebook, YouTube, and DC Bebop page.
---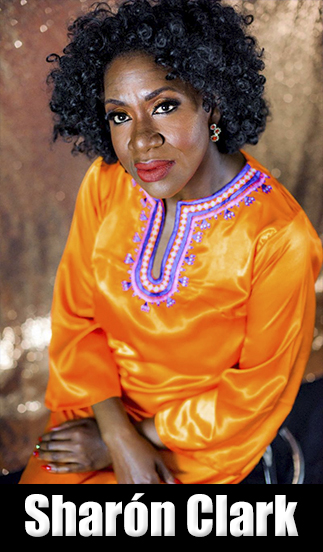 Sharón Clark - Vocalist - "Washington, D.C. standout Sharón Clark has brought festival and concert audiences to their feet across the globe. Her New York run drew raves from the NY Times and the Wall Street Journal, and she won New York's Bistro Award for Best Vocalist. Ms. Clark has made countless international tours, from Europe to Israel to Russia, where she has developed a major following. Ms. Clark won the Gold Medal and $10,000 top prize at the Savannah Music Festival's American Traditions Competition. She then took first place in the Billie Holiday Vocal Competition, which offers a $2,500 prize along with a featured appearance with the Baltimore Symphony. For her most recent recording, "Soulful Serenity," Ms. Clark teams up with long-time collaborator Paul Carr on tenor saxophone, along with Bruce Barth and Chris Grasso (piano), Herman Burney and Michael Bowie (bass), and Lewis Nash (drums). Her previous release, "Do it Again — My Tribute to Shirley Horn," drew raves and is on its third printing. Ms. Clark has performed as a featured soloist with the Duke Ellington Orchestra, Smithsonian Jazz Masterworks Orchestra, the Richmond Symphony, and the Baltimore Symphony. She performs regularly in New York at the Iridium and the Metropolitan Room and in DC at Blues Alley, the Kennedy Center, and Bethesda Blues and Jazz Club.  Clark has headlined the DC Jazz Festival as well as the East Coast, Mid-Atlantic, Cape May and Savannah music festivals. Both the Smithsonian Jazz Masterworks Orchestra and The Ludacris Foundation chose Ms. Clark to perform for their separate tributes to Quincy Jones. " ~ Website Bio Links: Website Facebook SonicBids YouTube DC Bebop page.
---

Tony Harrod, Guitarist and Bassist
DC born Rhythm and Bass Guitarist Tony Harrod has been performing with a band since his 9th grade girlfriend convinced him to play with a group at a social club dance. The band (The Mar-Tribs), had three solid songs. Two fast and one slow; "Baby Baby Don't Cry" by the Miracles. This performance launched Tony's professional career, but interestingly enough, it was not the first public performance. Back in the day, he started his musical career at a very tender age on a Mickey Mouse wind-up guitar, but the artist in Tony would not allow him to wind it. He strummed and sang "Blue Suede Shoes" while standing on the front porch of his house and people walking by would give him money for his performance. He knew he had a career in music ahead of him. Since that time, Tony has played with many bands over the years. He is the consummate guitarist, performing as a studio musician and with many local musicians. His repertoire runs the gamut, from Reggae tunes with "Englishman", to Jazz with Karen Lovejoy & The Lovejoygroup, and R&B with "One Nite Stand", Tony lays down the rhythm. He released his own CD "THP" Tony Harrod Project in 2004. Links: Website, Facebook, One Nite Stand, YouTube and DC Bebop page.
---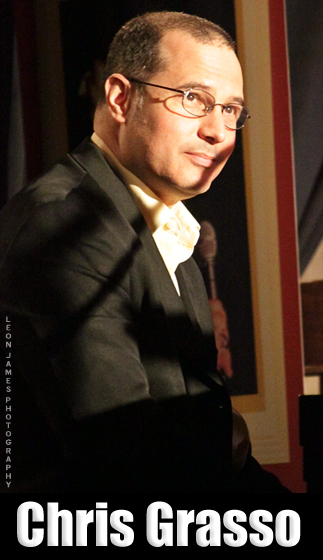 Chris Grasso, Jazz Pianist. Chris is a Washington, D.C.-based jazz pianist who specializes in working with vocalists. He is the Music Director for Sharon Clark, one of DC's most in-demand jazz vocalists. They can be seen and heard performing in numerous venues, and have appeared together on many stages, from the National Mall, as part of the Duke Ellington Jazz Festival, to the Cape May Jazz Festival. Chris has performed with Denise Thimes, Matt Wilson, Avery Sharpe and Albert Rivera, closing the show after Dave Brubeck's performance at the 2010 Litchfield Jazz Festival. He has performed live on WPFW, Washington, D.C.'s jazz station, with jazz greats Keter Betts and Buck Hill. He has appeared with the Ken Peplowski/Chuck Redd Quartet, and with New Orleans' historic jazz family, the Jordans. Chris has made multiple appearances at what was formerly the the East Coast Jazz Festival, and continues the tradition through what is now the Mid-Atlantic Jazz Festival. He has performed at a number of closed historical venues like the One Step Down and the Smithsonian Jazz Cafe in DC. He continues to perform at major venues in the Washington, D.C. area, including Blues Alley, Twins Jazz, Bohemian Caverns, the Kennedy Center, and the Music Center at Strathmore. Chris serves as Music Director at several local venues in the Washington D.C. area, and performs regularly with a number of local vocalists such as Sharon Clark, Lena Seikaly, Kristine Key, Sara Jones and others. Links: Website, Facebook, Sam Hill Bands, YouTube and DCBebop page.
---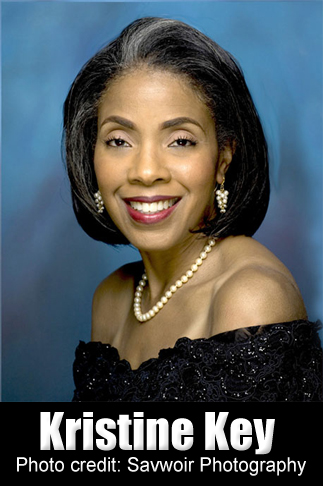 Kristine Key, jazz vocalist - Kristine "began her performing career at age 10 when she sang "O HOLY NIGHT" for her elementary school's Christmas Program." She followed her musical interest by taking voice lessons in high school and later private lessons, which included instructions at the Berklee College of Music and the New England Conservatory. She is noted for and complimented on her singing and performance versatility and has performed "in formats ranging from a piano vocal duo to a big band." Kristine "has shared the stage with such talents as Nancy Wilson, Branford Marsalis and Arthur Prysock. In Boston she was nominated for Outstanding Jazz Vocalist-Boston Music Awards." While living in Boston, she received positive press in articles that spoke highly of her talents. In one it was written that she is "an accomplished performer in the fullest sense of the word, in the manner of Josephine Baker and Mae Arnette. She sings with great warmth and ease and ingratiates herself with an audience with her breezy, sophisticated air." Kristine is now living in the Washington DC/Baltimore area and performs at a number of local functions and jazz venues. Links: Website and Reverbnation .
---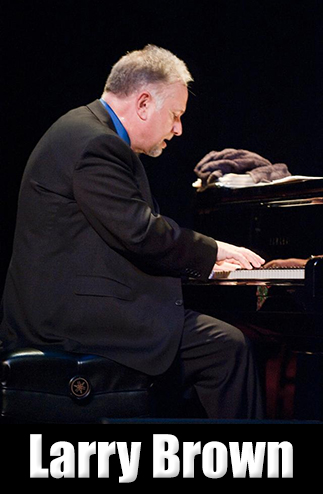 Larry Brown is a straight-ahead jazz pianist, performing in the Mid-Atlantic region. He received his Bachelors Degree in Music Theory from Towson University, where he studied with arranger/composer Hank Levy. He earned his Masters of Music degree from Catholic University in Washington, DC, where he studied Composition and Electronic Music with Professor Emeritus H. Emerson Meyers, who died in 1990. Larry released, "Hard Bop Cafe" which "reprises the hard-bop style of the legendary Blue Note era" in 2006, and later that year the group received the WAMA (Washington Area Music Association) award for "Best Jazz Recording for 2006" and a Wammie award for "Best Jazz Group". He launched his next album, "Peace" (Lush Life Records in 2008), with a CD release party at Blues Alley in Georgetown. Larry is noted for his "rendering of ballads", and his unique style again brought him to the attention of the Washington Area Music Association (WAMA), which awarded his band "the Best Jazz Group for 2008". Larry and his group can be heard performing at many venues in the Mid-Atlantic region. Links: DVD, "Live At The Mid-Atlantic Jazz Festival" (2011), CD, "Peace" (2008), CD Review, Discography, Website and his DC Bebop page.
---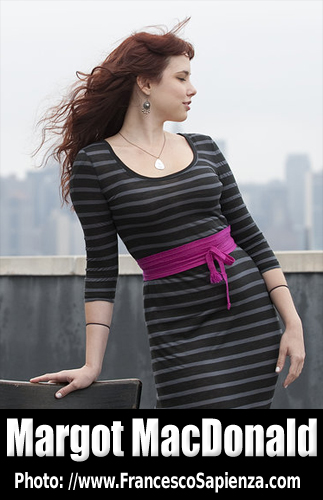 Margot MacDonald, Singer, Songwriter and Guitarist - Margot is from Washington DC and released her debut album "Rising" (2004) at the age of 12. "Rising" received MASC honors and two Wammie nominations for Best Vocalist and Song of the Year. She released her second album "TORN" (her sophomore album in 2007). She was awarded the Young Artist Award from the Mid-Atlantic Song Contest for her song "Serendipity". The song "Quiet Hero" also placed in the Rock category. Margot recently graduated from The Duke Ellington School of the Arts high school in Washington DC, and says she has switched from being a full-time student/part-time musician to full-time musician/part-time student to study graphic design. She has a new NYC-based manager but will continue to be based out of DC. She released her latest album " Walls" in 2009. About her new CD, On Tap Magazine wrote "She sings like she has 40 years of life experience. On "Walls," she showcases a voice that can bring to life a song that is almost twice her age..." Margot says her music, "is less modern rock and more indie. I use a loop pedal to do live vocal harmonies and other fun toys like bottles onstage". She tours as a solo artist and with a full band. Links: Reverbnation, Facebook, Website, YouTube, Sonicbids and Discography
---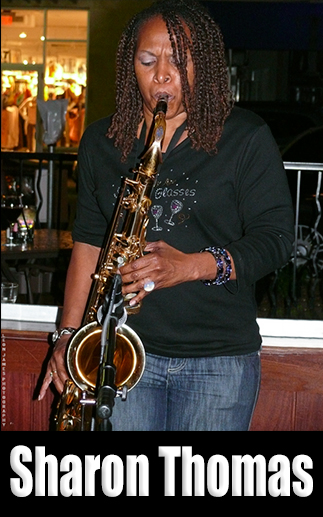 Sharon Thomas tenor and soprano saxophonist. From Washington DC, Sharon is also a flautist and keyboardist. The piano was her first instrument. From this start, she began playing drums, the flute, and ended with the sax. She began playing sax in high school and said "believe it or not I wanted to hang out with the sax players after hearing Grover Washington and several funk songs that had horn sections". She started a career in computers as a programmer and a web designer, but after being laid off several times due to riffs, realized that she had the sax to fall back on. She says "its a struggle, but I love performing and touching others through my music and I have been doing it full time as a career for 4 years. Since starting her musical career, Sharon has jammed with a number of well-known bands. More recently she has been performing locally with the band "Uncharted Waters", which features flautist Arch Thompson. Her band, The Sharon Thomas Experience, has performed with Ginuwine, Ralph Tresvant, Dawn Robinson of EnVogue, Mr. Cheeks, Tony Terry, and Teena Marie just to name a few. Sharon is committed to her musical journey and to sharing her musical talents with the world. Sharon can be seen and heard performing at numerous venues in the DC area. Links: Reverbnation, Facebook, YouTube and DCBebop page.
---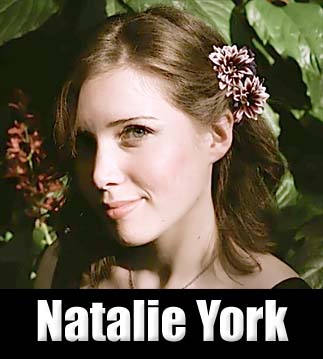 Singer, songwriter, Natalie York, is originally from Vienna, Virginia. She says she developed an interest in songwriting early in life. She remembers writing lyrics in the 5th grade. In the summer following the 8th grade, she attended a UVA Young Writers Workshop, and her path was found. She says she returned to the program each year until graduating from high school. In college, she studied jazz at the University of Miami and in December 2010, released her first album of songs, "Threads" as senior project for her Hornsby program at the University of Miami. "Threads" was praised by the Washington Post as being "one of the best local releases of 2010". Natalie's style has been compared to several well known female vocalists, but "she credits a Washington artist for inspiration: I grew up listening to Eva Cassidy and am just in awe of her." On December 16, 2010, Natalie was honored to be the first graduate from the UM Bruce Hornsby Creative American Music Program. Armed with her degree and a will to sing and write, Natalie returned to the DC area to launch her music career. Locally, she might be heard singing at the Hard Rock Cafe, the Rock & Roll Hotel, Jammin Java, IOTA Club & Cafe, Madam's Organ and at the Birchmere Music Hall, to name a few. Links: CD, " Threads" (2010), Reverbnation, Website, Facebook, Sonicbids and her DC Bebop page.
---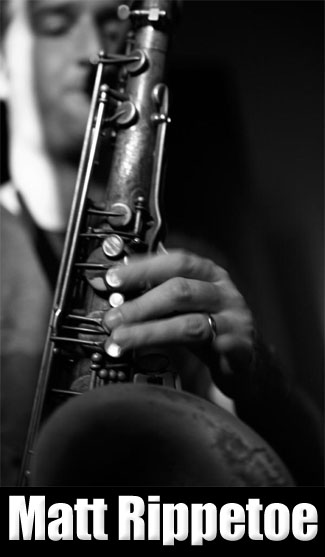 Matt Rippetoe, Saxophonist from Washington, DC. Matt began playing the sax at age 15. He left DC for a while to freelance in Pittsburgh and travel the world as a cruise ship musician, but eventually returned to DC to pursue his music. These days, he may be heard and seen at local venues performing with the Dan Roberts Band, Joe Herrera's Landscaping Crew, The Vampire Monkeys, Dog Fashion Disco, Touch Acoustra, Will Rast & Friends, and also the Oscillators. From experience gained by working with funk groups to metal bands to straight-ahead jazz quartets, Matt has cultivated a unique sound and musical approach. Check out Matt's latest CD, " BOINK" (2007), and BandCamp.
---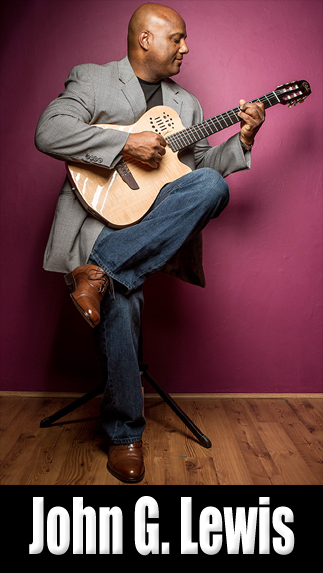 John Lewis, Guitarist and vocalist - Is originally from Indiana, and says his musical journey began shortly after high school when he took his guitar in hand and headed west to pursue his first passion - music. He lived in San Diego performing first as a soloist in coffee houses and lounges, and then with other musicians in and around the city. The music of the groups he performed with covered the spectrum of genres, Rock, Reggae, Calypso, Funk, and Jazz. While exploring his musical side, John was also working towards another goal. He graduated from San Diego State University with a French Major. He moved to the South of France for a year where he says he "drank wine, studied French and jammed with the locals". France is where he developed his "love for the international grooves of East and West Africa, the Caribbean, Brazil, and South America". He returned to San Diego and organized the band "Tropical Madness", which performed Soca, Reggae, and Brazilian Jazz. In 1992, John moved from San Diego to Washington, DC. In DC, he obtained a degree in Linguistics, with an emphasis on American Sign Language from Gallaudet University. In step with his academic goals, John said he was also motivated to be "innovative" about his musical direction. To this end, he developed a unique guitar style and sound. He says this unique sound is a result of how he "employs a nylon string guitar and a Guitar synthesizer", which produce a "rich bass bottom end". John can be seen and heard performing solo or with the 'ElectroKoustic duo' , which is (occasionally) John performing with flautist Arch Thompson at local venues in the DC area. Links - Facebook, SoundCloud, DC Bebop and Website