MUSIC - Ginetta Minichiello (Ginetta's Vendetta) - Trumpeter, vocalist, composer and bandleader.
---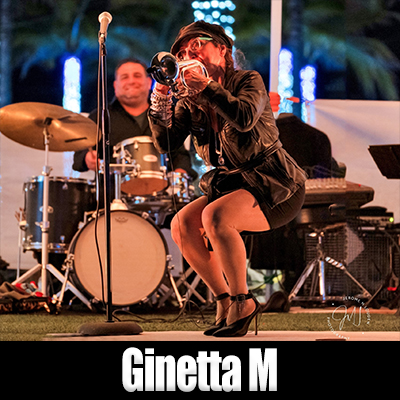 "Meet Ginetta Vendetta: this "Triple threat Female powerhouse" plays pocket trumpet, sings & composes while leading her acclaimed Jazz combo Ginetta's Vendetta (c.) around the world . From Moscow to Jakarta, Paris to Beirut, Jamaica to California, Canada to Mexico & all points in between she continues her musical ministry as a Jazz Ambassador, calling Jazz "America's Greatest Export" ! Her most recent 2022 Ambassador tour through the central Asian county of Uzbekistan was a massive success! Ginetta's Vendetta was headling the opening night of The International Jazz Day celebration at The 6th annual International Jazz Festival of Uzbekistan, touring the country, giving workshops at various conservatories, visiting disabled youth centers, doing radio & TV spots and generally enjoying her overseas "Stardom"! As she entertains & teaches audiences around the globe about Jazz, she is garnering new fans & inspiring young musicians from the far east to Miami!" "Ginetta is an alumnus of North Texas State University where she studied and played most styles of music ranging from classical, jazz, blues and pop to Cumbia, Salsa, Merengue and Funk. She has studied music and been taught to play by trumpet masters Marky Markowitz, Spanky Davis, Ted Curson, Howard McGhee and Allan Colin, to name a few. "Her first Jazz CD (her 3rd as a bandleader) "Standards" was in the top 20 on the National JazzWeek charts & again on the Grammy ballot in 9 categories, including Best Instrumental Soloist & Best Arrangement with Vocals. Following up her previous success with the Jazz format, she then recorded her 4th CD: "Little Big Horn in 2015. It contained more classics including a magnificent rendition of The Beatles "Yesterday" & her much acclaimed version of the iconic Lee Morgan tune: "Sidewinder. "Little Big Horn was also on the Grammy ballot in 10 categories including Best Improvised Jazz Solo & Best Arranger. Her 2nd CD: "Land On My Feet" was also a contender on the 55th annual Grammy ballot in 5 categories including Best Pop Song for a Duo or a Group with her original tune: "Choose Love". Plus the title track was chosen for the Supercuts "Rock The Cut" campaign. Her Debut CD: "La Dolce Vita" includes the haunting ballad : "Can Our Tears Put Out the fire?", winner of an Honorable Mention in the Billboard World song contest. It was commissioned in the wake of September 11th. "La Dolce Vita" also recieved 2 more billboard awards for her original tunes: "I Believe in You" & "Behind Those Eyes". She is the recipient of four (4) AscaPlus awards for songwriting, The Music Liberty initiative of NY award, "The Best Of" award from Soul Patrol plus letters of commendations from various festivals & many more accolades too numerous to mention. Ginetta is an alumna of the famed music school North Texas State University, and has decades of experiance on the road & in the studio. Her recordings as a "sideman" exceed count & her distinctive sound can be heard covering a variety of styles from Compa, Salsa, R & B & Jazz to Pop, horn sectionals, Singer-songwriter, Indie artist & more!"

---
ONESHEET:
Traveling The World With a Pocket Trumpet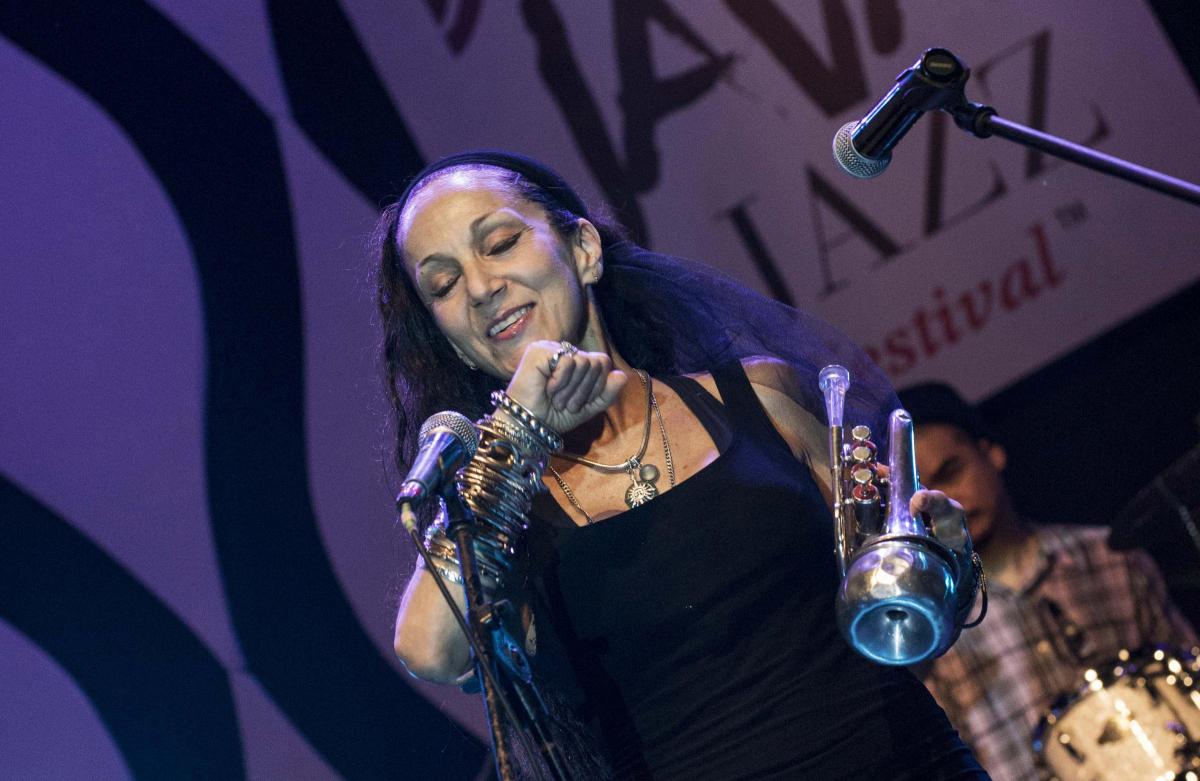 &quotTrumpeter, vocalist, and composer Ginetta M is the leader of the jazzy, funky New York City based Ginetta's Vendetta. She also records under the moniker Ginetta M. On this edition of GLT Jazz Next, Ginetta tells Jon Norton her latest album as Ginetta M is Little Big Horn. She says the title is a nod to Native American culture, and a reference to her instrument of choice, the "pocket" trumpet."

---
ONESHEET:
Ginetta's Vendetta's "La Dolce Vita"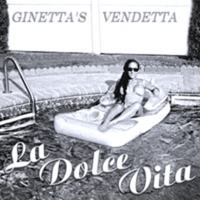 "The Vendetta was created so she could sing and play all her originals, and lead a band combining all the musical styles she had absorbed... Since it's inception they have played all over the world.. from Beirut to Kosovo.. She is a festival favorite and counts The Ocho Rios Festival (four years in a row), The Pristina Jazz Festival (Kosovo Republic), The Gainesville Jazz Festival, The Hudson Black Arts Festival and many others as her most special shows!"


~ Sonicbids EPK
---
QUOTES:
"an album to put on for all of your friends you suspect might like jazz, but simply don't realize it yet. See it is indeed possible for jazz to be both fun and popular without it being "smooth"..."


~ Bob Davis ~ Soul-Patrol.com

"Ginetta fronts the band with her high octane performance and incredible trumpet and vocal chops. She writes all of the vocal tunes and covers only the funkiest instrumental classics."


~ nightcastrecords.com
---
VIDEOS:
African Queen - Ginetta's vendetta (c.)
---
"The Summer Solstice Concert" Ginetta's Vendetta Live At Blue Jean Blues.
---
"All Choke & No Slide" (c.) Ginetta's Vendetta 2019
---
REVERBNATION:
---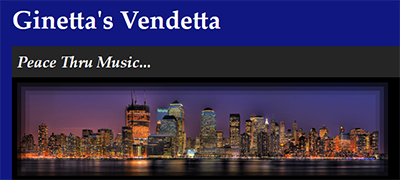 Ginetta's website
---
Back to the Top - Back to the Music page