---
MUSIC - Paul Carr - Saxophonist, Educator, Bandleader,
Composer, Producer

---
Paul is a tenor saxophonist from Houston, Texas, who has been living and performing in the Washington DC area for more than 25 years. Growing up, he studied and played with local heroes in his home state, "including saxophonist Don Wilkerson, the fabled educator Conrad Johnson, and the legendary Arnett Cobb. He studied two years on a full scholarship to Texas Southern University and completed his degree in music performance Howard University in Washington, DC."

In the DC area, Paul had performed at "Blues Alley, Twins Jazz, Takoma Station, and the now-defunct (but once vibrant) One Step Down. He has also performed at The John F. Kennedy Center for the Performing Arts, at the Smithsonian Jazz Cafe (now closed), and in the Corcoran Gallery of Art's jazz series.

Paul has shown his life-long commitment to jazz through his teaching of music, in 2002 he established The Jazz Academy of Music Inc, a non-profit 501c3 organization, which fulfilled "a longtime dream" and became, "its Music Director. The academy has allowed Paul "to extend the music education opportunities afforded him, as an inner city youth, to others."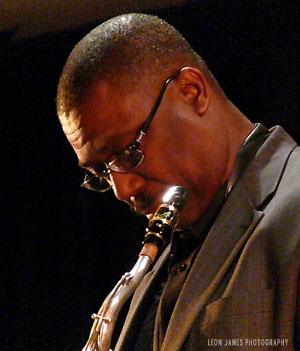 In 1993 Paul recorded his first album titled "PC-10", in 2006 he returned to the studio, composing and leading his own group to record "Just Noodlin'", featuring trumpeter Terrell Stafford, and pianist Andrew Adair. In 2008, Paul recorded "Musically Yours--remembering Joe Henderson". He has now released "Straight Ahead Soul" in May 2010, to good reviews.

Paul has performed for Presidents at the White House, heads of foreign countries, and has toured South America, Central America, Europe, and the Middle East. He has "shared the stage with artists such as flutist Kent Jordan, saxophonists Branford Marsalis, Kirk Whalum, and Steve Wilson, and trumpeters Terrell Stafford, and Wynton Marsalis." ~ Portions of write-up from Paul's Bio

---
Reviews and what people are saying...
---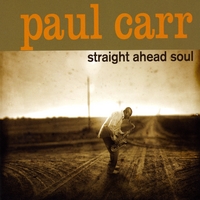 Straight Ahead Soul -
Paul Carr Quintet (2010)

"Straight Ahead Soul, the new CD by Paul Carr, is the most personal musical statement to date from the tenor saxophonist and educator, who's been a mainstay of the Washington, DC jazz scene for the last 25 years. It's a meditation on Carr's Southern roots and "the influence a Southern upbringing has had on my musical foundation," he says. And it explores his journey from inner-city Houston to the suburbs of Washington, DC, as he pays homage to mentors (and legendary Texas tenor men) Arnett Cobb and Don Wilkerson." ~ Terri Hinte - All About Jazz

"Known for his hard charging, soulful and versatile style, Paul Carr upholds the Texas tradition of tenor saxophonist. The Houston Texas native has studied and played with some of the best musicians in Texas, including Arnett Cobb, Don Wilkerson and is a student of the legendary teacher, Conrad Johnson." ~ Mid-Atlantic Jazz Festival

---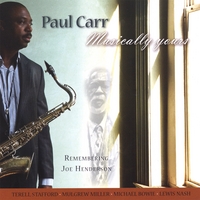 Paul Carr -
Musically Yours Remembering
Joe Henderson (2008)
"Houston-born tenor man Paul Carr brought his big bold Texas tenor sound with him when he moved to Washington D.C., where he studied at Howard University and became active in the community's vibrant jazz scene as a performer and educator (he founded the Jazz Academy of Music). On this new outing, Carr visits the songbook of the late, great Joe Henderson, who unfairly has been somewhat overlooked among the famous tenors in jazz. Carr doesn't attempt to sound like Henderson, but rather gives his own interpretations of some of Henderson's tunes, as well as two originals and three covers." ~ Brad Walseth - jazzchicago.net
---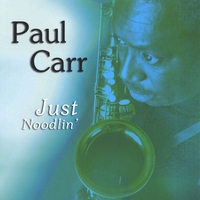 Saxophonist Paul Carr Releases 2nd Solo Album, Just Noodlin' on Jazz Karma Records (2006)

"One of the finest horn players in the DC metropolitan area, saxophonist Paul Carr is proud to announce the release of his second album as a leader, Just Noodlin', on Jazz Karma Records. The outing features a who's who of DC-based musicians as well as featured guest soloist Terell Stafford, a longtime friend. "Terell used to appear with me when I had a weekly gig at Takoma Station in Takoma Park, Maryland," says Carr. Since those days, Stafford has gone on to become Director of Jazz Studies at Temple University and has recorded as a leader most notably for MaxJazz. He has appeared on over 100 recordings as a sideman. Here Stafford's refined tone and technique are showcased alongside Carr's burly Mobley-inspired tenor. " ~ All About Jazz

---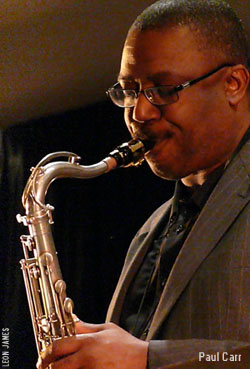 New Mid-Atlantic Jazz Festival
Swings D.C. Suburbs

"Saxophonist Paul Carr had his work cut out for him when he produced the inaugural Mid-Atlantic Jazz Festival Feb. 19-21 in Rockville, MD. Carr's challenges included the location, as suburban Washington D.C., is not exactly a jazz hub." ~ read the article
- Eric Fine, Downbeat Magazine

-
---
Paul Carr Quintet 2010 Mid-Atlantic Jazz Festival (Rockville, MD)
---
Slide Show:
Paul Carr Quintet at the Mid-Atlantic Jazz Festival (2010)
---